Latest evidence published in the Cochrane Library suggests that taking a multivitamin supplement that includes vitamin E, carotenoids (beta-carotene or lutein or zeaxanthin), vitamin C, and zinc may slow down the progression of the common eye disease age-related macular degeneration (AMD).
Listen to the podcasts:
See additional resources at the bottom of the page

Age-related macular degeneration (AMD) is a progressive and sight-threatening disease affecting the central area of the retina and affects large numbers of people across the world. Population-based studies suggest that in older people (80 years and older), approximately one in three people have early signs of the disease.

There are numerous unanswered questions in the treatment of AMD. There has been a growing perception amongst eyecare professionals that taking vitamin supplements and antioxidants, such as lutein and zeaxanthin, may protect patients against the progression of the eye disease.

A team of Cochrane researchers conducted a study to assess whether taking antioxidant vitamin and mineral supplements slows down the progression of AMD in people with a diagnosis of AMD. They collected and analyzed data from 19 studies involving men and women from Australia, China, Europe, and the USA.
Lead author Jenny Evans from the London School of Hygiene & Tropical Medicine explains more:
How important was it to update this Cochrane Review?
This is a topic that is currently of much interest to people with AMD. The review was last updated in 2012 and we knew that there were new studies available.
What did you find?
We found 19 studies that compared various types of vitamins against placebo in people with AMD. The evidence was mixed, but there was one large study in the USA that suggested that a particular combination of these vitamins may slow down the progression of the disease. 
We did not find evidence that these supplements on their own were so useful.
What does this mean?
If you have a diagnosis of AMD, then vitamin supplements may be helpful.
How robust is this evidence?
The evidence is not so robust. Most of the evidence comes from one large study from the USA which followed people up over six years. The other studies in the review were small and shorter duration and less conclusive.
What would your message be to eyecare practitioners?
People with AMD may be interested in taking vitamin supplements. The benefits and harms should be explained clearly.
What would your message be to patients already taking vitamin supplements for AMD?
The decision as to whether or not to take vitamin supplements is up to you. You may wish to discuss these again at your next visit to your eyecare practitioner.
What does this mean for patients who think they are at higher risk of progression of the disease?
Vitamin supplements are generally regarded as safe. They may be helpful but your vision may deteriorate further, even if you take these supplements. Regular visits to your eyecare practitioner are advised. 
What further research would you like to see, and what would this tell us?
It would be good to have a large trial comparing a supplement containing vitamin C, E, lutein, zeaxanthin, and zinc with taking no supplement for people with AMD to see if this slows down progression to visual loss.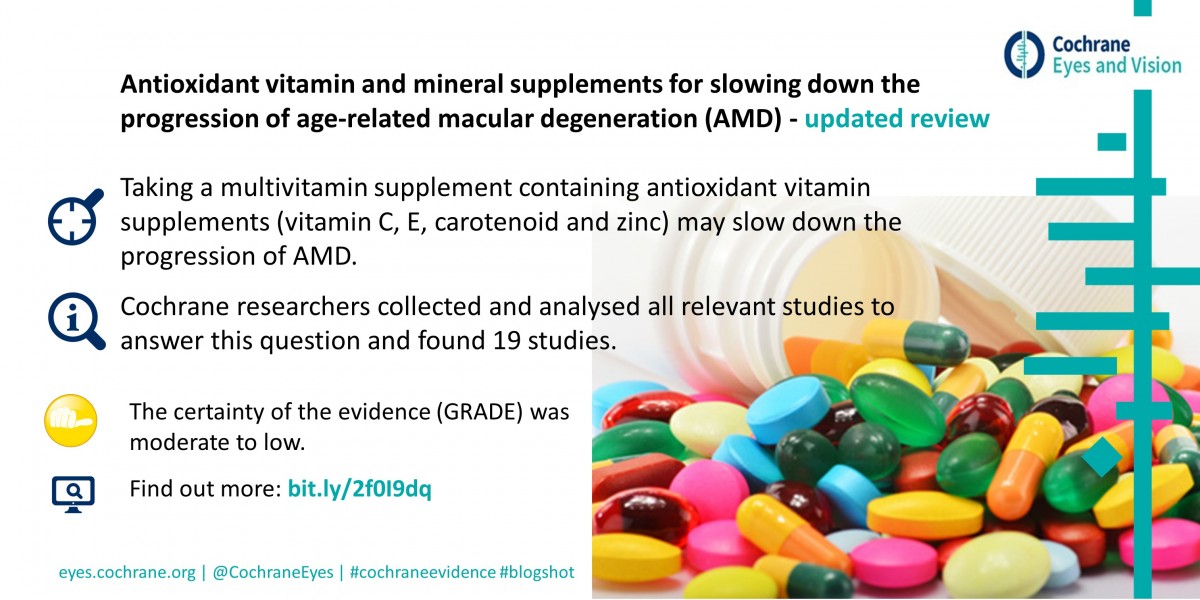 Wednesday, October 11, 2017