The Cochrane Drugs and Alcohol Group studies interventions to help people who have problems with alcohol or who use illicit drugs. In December 2018, these came together in an updated review on psychosocial interventions for people who use drugs and also have alcohol problems. Jan Klimas, from the British Columbia Centre on Substance Use in Vancouver, Canada tells us about the latest evidence in this podcast.
For people generally, drinking alcohol above the low‐risk drinking limits can lead to serious alcohol related problems or disorders. But it's even worse for those who also have problems with other drugs, leading to a large impact on their physical and mental health.
One class of psychosocial interventions, called talking therapies, aim to help people identify an alcohol problem and then boost their motivation to do something about it. Talking therapies can be given by trained doctors, nurses, counsellors, psychologists, etc. They may help reduce alcohol use and we wanted to find out if they can help people who also have problems with other drugs, such as opioids and stimulants. Our main aim was to see whether these therapies reduce drinking in adults who use illicit drugs and whether one type of therapy is more effective than another.
We found seven randomised trials that examined five talking therapies among 825 people with drug problems. Overall, we found that the therapies led to little or no differences for the outcomes assessed in the trials, which included abstinence, reduced drinking, and substance use. However, to give you a little more detail, I'll work through our findings for each type of therapy.
There were several studies based around motivational interviewing, which helps people to explore and resolve doubts about changing their behaviour. It can be delivered in group, individual and intensive formats. There is also a shorter form, called brief motivational interviewing that takes 45 minutes to three hours, and even briefer forms take only five to 30 minutes and are often delivered by a non‐specialist.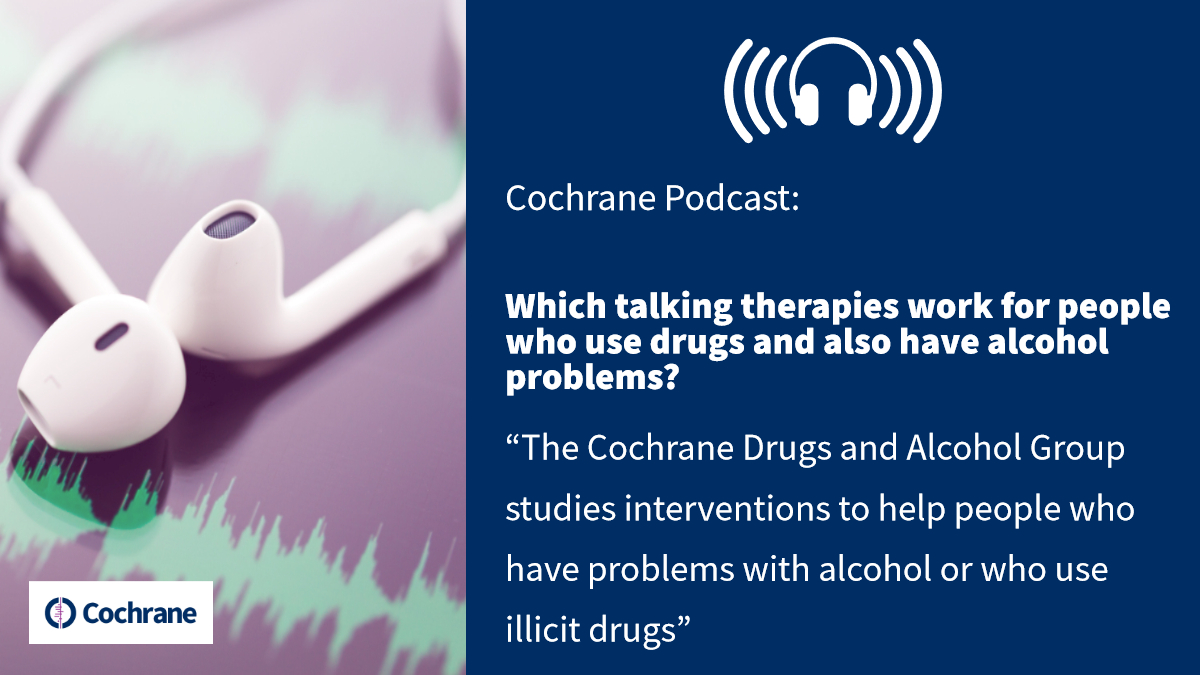 One study found that intensive motivational interviewing may be somewhat better than a standard form at reducing the severity of alcohol use disorder among women, but not among men and it did not show differences for other outcomes. Another study found that brief motivational interviewing is probably better at reducing alcohol use than usual treatment, which was needle exchange in this case, but did not detect differences in other outcomes.
However, things were even less promising for other comparisons. The findings from three studies of motivational interviewing compared with usual treatment or education alone suggest that there may be no difference between these approaches. And the evidence from three studies comparing brief intervention and usual treatment leads to a similar conclusion.
Finally, the single study that compared cognitive‐behavioural coping skills training with a twelve‐step programme, based on theories from Alcoholics Anonymous, also failed to show a difference between these two talking therapies.
Where this leaves us, after this second update of our review that was first published in 2012 is that we remain uncertain about whether talking therapies reduce alcohol and drug use in people who also have problems with other drugs. There are no high‐quality studies and these are much needed to help with this major problem for individuals, families and society.