All of Cochrane's COVID-19 related evidence will continue to be freely available to everyone, everywhere on the Cochrane Library (full text) and at Cochrane.org.
Cochrane's response to the COVID-19 pandemic is providing high-quality, relevant and up-to-date synthesized research evidence to inform health decision-making in containing and combating the effects of the virus (for full details see the COVID-19 pages on Cochrane.org and the Cochrane Library).

Since 26th March, Cochrane – with its publishing partner, Wiley – granted everyone in every country of the world, temporary unrestricted access to the complete Cochrane Library. This unprecedented decision ensured Cochrane evidence was accessible for all those involved in combating the pandemic and its effects on global public health until Cochrane could curate, develop and publish more specific COVID-19-related evidence.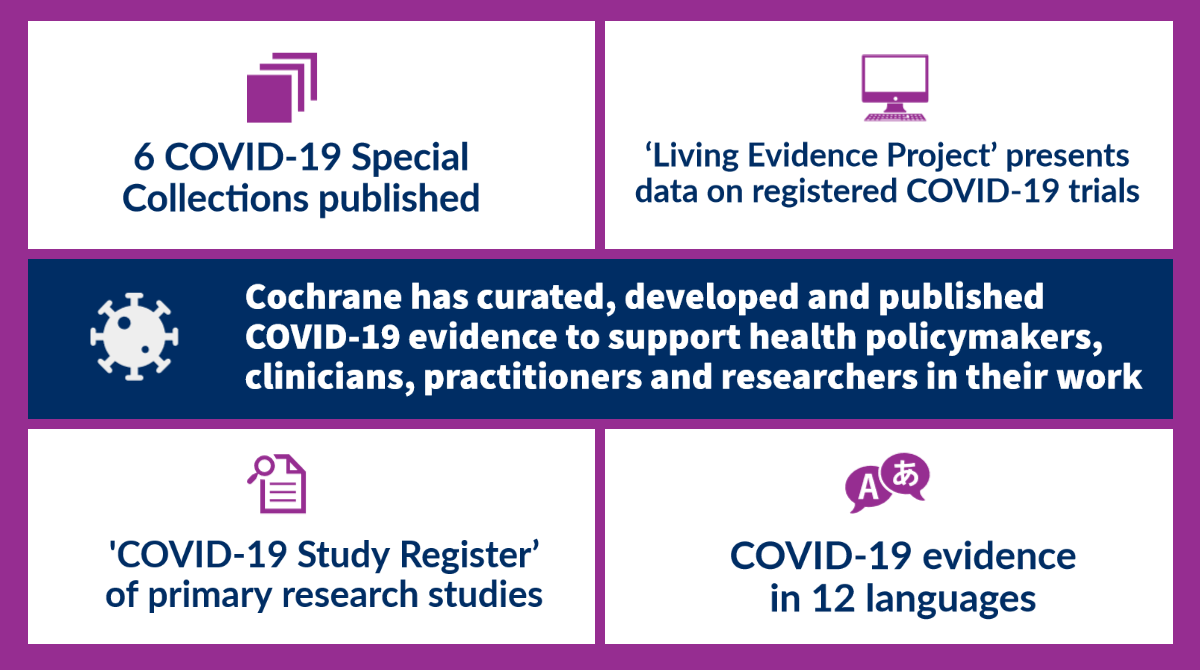 Over the last two months Cochrane has published:
Six 'Special Collections' of Cochrane evidence relating to the prevention and treatment of COVID-19, containing 106 Cochrane Reviews and 67 Cochrane Clinical Answers (to support decision-making for health professionals). These Special Collections were developed based on World Health Organization (WHO) interim guidance and are updated in response to new information;
Five Cochrane Rapid Reviews published with accompanying podcasts and six related Cochrane Clinical Answers;
A full Cochrane Review on Personal Protective Equipment for healthcare staff;
All of this evidence is translated in up to 12 other languages to promote its global accessibility and use; and Cochrane Reviews are also being made openly available on the Wiley Online Library along with other relevant Wiley content;
Cochrane's 'COVID-19 Study Register' of primary research studies, in consultation with WHO, which has become one of the largest and most sophisticated registers in the world;
The April 2020 issue of the Cochrane Library App, featuring abridged versions of Cochrane Reviews relevant for COVID-19 (available from Google Play (Android devices) or the App Store (iPhone and iPad));
The Cochrane Library Journal Club (Issue #97), focusing on a Cochrane Review related to COVID-19 response preparation.
All of this material – and all of Cochrane's future COVID-19 related evidence – will continue to be freely available to everyone, everywhere on the Cochrane Library (full text) and at Cochrane.org. Cochrane and Wiley will also continue to provide free one-click access to the complete Cochrane Library for those living in 126 Low- and Middle-Income Countries. But normal access controls to the Cochrane Library will be re-introduced today and subscribed content will only be available to users who have a license. 

Last week, Cochrane set out the new COVID-19 evidence it was developing to be published and made freely available in the next stage of its response over the coming six months (for more details, see here). This will include:
Two new 'Special Collections' to be published in June on: 'Support for mental health and wellbeing in the healthcare workforce'; and 'Clinical rehabilitation and support following acute illness and traumatic experiences'.
Cochrane Rapid Reviews, Cochrane Systematic Reviews and Network Meta Analyses covering:

Clinical management of COVID-19 related topics on screening and testing; drug treatment; clinical care; prophylaxis; prognosis; and pandemic-related impacts on health;
Public health measures including prevention of infection and personal protection; and
Economic and social responses to the pandemic.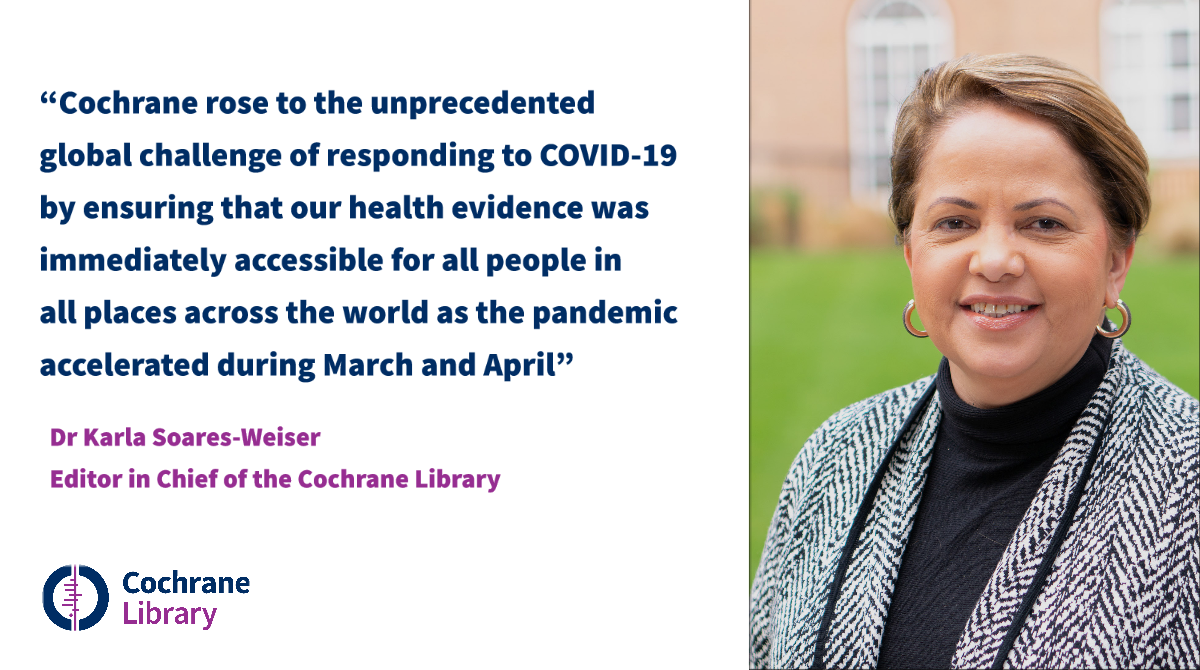 Cochrane's Editor in Chief, Karla Soares Weiser, said: "Cochrane rose to the unprecedented global challenge of responding to COVID-19 by ensuring that our health evidence was immediately accessible for all people in all places across the world as the pandemic accelerated during March and April. This has been a hugely valuable in providing open access to our high-quality, trusted information. We will continue to work on producing and making freely accessible the highest quality evidence on the most important developing questions required to help support the response to this global health crisis."