Cochrane today announces its COVID-19 priority areas of work over the next six months to help meet the healthcare evidence needs of policymakers, guideline developers and clinicians; and makes available a list of additional priority questions to help guide the work of other research organizations.
Since 18 March, Cochrane has been gathering some of the most important questions related to the COVID-19 pandemic from health researchers, clinicians, policymakers, patients and carers, as well as important external stakeholders including the World Health Organization (WHO), the UK National Institute for Health Research (NIHR) and guideline developers from different countries. Cochrane experts reviewed these questions in collaboration with health and policy decision-makers, resulting in Cochrane's Question Bank, a resource that is now being made available to the global research community.
The Question Bank includes approximately 150 questions, categorized to allow users to see the questions being addressed by Cochrane (through a Rapid Review or a normal Systematic Review); those being addressed by other systematic reviewers; and those questions, to the best of our knowledge, that are not yet being addressed.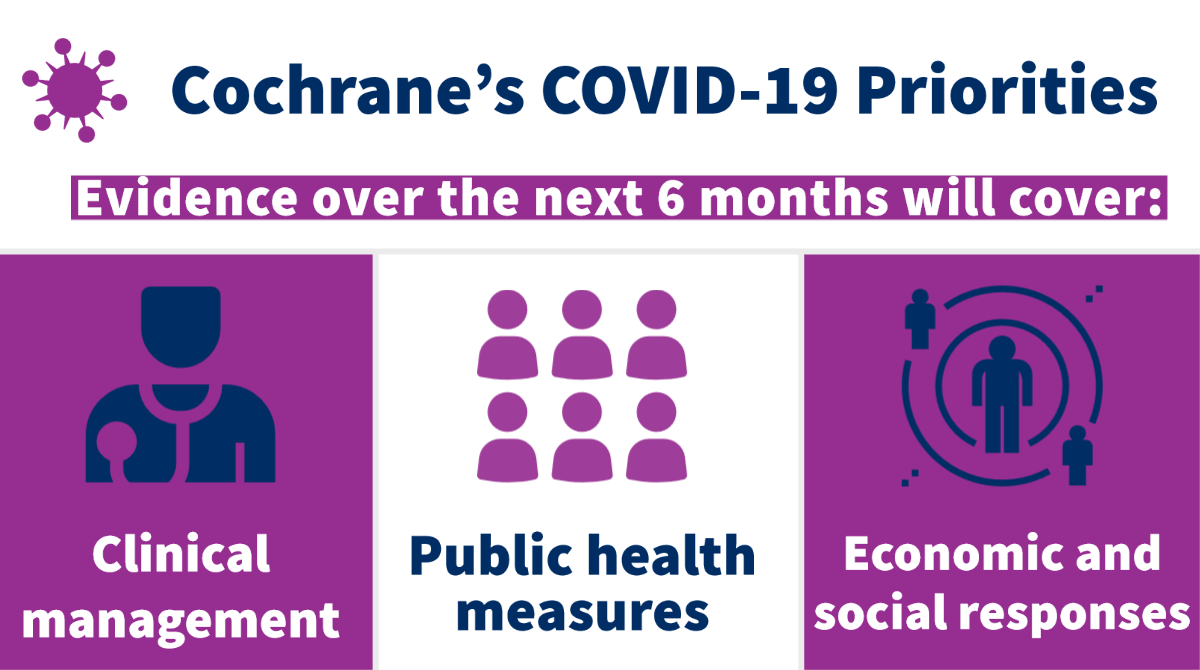 This categorization facilitated decision making by Cochrane's Editor in Chief, Karla Soares-Weiser, and Cochrane's COVID-19 Working Group on the organization's priority areas of work for the next phase of its response to the pandemic. The questions and issues to be addressed by Cochrane over the next six months were aligned with the taxonomy of the 'COVID-19 Evidence Network to support Decision-making' (COVID-END), of which Cochrane is a leading member. These priority questions to be addressed by Cochrane evidence cover:  
Clinical management:

including questions related to screening and testing, drug treatment, critical care, prophylaxis, prognosis and the clinical management of pandemic related impacts on health

Public health measures:

including questions related to the prevention of infection, personal protection and the need to support healthcare workers; and

Economic and social responses:

including questions related to the social determinants of health and their impact on health outcomes, and the impact of COVID-19 on food poverty.
View or download a more detailed diagram setting out these priority questions.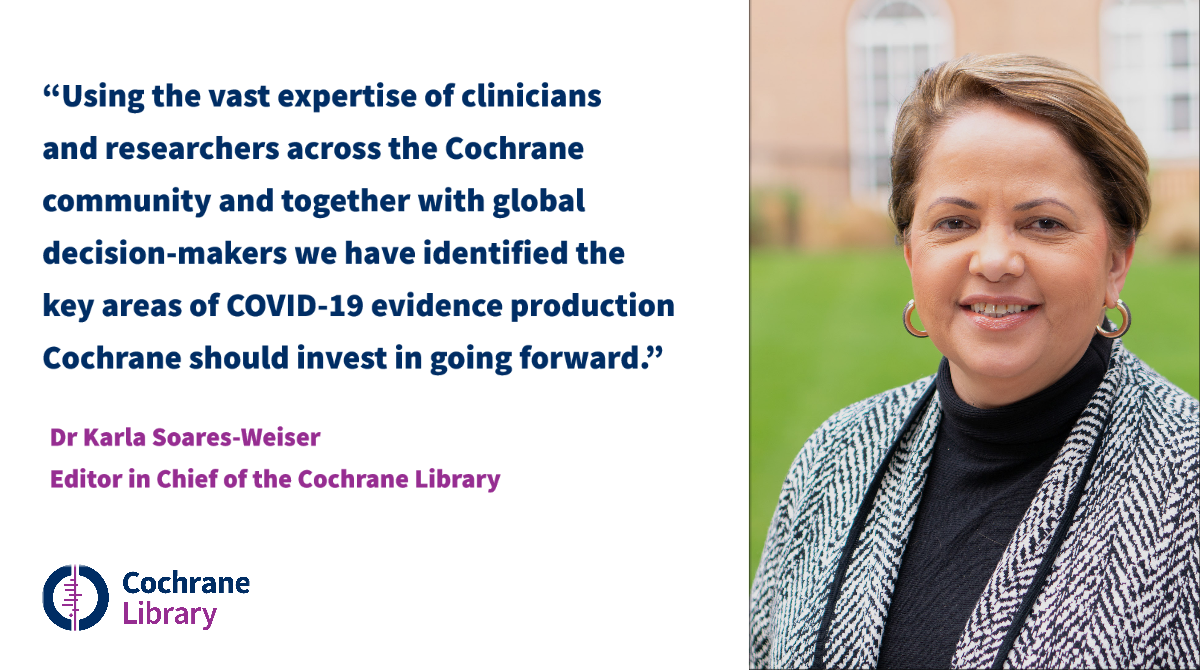 "Identifying these priority health topics is a pivotal moment in defining Cochrane's editorial priorities for the next six months, as we move from responding to immediate critical care to questions related to longer-term management of the COVID19 pandemic," said Editor in Chief, Karla Soares-Weiser. "Using the vast expertise of clinicians and researchers across the Cochrane community and together with global decision-makers we have identified the key areas of COVID-19 evidence production Cochrane should invest in going forward. These questions and topics are where we think we can add most value, considering our capacity, expertise, and the evidence synthesis work already being done by other institutions worldwide. We have also prioritized those questions most in need of a 'living systematic review', constantly updating the review when new evidence becomes available."
Each of Cochrane's priority areas are being addressed through a range of planned outputs including Cochrane Rapid Reviews, new Cochrane 'living' Systematic Reviews and Network Meta-Analyses, all led by different consortia of Cochrane authors, Groups and Cochrane's Central Editorial Team. 
The Cochrane 'Question Bank' is also being made freely available to the global research community to help guide work on other critical synthesized evidence questions not being addressed by Cochrane. It will be updated periodically to help decision-makers review progress and activity; and highlight new questions and topics to be addressed in future.
 This new phase of Cochrane's response to the COVID-19 pandemic comes after two months of intense activity by the organization's global community to curate, develop and publish evidence to support health policymakers, clinicians, practitioners and researchers in their work. Since the middle of March Cochrane has published:
Six '

Special Collections

' of Cochrane evidence

relating to the prevention and treatment of COVID-19,

containing 106 Cochrane Reviews and 67 Cochrane Clinical Answers

(to support decision-making for health professionals)

. These Special Collections were developed

based on World Health Organization (WHO) interim guidance and are updated in response to new information.

Four Cochrane Rapid Reviews published with accompanying podcasts and six related Cochrane Clinical Answers.

 

A full Cochrane Review on

Personal Protective Equipment

for healthcare staff.

All of this evidence is translated in up to 12 other languages to promote its global accessibility and use; and Cochrane Reviews are also being made

openly available on the 

Wiley Online Library

 

along with other relevant Wiley content.

A COVID-19 '

Living Evidence Project

'

presenting data on trials registered all over the world, as well as living evidence synthesis of results from these trials

Cochrane's

'COVID-19 Study Register'

of primary research

studies, in consultation with WHO, which has become one of the largest and most sophisticated registers in the world.

The April 2020 issue of the Cochrane Library App, featuring abridged versions of Cochrane Reviews relevant for COVID-19 (available from Google Play

 

(Android devices) or the 

App Store

 

(iPhone and iPad)).

The Cochrane Library 

Journal Club

 

(Issue #97), focusing on a Cochrane Review related to 

COVID-19 response preparation

.
Cochrane provides high-quality, relevant, and up-to-date synthesized research evidence to inform health decisions. Find out more about how Cochrane is responding to the COVID-19 pandemic: https://www.cochrane.org/coronavirus-covid-19-cochrane-resources-and-news