Cochrane UK is hosting Cochrane's Colloquium at the Queen Elizabeth II Centre (QEII) in London, UK from 4-6 September 2023. With the theme "Forward together for trusted evidence", the 2023 Cochrane Colloquium is set to be a groundbreaking event with a mix of learning, networking, plenary speakers; a unique and memorable experience at one of London's most renowned venues.

At Cochrane, nurturing aspiring minds and supporting professionals embarking on their career journey is part of the work we do. Our commitment is evident through initiatives like the Cochrane Early Career Professionals Network, Cochrane US Mentorship,  Cochrane International Mobility, and the student pathway to Cochrane Membership. Among these opportunities, the Cochrane Colloquium stands out as an inspirational experience not to be missed. This three-day event provides an enriching platform to learn, connect, and grow. Delve into a diverse range of sessions and engaging activities, fueling your knowledge and expanding your professional network in the world of evidence-based healthcare.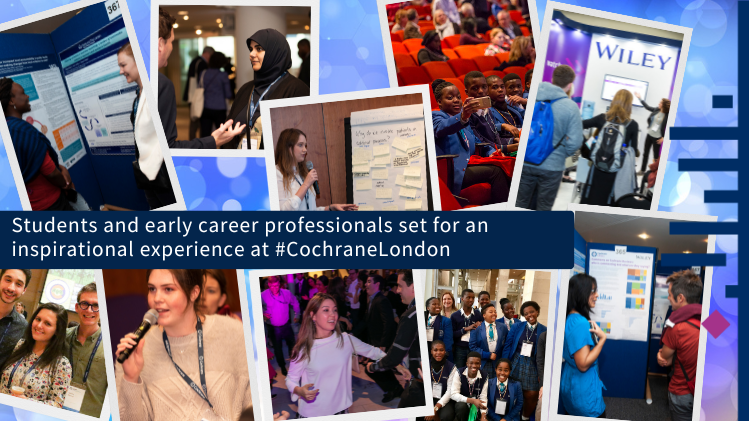 Exciting sessions relevant to students and early career professionals: 

This is just a small section of the diverse programming offered at Cochrane London. There are plenty of short oral sessions, longer plenary sessions, posters, social events, and workshops. Over three days you will be able to immerse yourself in the latest advancements in systematic review methodology and network with the leading experts in evidence-based medicine. 
Don't miss out on this unique opportunity to be part of Cochrane's Colloquium and contribute to the pursuit of trusted evidence. Register today and let's move forward together towards a healthier future! 

Cochrane Colloquium
4-6 September 2023
London, UK
Registration fees with information about student discount and one-day registration
Full programme