Cochrane has submitted a statement to the 73rd World Health Assembly, which is taking place virtually this week (18 and 19 May).
The World Health Assembly (WHA) is the decision-making body of the World Health Organization (WHO) and is attended by representatives of all Member States. This year's WHA focuses on the COVID-19 pandemic.
Our statement highlights the value of evidence-informed health policy and, given the large volume of COVID-19-related research underway, calls for Member States to ensure trial transparency and to support evidence synthesis.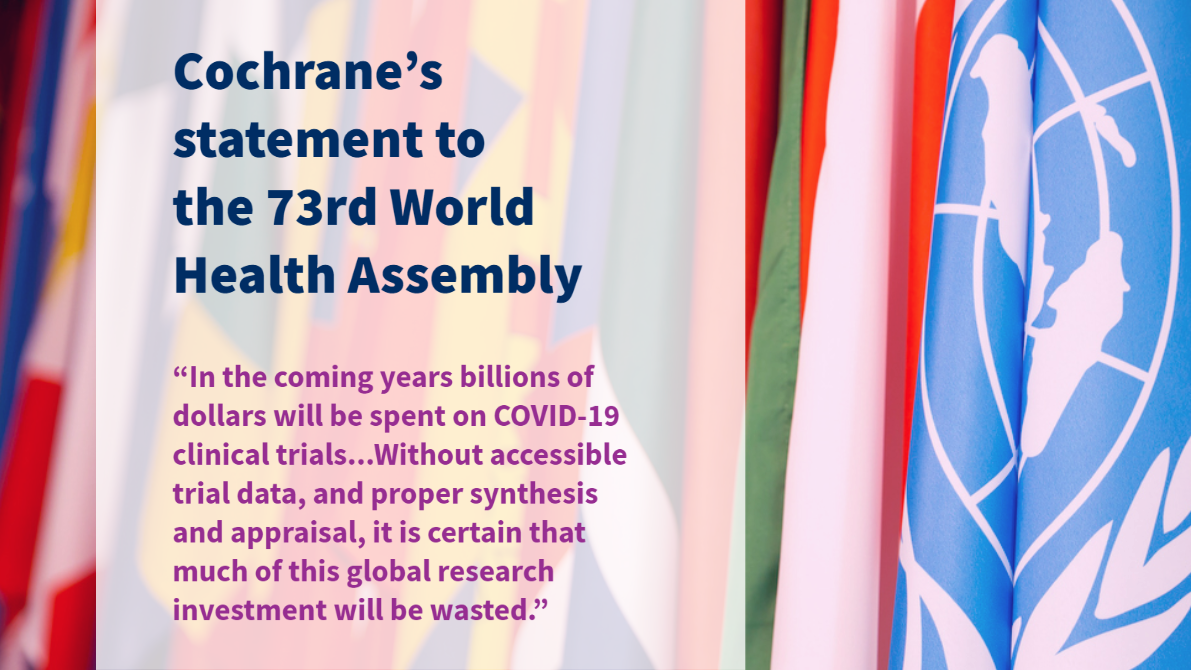 The full statement is below:
The COVID-19 pandemic highlights the critical importance of evidence-informed global health policy. Governments, healthcare professionals and researchers around the world are seeking answers to questions related to the treatment of patients, and how best to protect healthcare workers and the public. 
Cochrane is a global leader in the production of high-quality synthesized evidence to inform health decision making. We are working closely with WHO by producing rapid reviews to answer priority questions related to COVID-19, thus supporting the development of effective guidance, treatments and cost-efficient responses to the pandemic. 
However, the volume and variable quality of COVID-19-related research being published represents a huge challenge to synthesize their results accurately. Cochrane has identified over 4,000 COVID-19 human studies already ongoing or published; and has launched and will maintain one of the largest and most sophisticated registries of COVID-19 studies as well as a living synthesis of COVID-19 study results which is informing the WHO's 'Research and Development Blueprint'. Cochrane is also producing relevant 'living systematic reviews' that allow for continuous updates as new studies become available.
In the coming years billions of dollars will be spent on COVID-19 clinical trials. But we know that many clinical trials are never registered or reported on: a phenomenon which is seriously hampering decision making on best available evidence. Now, more than ever, it is vital that WHO's guidance on public disclosure of results from clinical trials is followed. Without accessible trial data, and proper synthesis and appraisal, it is certain that much of this global research investment will be wasted. 
We call on WHO member states to support evidence-informed decision making by taking action to safeguard trial transparency; and to provide adequate funding for evidence synthesis given the challenges ahead.