Cochrane is made up of 11,000 members and over 67,000 supporters come from more than 130 countries, worldwide. Our volunteers and contributors are researchers, health professionals, patients, carers, people passionate about improving health outcomes for everyone, everywhere.
Cochrane is an incredible community of people who all play their part in improving health and healthcare globally. We believe that by putting trusted evidence at the heart of health decisions we can achieve a world of improved health for all. 
Many of our contributors are young people working with Cochrane as researchers, citizen scientists, medical students, and volunteer language translators and we want to recognize the work of this generation of contributors as part of this series called, Cochrane's "30 under 30." 
In this series, we will interview 30 young people, 30 years old or younger who are contributing to Cochrane activities in a range of ways, all promoting evidence-informed health decision making across the world. 
We will be hearing from them in a series of interviewees published over the coming months.
The Cochrane 30 Under 30 series is now closed. However, we are keen to hear from early career professionals about their work with Cochrane for future series. If you would like to be added to our waitlist, please conact lparsonson@cochrane.org. Or if you want to know more about Cochrane's work contact membership@cochrane.org where our community support team will be happy to answer your questions.

Name: Soodabeh Behboodi
Age: 25
Occupation: Dentist and Clinical Lecturer
Program: Author & Peer Reviewer at Cochrane Oral Health Group

How did you first hear about Cochrane?
In 2012, Iranian Evidence-Based Center held a Cochrane workshop, then I decided that I want to be a clinician who applies trusted up to date evidence in her daily practice and I decided to join Cochrane family.

It didn't take much reading to realise the importance of Cochrane's work. So, when the opportunity presented itself, I was keen to work for an organization whose mission – of generating reliable health information which is free from commercial sponsorship – I respect. 
How did you become involved with Cochrane? What is your background?
I filled the 'Getting Involved' form and as I had a presentation titled "Low level laser therapy in orthodontics" for a study club which was awarded as best presentation, I chose Laser as my interested field. Now I am an active member in Oral Health Group of Cochrane and I am participating as Peer reviewer and Author in a Cochrane systematic review titled "Laser therapy for dentine hypersensitivity".
What do you do in Cochrane?
I am involved in updating a Cochrane systematic review titled "Laser therapy for dentine hypersensitivity".
What specifically do you enjoy about working for Cochrane and what have you learnt?
I have developed a passion for practicing evidence based and getting to know Cochrane and using its trainings enabled me to critically appraise the evidence which would lead to make better decision in treatment planning.
What are your future plans?
I am a Clinical Lecturer in Azad University of Tabriz as well as the supervisor of a research team. I want to give the same chance for my students who are at the start of their career, to get to know Cochrane and be able to critically appraise the evidence to apply for their first patients.
In your personal experience, what one thing could Cochrane do better to improve its global profile?
In my opinion, Cochrane is an interconnecting subsets, working as a whole system, in which each region's activity could affect system. In my region, there is a great potential of passionate participants which could contribute to Cochrane, if they have opportunity by getting introduced to Cochrane which could be beneficial for Cochrane and health system. In my region expanding Cochrane credentialed trainings would be of great help in this regard.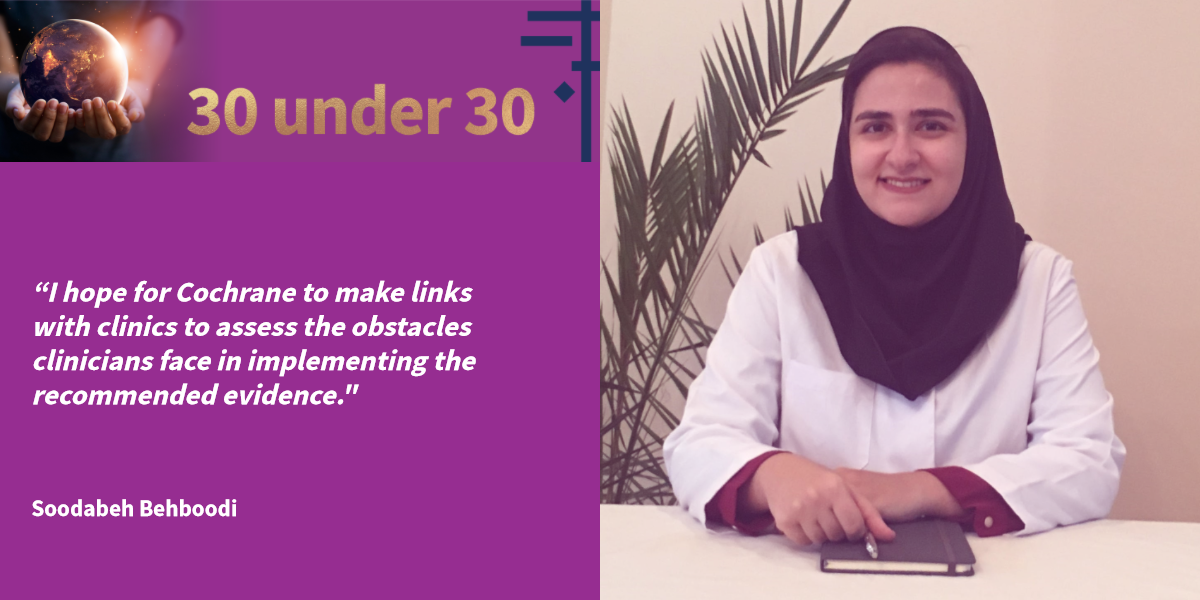 What do you hope for Cochrane for the future?
I hope for Cochrane to make links with clinics to assess the obstacles clinicians face in implementing the recommended evidence. This could help decision-making clinicians, guideline developers, which is along with Cochrane's slogan: Trusted evidence, Informed decisions, Better health.
How important is it that young people get involved in Cochrane? Why is this, do you think?
I face many of them in university and I think they have time, which could be managed to be used for Cochrane under supervision of a professional if they get to know the system, because clinicians come up with good questions and ideas during their daily practice but they don't have enough time to pursue them. If Cochrane could make a system for youngsters to get involved under supervision this could be beneficial for individuals and Cochrane.

Providing better health which is Cochrane's aim is only possible if many participants contribute according to their abilities and conditions. This contribution will be of great help for the healthcare network of each region.
What would your message be to other young people who want to get involved with Cochrane's work but not sure where to start….?
I want to say this for your readers who are just having a glance, I think they are convinced that evidence based practicing is the future of medical industry, I recommend they get more training with Cochrane's extensive online training programs. Also, I want to outline that donating their time to this system will have a great impact for the healthcare network in the society they're living.