Cochrane is made up of 13,000 members and over 50,000 supporters come from more than 130 countries, worldwide. Our volunteers and contributors are researchers, health professionals, patients, carers, people passionate about improving health outcomes for everyone, everywhere.
Cochrane is an incredible community of people who all play their part in improving health and healthcare globally. We believe that by putting trusted evidence at the heart of health decisions we can achieve a world of improved health for all. 
Many of our contributors are young people working with Cochrane as researchers, citizen scientists, medical students, and volunteer language translators and we want to recognize the work of this generation of contributors as part of this series called, Cochrane's "30 under 30." 
In this series, we will interview 30 young people, 30 years old or younger who are contributing to Cochrane activities in a range of ways, all promoting evidence-informed health decision making across the world. 
We will be hearing from them in a series of interviewees published over the coming months.
We're keen to hear from you. Would you like to take part in this series? Do you know someone you'd like to see interviewed? Contact kabbotts@cochrane.org.  Or if you want to know more about Cochrane's work contact membership@cochrane.org where our community support team will be happy to answer your questions.

Name
: Shalini Suresh
(On Twitter at @shalini_suresh)

Age
:
24

Occupation
: Director of Compliance and Data Analytics

Program
: Master of Public Health in Epidemiology & Global Health, Columbia University Mailman School of Public Health

How did you first hear about Cochrane?
I first heard about Cochrane during my junior year of college while looking for an undergraduate Honors project. I was determined to pursue research from an evidence-based lens, and was certain I did not want to follow the conventional path of lab-based research. While I scanned several different options, I came across the Cochrane group at my university and started learning more about Cochrane systematic reviews and the important influence of Cochrane on evidence-based medicine.

How did you become involved with Cochrane? What is your background?
After finding out about Cochrane, I reached out to the University of Ottawa Centre for Global Health and met with Vivian Welch and Jordi Pardo Pardo, two Cochrane experts and wonderful mentors. They introduced me to the world of Cochrane systematic reviews and gave me the opportunity to conduct a systematic review for my Honors project in the senior year of my B.Sc degree in Biomedical Science.

What do you do in Cochrane?
I am a Cochrane systematic review author with the Cochrane Musculoskeletal Group, and I co-authored an update to a systematic review on Thermotherapy for Rheumatoid Arthritis, which is currently going through the editorial process. I've also been an advocate of Cochrane internationally, and while living in Nepal last year, I supported the Nepal Health Research Council in capacity building for evidence-based research, specifically with systematic reviews. I helped outline a training agenda to equip interested researchers with the technical skills required to conduct Cochrane systematic reviews.
What specifically do you enjoy about working for Cochrane and what have you learnt?
Cochrane exposed me very early on to the value of robust research methodology in informing high quality conclusions. The Cochrane author training that I received cultivated my critical thinking skills, a foundational element of research, that has helped me through multiple projects in subsequent work positions and graduate school. I realized the true value of my Cochrane training when I transitioned into conducting primary data research, and I was already aware of the challenges and nuances I would need to overcome to ensure that my results provide high quality evidence.

I also value the global influence of Cochrane and its holistic systems approach that is essentially "from everyone, for everyone". The diverse group of contributors that make up the Cochrane community bring a range of skill sets and perspectives, validating the integrity of the research and its ability to inform global guidelines.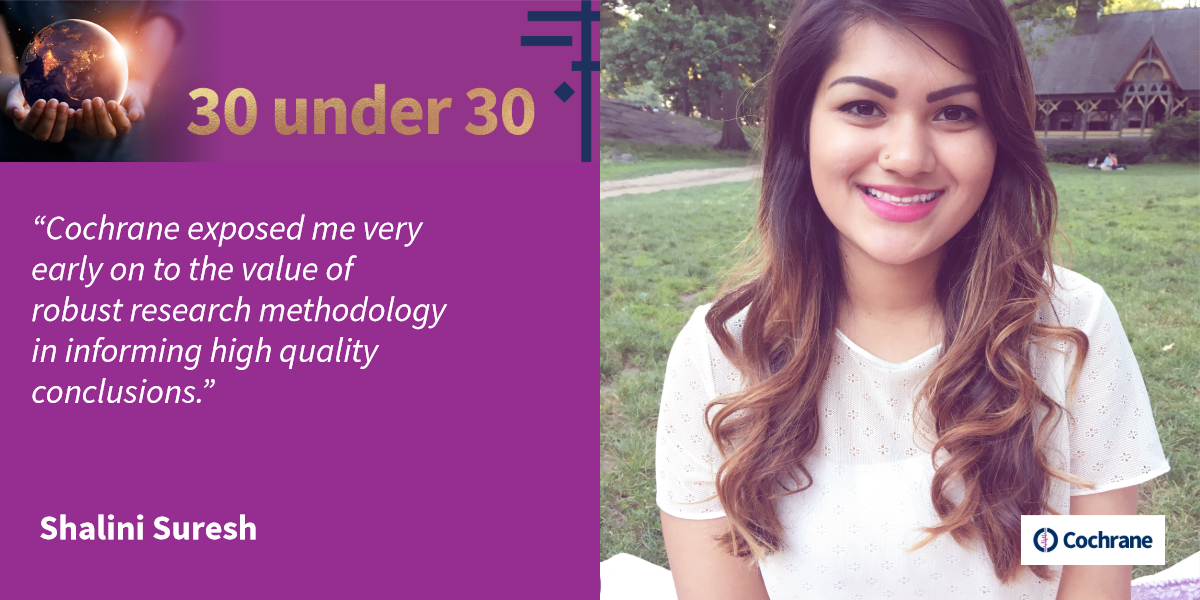 What are your future plans?
I'm currently working in global program implementation, data analysis, and research at an impactful NGO. I plan to eventually pursue a doctoral degree to apply my passion for robust research methods to generate high quality evidence in sectors that have wide data gaps, specifically within global development. Having just completed my Masters, I feel the need to spend some time in the real world to clearly identify a topic that has a high research need and overlaps with my interests, before going back to school!

In your personal experience, what one thing could Cochrane do better to improve its global profile?
From my personal experience engaging with the group in Nepal, I noticed a gap in the tools and resources they were able to access to deepen their involvement with the Cochrane community. They reported challenges in obtaining the training and guidance needed to participate in Cochrane projects so one suggestion I would have would be to increase access to materials and tools for training. Geographic barriers can play a role in limiting the accessibility to resources, so an intentional initiative to support and increase engagement of interested researchers could be explored. One possible way to foster global connections could be by perhaps having virtual mentorship sessions between Cochrane experts and newcomers.

What do you hope for Cochrane for the future?
I already see Cochrane as the global leader in evidence generation methods and the highest standard in evidence-based research. I hope that more international agencies and government bodies are able to recognize the value that Cochrane provides to the scientific community and supports its growth and expansion in the future.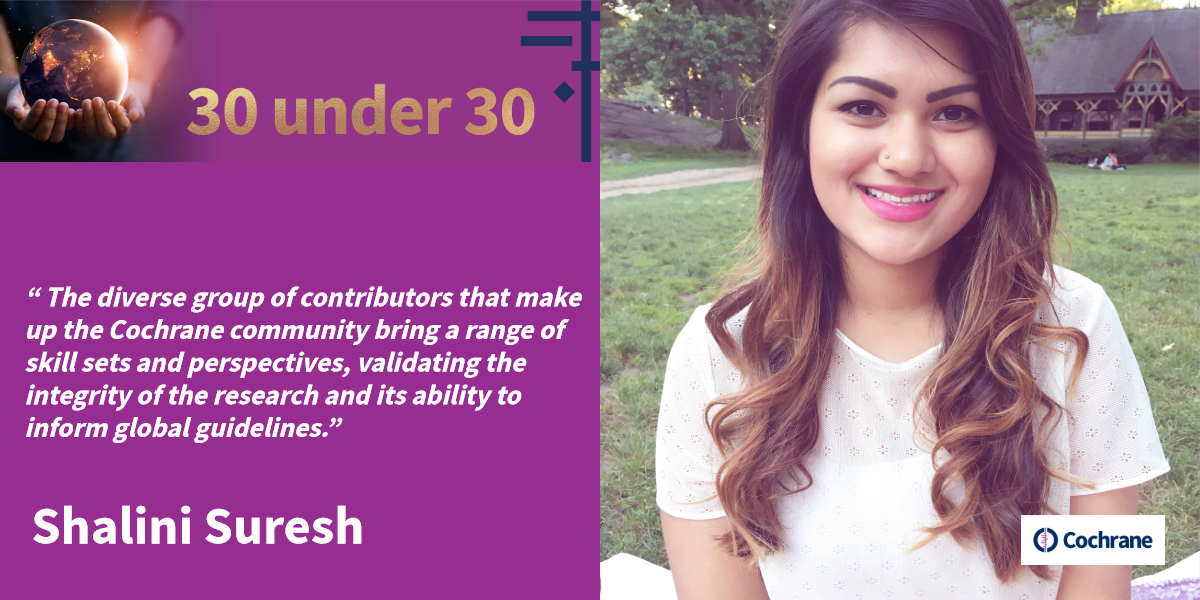 How important is it that young people get involved in Cochrane? Why is this, do you think?
There's an imperative need for young people to get involved in Cochrane, both from the perspective of what Cochrane provides to young people and how young people can contribute to Cochrane. Cochrane provides a unique platform for young individuals to learn about real-world, evidence-based research, which is unfortunately not given enough focus during college education. Academia tends to be centrered around courses and more traditional forms of scientific thinking that has its benefits, but often misses out on teaching students about research from an implicational lens. Cochrane provides a valuable learning opportunity to bridge this gap. On the flip side, young people bring a fresh perspective to Cochrane with new ideas and an eagerness to learn. By imparting Cochrane's valuable research methods to young individuals, we are creating a new generation of critical thinkers and empowered researchers, equipping them with the ability to contribute meaningfully to the scientific community throughout their careers.
What would your message be to other young people who want to get involved with Cochrane's work but not sure where to start….?
Cochrane has its presence in over 100 countries and has established groups at numerous universities, making it quite accessible globally. There are so many incredible opportunities for young individuals to get involved and all it takes is doing some outreach, sending some emails, putting effort into connecting with the network, and committing to stay involved. Being involved with Cochrane at a young age shaped my research abilities, provided me with valuable experience to build on early in my career, and contributed to my education as much, if not more, than the courses I took at college. In short, my message to students is to reach out to anyone from the Cochrane community that interests you, or to inquire more about any Cochrane project that interests you. It will be more than worth the effort!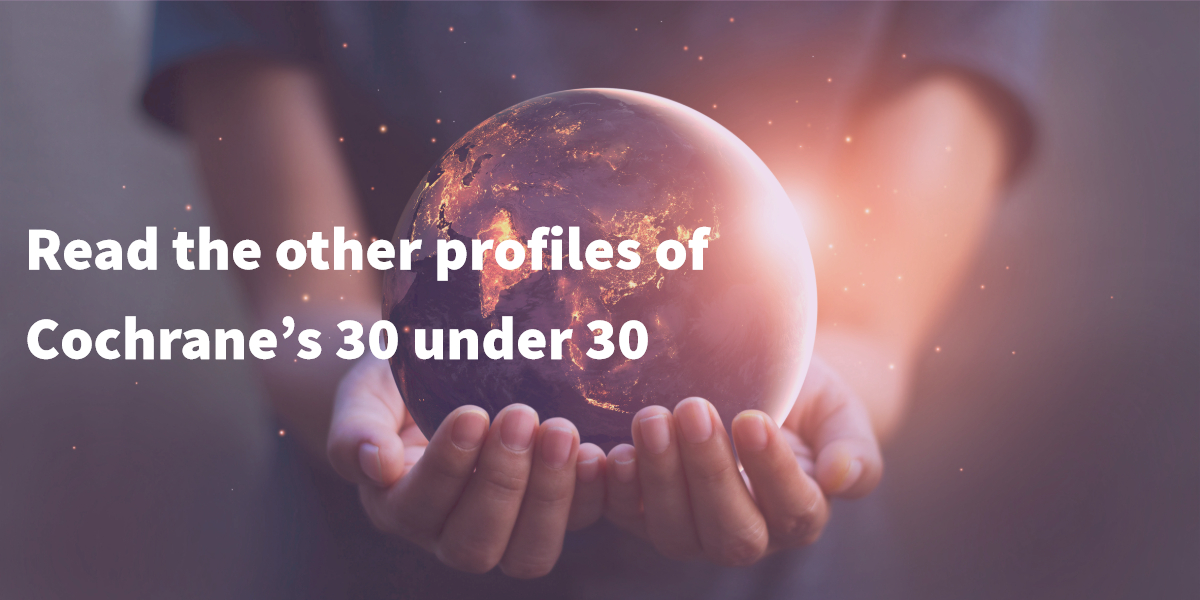 Monday, February 25, 2019