Cochrane is made up of 13,000 members and over 50,000 supporters come from more than 130 countries, worldwide. Our volunteers and contributors are researchers, health professionals, patients, carers, people passionate about improving health outcomes for everyone, everywhere.
Cochrane is an incredible community of people who all play their part in improving health and healthcare globally. We believe that by putting trusted evidence at the heart of health decisions we can achieve a world of improved health for all. 
Many of our contributors are young people working with Cochrane as researchers, citizen scientists, medical students, and volunteer language translators and we want to recognize the work of this generation of contributors as part of this series called, Cochrane's "30 under 30." 
In this series, we will interview 30 young people, 30 years old or younger who are contributing to Cochrane activities in a range of ways, all promoting evidence-informed health decision making across the world. 
We will be hearing from them in a series of interviewees published over the coming months.
We're keen to hear from you. Would you like to take part in this series? Do you know someone you'd like to see interviewed? Contact kabbotts@cochrane.org.  Or if you want to know more about Cochrane's work contact membership@cochrane.org where our community support team will be happy to answer your questions.

Name: Ndi Euphrasia Ebai-Atuh (on Twitter @Euphras01426918)
Age: 31 (30 at time of interview)
Occupation: Assistant Lecturer in Accounting department of the Faculty of Business & Management Sciences at the Catholic University of Cameroon (CATUC), Bamenda; systematic reviewer Effective Basic Services (eBASE) Africa
Program: Co-director of Cameroon Consumer Service Organisation (CamCoSO)
How did you first hear about Cochrane?
It was in line with my Consumer rights advocacy that I got introduced to Cochrane in 2017. I went through a number of systematic review training sessions and workshops organised by eBASE Africa. The concept of evidence informed decision making around systematic review so revolutionized my perspective and approach towards consumer rights advocacy.

How did you become involved with Cochrane? What is your background?
Ever since I was introduced to Cochrane, I have been not only a consumer of its evidence syntheses but an evidence synthesizer and an active advocate for the consumption of evidence syntheses by others in making health decisions as well. I am an Accountant by training and thanks to several training on systematic reviews I have been able to provide consumer referee inputs to a handful of Cochrane reviews.

What do you do in Cochrane?
I am a Cochrane consumer peer reviewer. I have provided consumer review of several PLS including; Interventions for improving oral hygiene in people after stroke(Cochrane Stroke Group);  Pro-coagulant hemostatic factors for the prevention and treatment of bleeding in patients without hemophilia (Cochrane Injuries Group); Clinically-indicated replacement versus routine replacement of peripheral venous catheters (Cochrane Vascular Group);  Pharmacological interventions for painful sickle cell vaso-occlusive crises in adults (Cochrane Pain, Palliative and Supportive Care Group); Granulocyte-colony stimulating factor administration for subfertile women undergoing assisted reproduction (Cochrane Gynecology and Fertility Group),  just to name some. Consumer Refereeing with Cochrane has provided me a global platform from which my consumer advocacy can have far reaching effects; rendering a PLS understandable by non-clinicians (patients, carers, policy makers etc.) facilitates evidence implementation.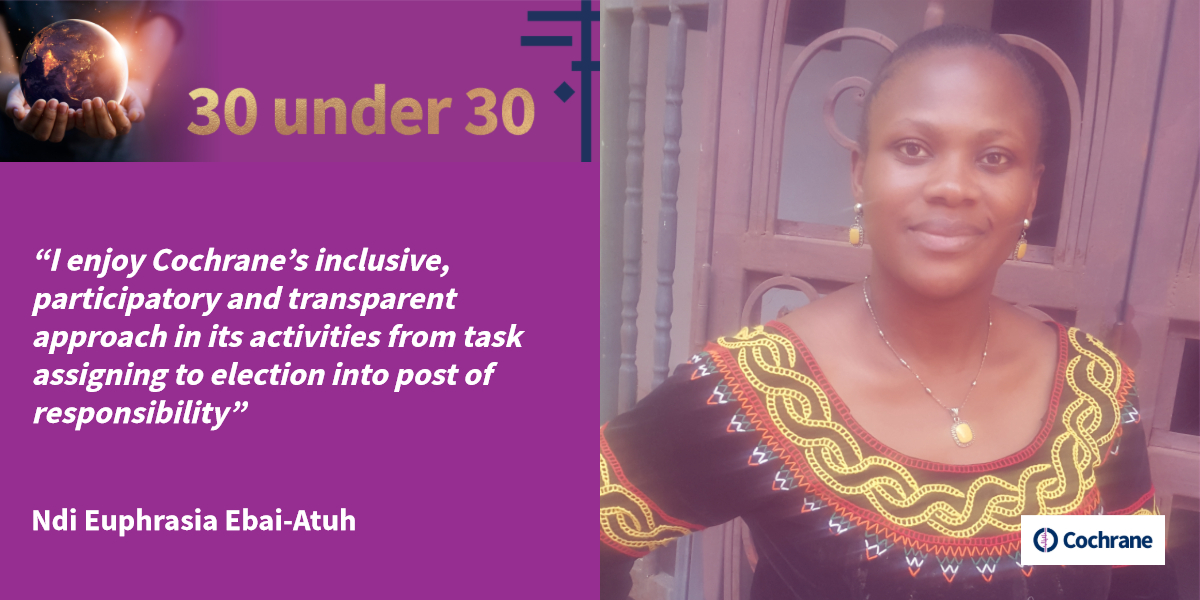 What specifically do you enjoy about working for Cochrane and what have you learnt?
I enjoy Cochrane's inclusive, participatory and transparent approach in its activities from task assigning to election into post of responsibility. Group heads send out tasks well ahead of deadlines and to a wide range of consumer referees. They are equally polite and appreciative of every effort made from expression of interest to comment on a review, to submitting completed review forms. There is that personal-touch! Working with Cochrane at any level is rewarding; I got a Cochrane membership designation due to my active participation as a consumer peer reviewer and as such I was eligible to vote during the just ended Cochrane Governing Board elections. Working with Cochrane has enabled me to further build my capacity in systematic review through access to resourceful materials in the Cochrane Library and website. Of recent, I attended two webinars titled: Task Exchange; a new hub for Cochrane Consumers organised and facilitated by Richard Morley and Dr. Emily Steele. I learned what task exchange is all about, how to participate in task exchange, benefits from participating in task exchange etc.
What are your future plans?
I intend to continue building my capacity in evidence synthesis; consumer peer reviewing; task exchanging. I plan to attend upcoming Cochrane Colloquia wherein I hope  to create  networks through which I could effectively forge ahead "my Cochrane Agenda" of consumer informed decision making for better health care. I would also like to train other consumer rights advocates in evidence synthesis and implementation.

In your personal experience, what one thing could Cochrane do better to improve its global profile?
Looking at the results of the just ended Governing Board Elections, I noticed that the Board did not get anyone from Africa and maybe Asia elected. This is a concern to me and I think it has implications on Cochrane's popularity and engagement in these continents. From my humble perspective, Cochrane could increase the number of positions on the Governing Board and make the election continent-wise. This will ensure that Cochrane gets a governing board member from each continent and that will go a long way to improve on its diversify and inclusiveness (global profile).
Editors Note: Since this interview, the Board has posted that they are still looking for candidates based in Low- and Middle-Income Countries.

What do you hope for Cochrane for the future?
I hope that Cochrane continues to provide platforms for the effective demand and supply of high quality evidence for informed decision and better health care. Also, I hope that Cochrane equally devotes adequate resources towards evidence implementation as the case is with evidence synthesis. It would be lovely to have more Cochrane branches worldwide specifically in Africa where quality health care is farfetched for many citizens and policy makers seem relatively unconcerned with the increasing deterioration of health systems and facilities.
How important is it that young people get involved in Cochrane? Why is this, do you think?
Young people can benefit from and contribute immensely by getting involved in Cochrane.  With more and more young people occupying world class leadership positions (Presidents, Ministers, Directors etc.) it is more than ever before crucial for them to get involved in Cochrane, so as to foster the implementation of evidence policy making in health at global, continental and national levels. In my continent Africa which is largely youthful, more young people getting involved in Cochrane would mean Africa making informed and better health care decisions.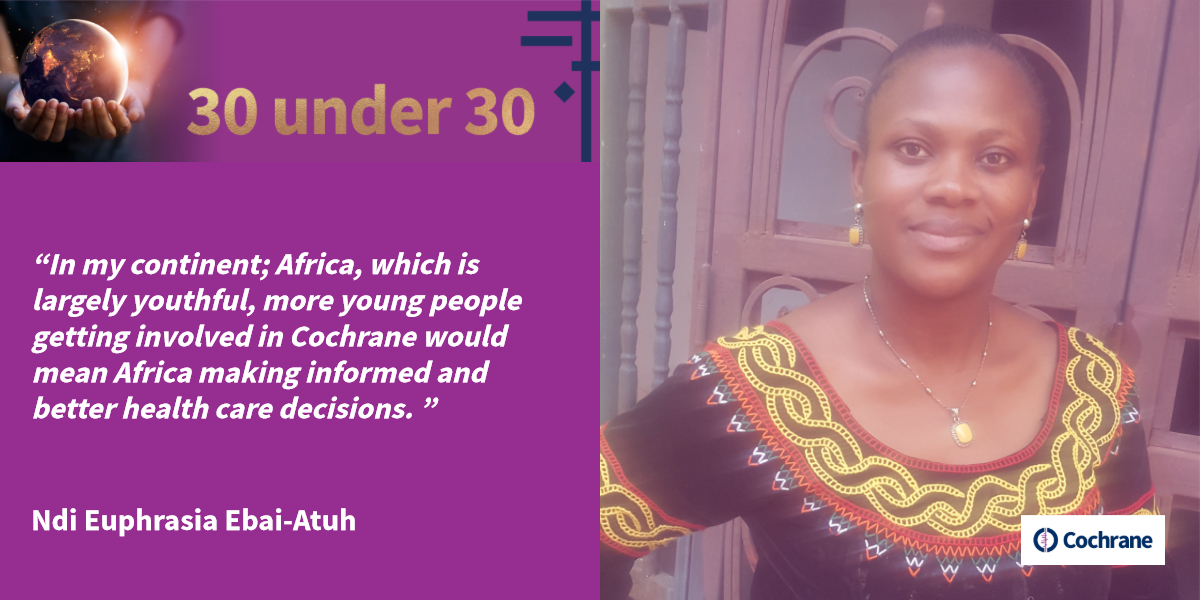 What would your message be to other young people who want to get involved with Cochrane's work but not sure where to start….?
If you have the desire to see you, your community and the world at large healthier, then you are ready to go. There are several platforms in Cochrane through which you can get involved; from task exchange, Cochrane crowd to peer reviewing. What you must do is to go to the Cochrane website where you would find extensive information on Cochrane and its activities. There also you will get directives and proposals on how to get involved as well as contacts of managing personnel who would be delighted to put you through.