Cochrane is made up of 11,000 members and over 67,000 supporters come from more than 130 countries, worldwide. Our volunteers and contributors are researchers, health professionals, patients, carers, people passionate about improving health outcomes for everyone, everywhere.
Cochrane is an incredible community of people who all play their part in improving health and healthcare globally. We believe that by putting trusted evidence at the heart of health decisions we can achieve a world of improved health for all. 
Many of our contributors are young people working with Cochrane as researchers, citizen scientists, medical students, and volunteer language translators and we want to recognize the work of this generation of contributors as part of this series called, Cochrane's "30 under 30." 
In this series, we will interview 30 young people, 30 years old or younger who are contributing to Cochrane activities in a range of ways, all promoting evidence-informed health decision making across the world. 
We will be hearing from them in a series of interviewees published over the coming months.
We're keen to hear from you. Would you like to take part in this series? Do you know someone you'd like to see interviewed? Contact lparsonson@cochrane.org.  Or if you want to know more about Cochrane's work contact membership@cochrane.org where our community support team will be happy to answer your questions.

Name: Jess Rees
Age: 21
Occupation: Student;  Adult Nursing
Program: University of Birmingham
How did you first hear about Cochrane?
I first came across Cochrane whilst writing an assignment for my nursing degree having been introduced to the organisation in the theory taught. My 'evidence-based practice' module also covered the principles behind Cochrane reviews and how they are the gold standard for systematic reviews.
How did you become involved with Cochrane? What is your background?
I became actively involved with Cochrane through their Colloquium in Edinburgh last year. I attended the Colloquium as a recipient of the Rosamund Snow Prize. Rosamund is remembered by many for her role in championing patients' involvement in healthcare through various channels including as Patient Editor at the BMJ. Rosamund's mother, Mary Snow, generously established the prize to allow two young people with an interest in evidence-based medical research and with experience as health service users to attend the Colloquium. Through attending the conference, I learnt so much about Cochrane's work globally and met many inspirational peers. I had the opportunity to co-chair a session and have our own stand to facilitate a space for all delegates to share their views about public and patient involvement in Cochrane.

Currently I'm studying adult nursing at the University of Birmingham. My background in research is limited as I'm at the beginning of my undergraduate training but research is a topic I'm very passionate about. In clinical practice, I've had the opportunity to take part in delivering research alongside nurses through evidence-based practice and undertaking clinical trials, but also be a patient in a trial. I can appreciate the many practical aspects to medical research and Cochrane allows me the opportunity to improve my academic knowledge alongside this.
What do you do in Cochrane?
I am a Citizen Scientist for Cochrane Crowd, helping identify and categorise clinical trials. After the Colloquium, Emma Cartwright and I reflected on our experience as delegates and gave constructive feedback to Cochrane to improve future events that are 'Patients Included'. However, I would describe myself currently as a user of Cochrane rather than an active contributor as I make the most use of their educational resources like Learning Live webinars and their e-learning modules.
What specifically do you enjoy about working for Cochrane and what have you learnt?
The one aspect that I found most significant from my work with Cochrane is the sense of community. My first experience of an international conference was the Colloquium and I found everyone to be very approachable and willing to discuss and hear other's opinions. The respect for the speakers and presenters was apparent and I felt comfortable to ask questions and meet new people. I have learnt about how Cochrane functions internationally and the organisation of its networks. I was unaware of the online resources and they have given me more knowledge about trusting and interpreting evidence. I feel my confidence in this area has vastly improved.
What are your future plans?
My degree is my priority currently and within that I have an elective placement and a dissertation to complete. I am considering my options at the moment, but I am sure that Cochrane will be involved in some way. Once I qualify, I am interested in assisting with clinical research and audits as part of my job role.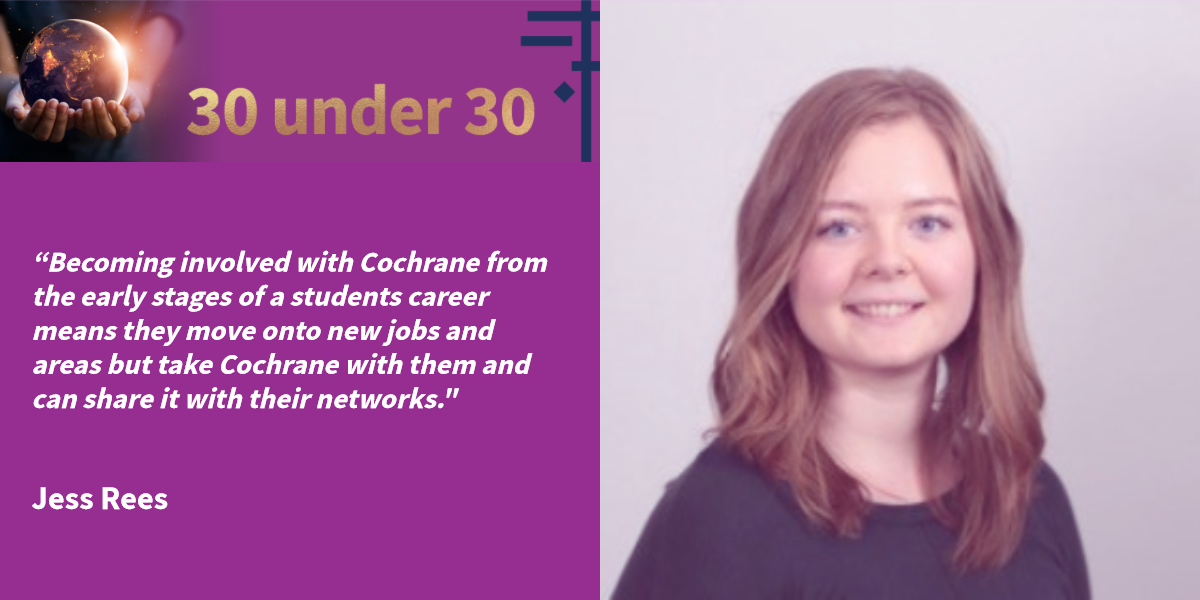 In your personal experience, what one thing could Cochrane do better to improve its global profile?
I know Cochrane has many opportunities for undergraduate students like Students for Best Evidence. I think student involvement is the key to building the global profile of Cochrane because the result of student becoming involved with Cochrane from the early stages of their career means they move onto new jobs and areas but take Cochrane with them and can share it with their networks.
What do you hope for Cochrane for the future?
My hope for Cochrane in the future is to continue to develop their work to include patients in all aspects of the organisation. I feel that as a future clinical nurse I want be able to signpost my patients to Cochrane for information. I see Cochrane as a key resource for empowering patients and building transparency and trust in the decisions made related to their care.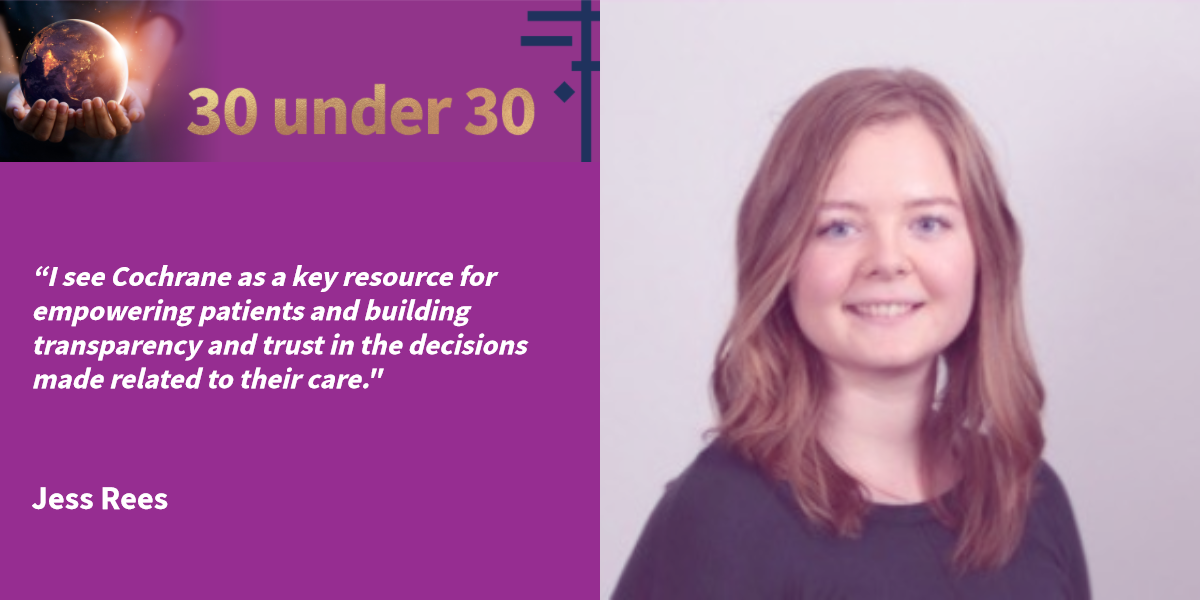 How important is it that young people get involved in Cochrane?
Young people are the future of Cochrane in every sense; researchers, reviewers, consumers, patients. Therefore, the future of Cochrane lies in the contribution and engagement of young people across the world.
Why is this, do you think?
To ensure Cochrane keeps growing and improving, young people's involvement is crucial. Our input, vision and contribution have the power to steer Cochrane's direction in the future. We can learn so much from the entire community, we just need to ensure that young people feel welcome and motivated to become an active part of it.
What would your message be to other young people who want to get involved with Cochrane's work but not sure where to start….?
I would say that the least daunting place to explore Cochrane's work is to become a member online. There is a wealth of information and educational resources to use independently to find your feet. Secondly, Cochrane and its individual networks, groups and countries use Twitter very effectively. It is a good source of current updates and events that may interest you.