Cochrane is made up of 11,000 members and over 67,000 supporters come from more than 130 countries, worldwide. Our volunteers and contributors are researchers, health professionals, patients, carers, people passionate about improving health outcomes for everyone, everywhere.
Cochrane is an incredible community of people who all play their part in improving health and healthcare globally. We believe that by putting trusted evidence at the heart of health decisions we can achieve a world of improved health for all. 
Many of our contributors are young people working with Cochrane as researchers, citizen scientists, medical students, and volunteer language translators and we want to recognize the work of this generation of contributors as part of this series called, Cochrane's "30 under 30." 
In this series, we will interview 30 young people, 30 years old or younger who are contributing to Cochrane activities in a range of ways, all promoting evidence-informed health decision making across the world. 
We will be hearing from them in a series of interviewees published over the coming months.
The Cochrane 30 Under 30 series is now closed. However, we are keen to hear from early career professionals about their work with Cochrane for future series. If you would like to be added to our waitlist, please conact lparsonson@cochrane.org. Or if you want to know more about Cochrane's work contact membership@cochrane.org where our community support team will be happy to answer your questions.

Name: Imen Farhat (on Twitter: @ImenFarhat2)
Age: 27
Occupation: Research Associate
Program: Masters in Epidemiology at Université Laval, systematic review methodologist at Cochrane Canada Francophone

How did you first hear about Cochrane?
When I was a graduate student, I attended a presentation by Dr Alexis Turgeon, a clinical researcher at Université Laval and the director of Cochrane Canada Francophone. The presentation was on systematic reviews and meta-analyses and the Cochrane methodology. It piqued my curiosity: Why would researchers choose to base a study on already published studies instead of developing an original one? I decided to explore the Cochrane website and was impressed by the methodology and the scientific rigor for published Cochrane studies.
How did you become involved with Cochrane? What is your background?
I have a strong interest in epidemiology, biostatistics, public health and evidence synthesis with the purpose of improving patients' clinical outcomes and quality of life with evidence-based clinical practice. I have a Bachelor of Science in Mathematics and Biology from McGill University (QC, Canada) and a Master's of Science in Epidemiology from Université Laval (QC, Canada). During my graduate studies, I joined the Cochrane Crowd and occasionally helped in the Cochrane Canada Francophone team perform meta-analysis. When I graduated with my master's, I was lucky to get a job working alongside Cochrane Canada Francophone.
What do you do in Cochrane?
I am a systematic review methodologist with Cochrane Canada Francophone. My main role is to train students and researchers interested in performing knowledge synthesis work. I also answer service requests made by systematic reviewers to Cochrane Canada Francophone. Since I am bilingual (French/English), I also help systematic review authors from the French community outside Cochrane Canada Francophone.
What specifically do you enjoy about working for Cochrane and what have you learnt?
I am delighted to be working with multidisciplinary teams that are part of a global network whose focus is to improve patients' outcomes and evidence-based medicine. I also enjoy the rigour and methodology developed by Cochrane to synthesize evidence. My experience with Cochrane has been very fulfilling as I improved my critical thinking, developed my expertise, and learned how to improve the quality of the systematic reviews. Every day, I have the opportunity to learn new things, improve my medical literacy and share my expertise with others.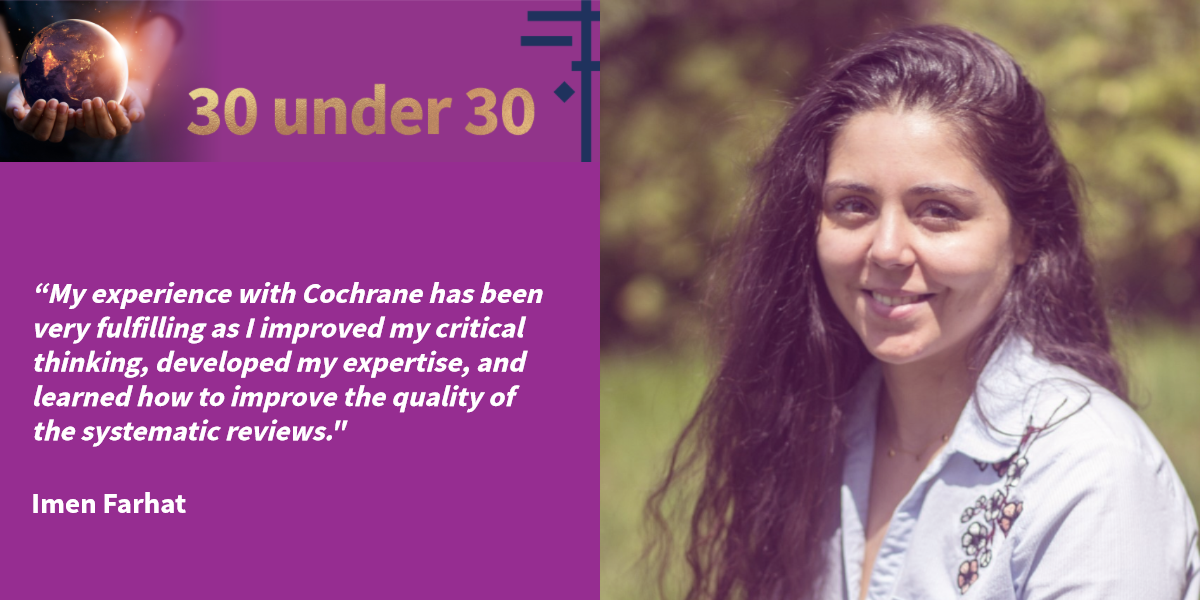 What are your future plans?
My future plans are to continue working in clinical research that aims to improve population health and to get more involved with knowledge transfer tools and shared decision making. I look forward to applying to doctoral programs to receive advanced training in epidemiology and health research methodology.
In your personal experience, what one thing could Cochrane do better to improve its global profile?
To improve its global profile, I think Cochrane should embrace technology and social media to disseminate results of systematic reviews to the global population. Although Cochrane is widely known in research and academia, its reach to the public is still far from its potential. I think that working with clinicians to improve evidence-based medicine is crucial in changing practice. However, many individuals outside of academia look for health related answers, either to improve their lifestyle or due to some medical conditions, without ever finding a reliable answer.
I also think that making weekly podcast in widely spoken languages available on popular streaming platforms might allow knowledge seeking individuals to easily access high-quality research that can be understood without prior medical or epidemiological knowledge.
What do you hope for Cochrane for the future?
I hope that Cochrane continues its growth and reaches groups of people that were not reached yet. I think that making the process easier for authors to perform Cochrane reviews will also benefit for the whole community.
How important is it that young people get involved in Cochrane?
I think young people are an important part of the continuous success of any organization. They bring a new dynamic, new ideas and innovation which allows the organization to grow and evolve. They also come with questions and a great appetite for learning and thus, might reflect what other groups, such as the public and non-specialists, think and question.
Why is this, do you think?
I think that young people are as much important as experienced ones for Cochrane. Often, young people are not set in their ways which allows them to be more flexible and pursue new ideas. They can adapt rapidly to new technologies, represent the next generation thinking, and are representative of one part (20-30 age category) of the population. Experimenting and incorporating technology is crucial for Cochrane to stay up to date.
As for young people, getting involved in Cochrane can bring them a sense of belonging to a community working together to improve research and evidence-based medicine. This can be very rewarding both at the spiritual level, but also at the intellectual level. Cochrane is one way for young people to develop their critical thinking and sharpen their skills.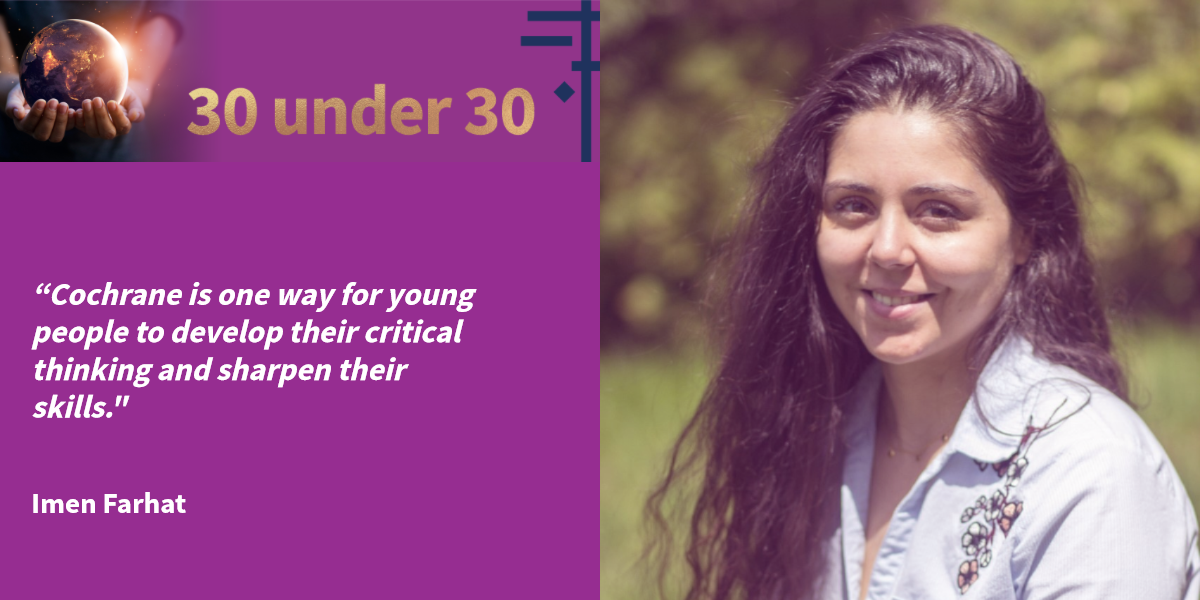 What would your message be to other young people who want to get involved with Cochrane's work but not sure where to start….?
I would suggest they visit the Cochrane website where they can learn more about evidence-based medicine and knowledge synthesis. They can also join the Cochrane Crowd and help summarize and categorize healthcare evidence and get involved by participating in the Cochrane TaskExchange where they can share their skills with others. Students 4 Best Evidence is an interesting initiative from Cochrane where students can learn about evidence-based medicine but also blog about some topics related to research methods and evidence-based knowledge synthesis.