Cochrane is made up of 13,000 members and over 50,000 supporters come from more than 130 countries, worldwide. Our volunteers and contributors are researchers, health professionals, patients, carers, people passionate about improving health outcomes for everyone, everywhere.
Cochrane is an incredible community of people who all play their part in improving health and healthcare globally. We believe that by putting trusted evidence at the heart of health decisions we can achieve a world of improved health for all. 
Many of our contributors are young people working with Cochrane as researchers, citizen scientists, medical students, and volunteer language translators and we want to recognize the work of this generation of contributors as part of this series called, Cochrane's "30 under 30." 
In this series, we will interview 30 young people, 30 years old or younger who are contributing to Cochrane activities in a range of ways, all promoting evidence-informed health decision making across the world. 
We will be hearing from them in a series of interviewees published over the coming months.
We're keen to hear from you. Would you like to take part in this series? Do you know someone you'd like to see interviewed? Contact kabbotts@cochrane.org.  Or if you want to know more about Cochrane's work contact membership@cochrane.org where our community support team will be happy to answer your questions.

Name: Emma Cartwright (on Twitter at @EmmaCartwrigh1)
Age: 29
Occupation: PhD student and Patient Editor
Program: Rosamund Snow Award
How did you first hear about Cochrane?
I first heard about Cochrane when I saw a Tweet about the colloquium in Edinburgh and how it was a patient included event which made me click on the link. It was then that I started to explore Cochrane and learn more about all of the work that happens at Cochrane.

How did you become involved with Cochrane? What is your background?
I became involved with Cochrane as the recipient of the Rosamund Snow Award. The award was for young health service users to attend the colloquium to find out more about Cochrane and how young people could become more involved in the work Cochrane does. My background is in Health Psychology, which I am currently studying a PhD in and I am also a person with Type 1 Diabetes, for which I do a lot of advocacy and peer support work. I am also a patient editor for the BMJ.

What do you do in Cochrane?
As part of the Rosamund Snow award I attended the colloquium in Edinburgh to learn about Cochrane and explore how patients could be further involved in the work Cochrane does. During the colloquium I, with the other prize winner, held a stand where we ask attendees of the colloquium (researchers, healthcare professionals and patients) how they had or hoped to involved patients in research. We collected the responses on a board so any attending the conference that wanted to involve patients more in their work could take some inspiration. I also supported the delivery of a workshop at the colloquium about how to involve patients in research with my colleagues from the BMJ. During this workshop we shared and explored how patients could sign up to become patient reviewers.

What specifically do you enjoy about working for Cochrane and what have you learnt?
My experience working with Cochrane so far has been very positive as I have found everyone to be very open to exploring new ways to better involve patients, and members of the public in research. I enjoy working with people from all over the world to bring together ideas and new ways of working which I think is a great strength of Cochrane being an international collaboration.
Since winning the Rosamund Snow award I have learnt who Cochrane are and what they do. Particularly around how they bring research studies together to create a review and how this can give more confidence when asking a question about health (e.g. is this medication effective). I have also learnt that researchers really want to help patients like me and how important it is for patients to be involved in research from the very beginning of research projects to ensure this happens.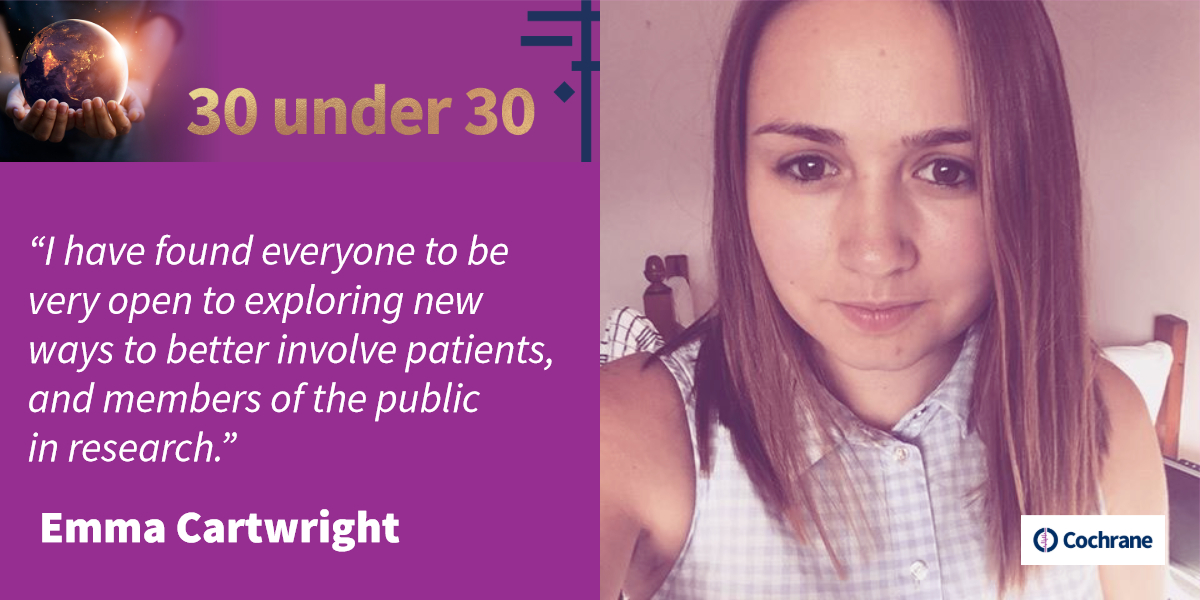 What are your future plans?
Within the next few years, during my PhD, I hope to bring together my knowledge as a researcher in Health Psychology with being a patient to find new and better ways of involving young patients in research. I hope to be able to show researchers, and clinicians, the unique skills and knowledge that patients can bring to research projects. I also hope to empower patients to become more involved within the research process, ensuring their voices are heard when identifying areas of research, questions to be addressed, outcomes measured, research design and in the communication of findings. I would also like to continue working with Cochrane to explore how they can involve wider groups of patients (and the public) in the work they do and continue to involve patients in the colloquiums.

In your personal experience, what one thing could Cochrane do better to improve its global profile?
One thing I think Cochrane could do to better improve its global profile is to explore new ways of informing patients of its role and the information they can offer. I think Cochrane needs to become much more engaging, outside of the research community, by reaching out to groups who would not normally hear of Cochrane. In order to do this, I think Cochrane must work closely with clinicians who are seeing patients every day and can recommend Cochrane as a place for patients to find information about their condition. I would also suggest that Cochrane works with patient advocates or patient groups to also help share their work to the relevant patients and establish itself as the go to resource of information for patients.
I also think Cochrane needs to rethink its ways of communicating research to patients and the public. I personally find lay summaries difficult to engage with (e.g. lots of acronyms) and are still largely written in an academic format (e.g. number of studies included, number of participants). As a patient all I want to know is what does the evidence tell us and how does/could this affect me. You also have to know what a lay summary is and where to find it in order to engage with it which is not always easy. One way Cochrane could improve on this is through developing engaging videos, podcasts, short summaries (one paragraph) or infographics to communicate research findings in a much more accessible way. 

What do you hope for Cochrane for the future?
I hope that Cochrane continues to further patient involvement in research and that they involve patients in how best to carry this out. I think the colloquium in Edinburgh was a great step in really involving patients within the Cochrane community and attempting to try and involve different groups of patients (e.g. The Rosamund Snow award, Beyond the Room team with tweets and podcasts of the event). However, I would like to see patient involvement to continue to be a large focus of the colloquium by ensuring that patients are not only involved in the planning of the colloquium but also there at future events as well. I also hope that Cochrane takes on the feedback from patients to better improve patient involvement in events and research.
Finally, I hope that Cochrane can raise its profile as a credible, reliable and accessible resource for patients looking for information on their health.

How important is it that young people get involved in Cochrane?
I think it is incredibly important for young people to get involved in Cochrane as we can bring new, innovate and engaging ideas to shape the future direction.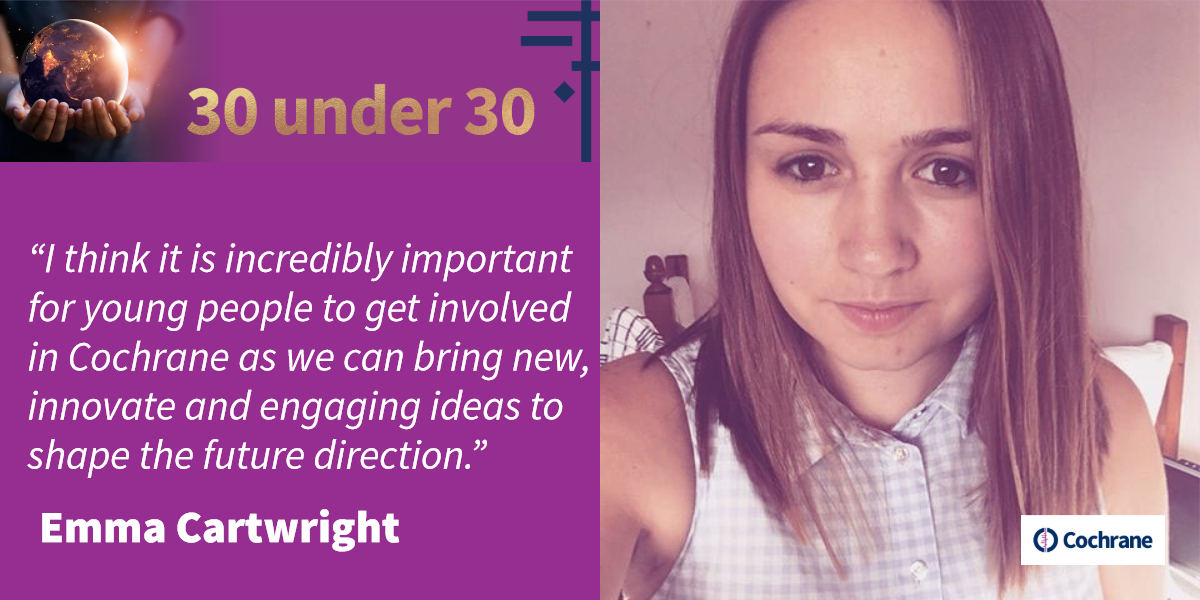 Why is this, do you think?
Research and patient involvement are areas which are moving fast and constantly changing with many organisations trying to determine the best way to bring both of these together. Involving young people in Cochrane, especially patients, is important in ensuring that Cochrane's direction is in line with the needs and wants of future contributors and users. Many organisations continue to do things because that is always how they have been. Sometimes a new, fresh pair of eyes looking at how things work and asking 'why?' can spark a change in moving things forward.

What would your message be to other young people who want to get involved with Cochrane's work but not sure where to start….?
First of all I would say check out the Cochrane website. It is full of information and videos about what Cochrane is and what they do, from the very beginning including all of the basics is really helpful as a patient or young researcher. I would also say sign up to the Cochrane task exchange. You will be amazed at the number of skills you have that researchers are looking for and it is a great way to get involved with Cochrane with no or little prior knowledge of research.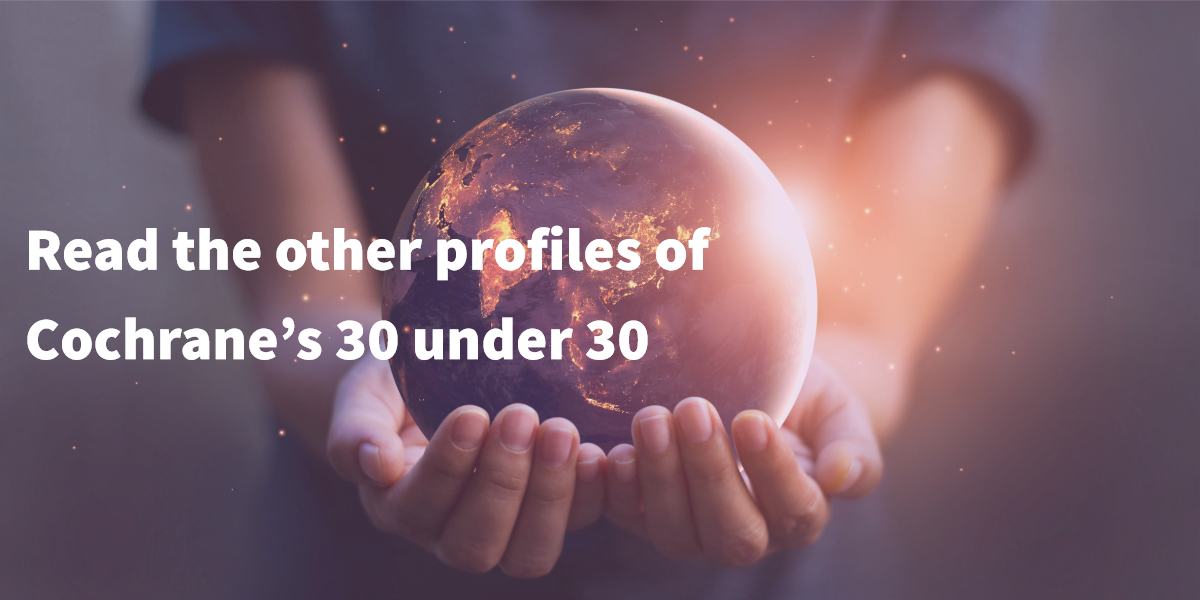 Tuesday, February 12, 2019