A Cochrane Review, published in the Cochrane Library, suggests that yoga may lead to a small reduction in pain in people with chronic non-specific lower back pain over the short term. However, researchers advise that more studies are needed to provide information on long-term effects.
Lower back pain is a common health problem, and is usually treated with self-care and over-the-counter medication. For some people it may last for three months or more, and at this point it is considered "chronic". Back pain is sometimes associated with a disease or condition, but the vast majority of lower back pain cases have an unknown cause, and as a result are described as non-specific. Current guidelines state that exercise therapy may be beneficial, and in particular yoga is sometimes used as a treatment.
Yoga has gained global popularity as a form of mind-body exercise, with general lifestyle benefits, and recent studies have investigated the potential of yoga to relieve the symptoms of lower back related problems.
A new Cochrane Review summarizes the results of 12 randomized trials from 1,080 men and women with an average age between 34 and 48 years old. The trials were conducted in India, the UK, and the US. All participants had chronic non-specific lower back pain.
The Cochrane researchers compared practicing yoga in a class to not doing any back-focused exercise. Five studies compared yoga with back-focused exercise, or added yoga for a back-focused exercise programme. All yoga interventions used were specifically designed for treatment of lower back pain, and were provided by experienced and qualified teachers.
They found that compared to no exercise, practicing yoga might be able to improve back-related function and reduce symptoms of lower back pain by a small amount. However, larger and more robust studies are needed to draw any firm conclusions about the long-term health benefits of yoga.
The research team also found limited evidence that, compared with not doing any physical exercise, yoga can lead to some improvement in back function after six months and a small reduction in pain after three months. The longer term effects of yoga on lower back pain are less certain, because there were few studies that looked at follow-up after 12 months. However, yoga is associated with more side effects than not doing any exercise. About 5% more yoga participants experienced increased back pain, although this appears similar to the risk of having side effects from other back-focused exercise.
Lead Cochrane author Susan Wieland from Cochrane Complementary Medicine at the Center for Integrative Medicine, University of Maryland School of Medicine, Maryland, commented, "Our findings suggest that yoga exercise may lead to reducing the symptoms of lower back pain by a small amount, but the results have come from studies with a short follow-up. At the moment we only have very low-quality evidence for the effects of yoga before six months as a type of exercise for helping people with chronic lower back pain. The yoga exercises practised in the studies were developed for low back pain, but people should also remember that in each of the studies we reviewed, the yoga classes were led by experienced practitioners. The findings of this Cochrane Review will help people make more informed choices about their future treatment options."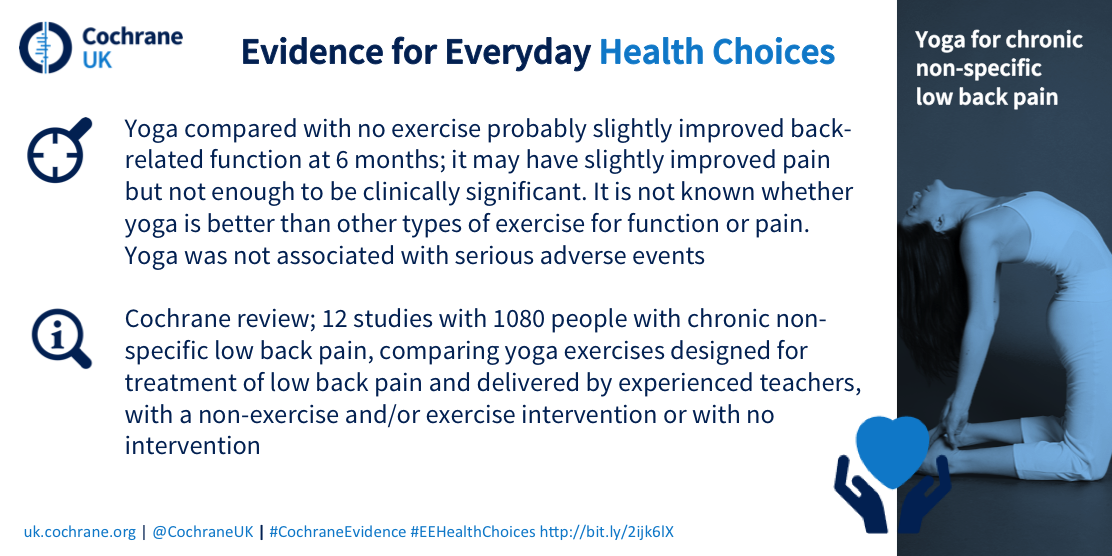 Read this press release in Malay.
Read the Cochrane Review's plain language summary in English, Spanish, Croatian, Japanese, Polish, Russian, French, German, Thai, Malay, and Simplified Chinese
Listen to the author's podcast where she discusses the review and the implications of its findings.
Editor's notes
Full citation:  Wieland LS, Skoetz N, Pilkington K, Vempati R, D'Adamo CR, Berman BM. Yoga treatment for chronic non-specific low-back pain. Cochrane Database of Systematic Reviews 2013, Issue 7 . Art. No.: CD010671. DOI: 10.1002/14651858. CD010671
For further information, please contact
Jo Anthony
Senior Media and Communications Manager, Cochrane
M +44(0) 7582 726 634
E janthony@cochrane.org or pressoffice@cochrane.org
Media spokesperson
Susan Wieland
Coordinator, Cochrane Complementary Medicine
Center for Integrative Medicine
University of Maryland School of Medicine
520 W. Lombard Street
Baltimore, Maryland, 21201 USA
E swieland@som.umaryland.edu
E2 lswieland@gmail.com
About Cochrane
Cochrane is a global independent network of researchers, professionals, patients, carers, and people interested in health.

Cochrane produces reviews which study all of the best available evidence generated through research and make it easier to inform decisions about health. These are called systematic reviews.

Cochrane is a not-for profit organization with collaborators from more than 130 countries working together to produce credible, accessible health information that is free from commercial sponsorship and other conflicts of interest. Our work is recognized as representing an international gold standard for high quality, trusted information.
Find out more at cochrane.org

Follow us on twitter @cochranecollab
If you are a journalist or member of the press and wish to receive news alerts before their online publication or if you wish to arrange an interview with an author, please contact the Cochrane press office: pressoffice@cochrane.org
About Wiley
Wiley, a global company, helps people and organizations develop the skills and knowledge they need to succeed. Our online scientific, technical, medical, and scholarly journals, combined with our digital learning, assessment and certification solutions help universities, learned societies, businesses, governments and individuals increase the academic and professional impact of their work. For more than 200 years, we have delivered consistent performance to our stakeholders. The company's website can be accessed at www.wiley.com.
Tuesday, January 31, 2017