The inaugural World Evidence-based Healthcare (EBHC) Day will be held on 20 October 2020 and spotlights the global impact of EBHC on health research, policy, practice and patient outcomes. This year's theme is 'from evidence to impact'.
Cochrane and six global leaders in evidence-based healthcare, led by JBI, are coordinating the worldwide initiative, which aims to create awareness of the need for better evidence to inform healthcare policy, practice and decision making in order to improve health outcomes globally.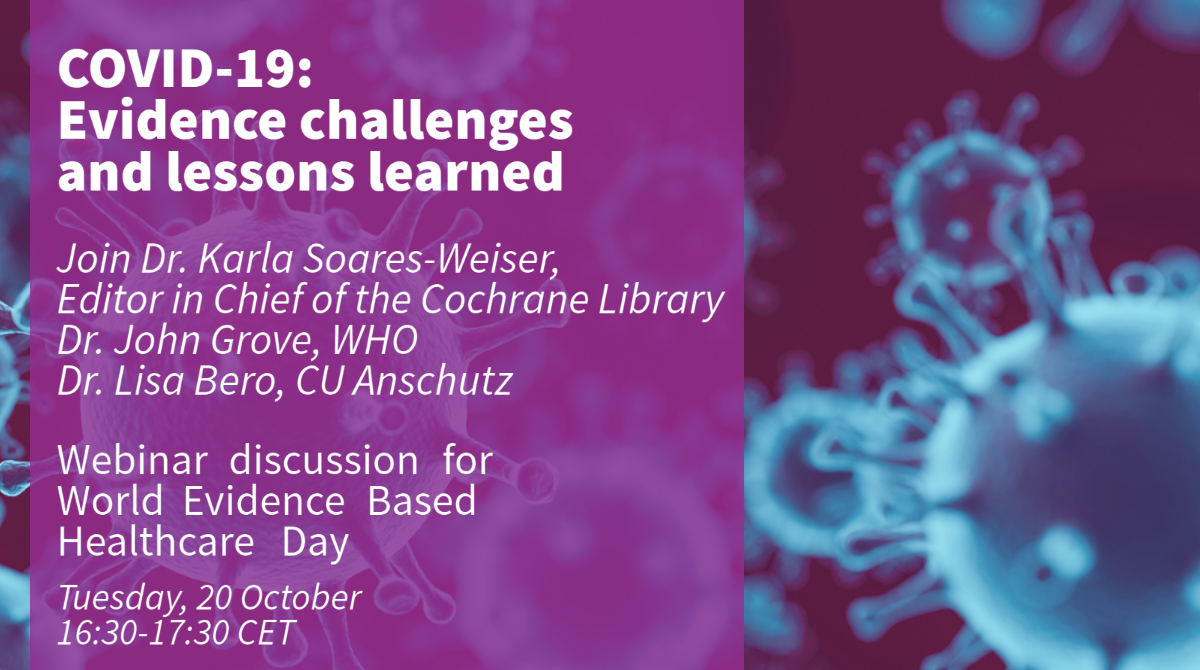 Online World EBHC Day event with WHO - COVID-19: evidence challenges and lessons learned
Tuesday 20 October, 16:30-17:30 CET (check in your time zone)
We are delighted to announce that as part of the inaugural World Evidence Based Healthcare Day on Tuesday 20 October, Cochrane will host an online session with Dr. John Grove, Director of the Quality Assurance, Norms and Standards Department within the World Health Organization (WHO) Science Division, and Dr. Lisa Bero, Cochrane's Senior Research Integrity Officer and Chief Scientist of the Center for Bioethics and Humanities, Professor of Medicine and Public Health, University of Colorado, Anschutz Medical Campus.
During the session, Cochrane Editor in Chief Dr. Karla Soares-Weiser, Dr. Grove, and Dr. Bero will discuss WHO's evidence needs during the COVID-19 pandemic, Cochrane's response to support those needs, and to reflect on evidence priorities during the next phase of the pandemic.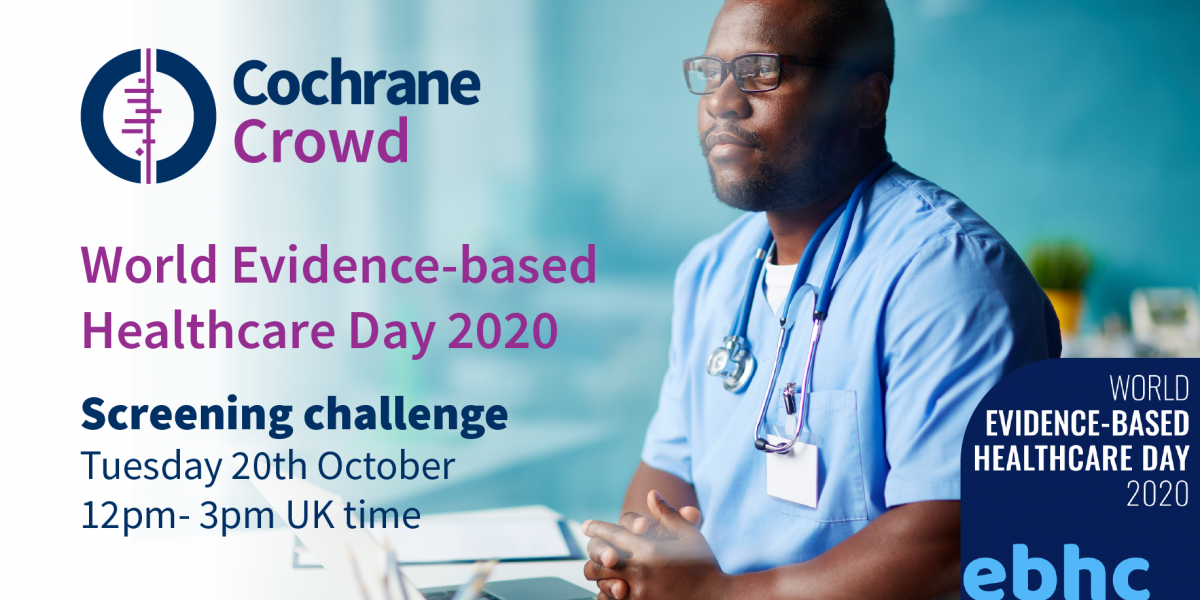 Cochrane Crowd screening event
Tuesday 20 October, 12:00-15:00 UK time (Check in your timezone)
Cochrane Crowd, Cochrane's citizen science platform, is a global community made up of volunteers who are helping to identify the research needed to support informed decision-making about healthcare treatments. Join the community on World EBHC Day for a special screening challenge – just log into Cochrane Crowd during the screening challenge time and follow the prompts!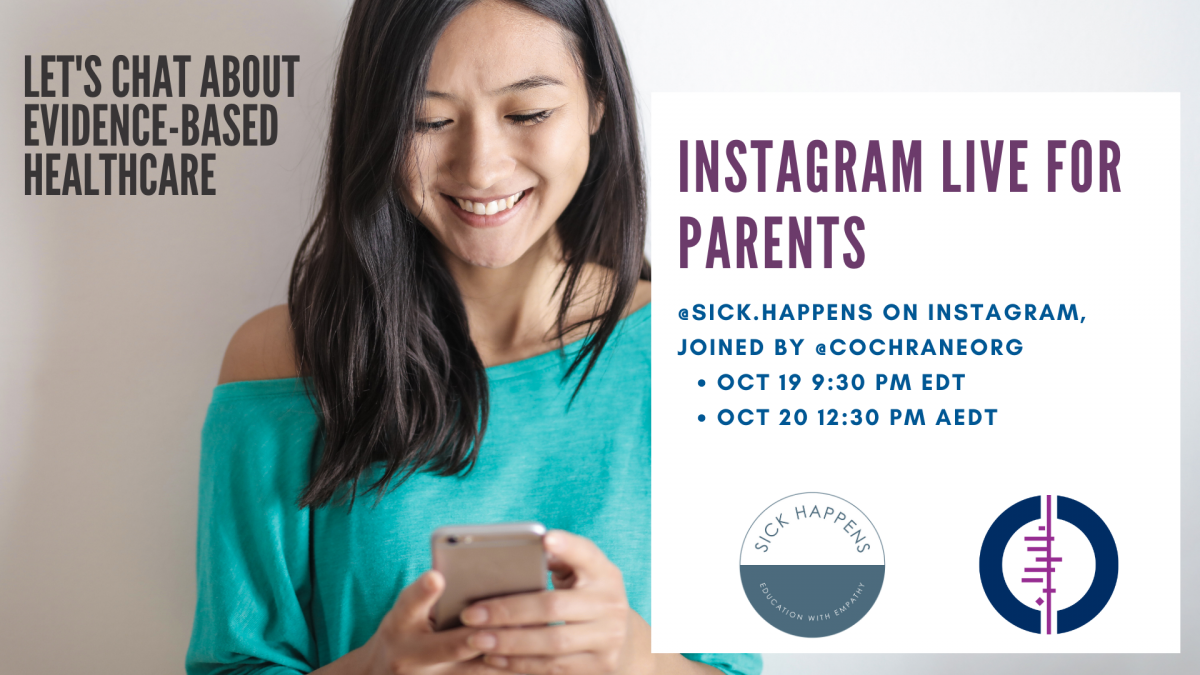 Instagram Live session on evidence-based healthcare for parents
Monday 19 October, 21:30 EDT (Check in your timezone)
An introduction to evidence-based medicine and Cochrane's work will be presented to a parents group, @sick.happens, on Instagram Live, led by Cochrane's Communications and Analytics Officer Muriah Umoquit on @cochraneorg

Cochrane Group activities
Cochrane Croatia
Cochrane Croatia is holding a press conference at the University of Split School of Medicine on Tuesday 20 October. Members of Cochrane Croatia, and their partners, will present how evidence impacts lives. 
Cochrane Croatia is also encouraging its partner organisations to share their stories on how evidence has impacted their lives.
Cochrane Malaysia
Cochrane Malaysia has launched two World EBHC Day competitions: One for medical students at its host institution to share a story about how research evidence has impacted on them or a family member personally; and one for translators of Cochrane plain language summaries to come up with the best idea to disseminate the findings of a particular Cochrane review.  
Cochrane US Network Affiliate Central Michigan University
Cochrane US Network member CMU has produced a video demonstrating how it achieves #EvidencetoImpact through its annual systematic review trainings for MPH students, medical students, faculty, and clinicians.

From 19-25 October, the partner organizations behind World EBHC Day are also hosting a range of online events on topics related to evidence-based healthcare, including webinars and Twitter chats, across different time zones.

You can help promote and engage with the World EBHC Day campaign and share your own EBHC impact stories on social media. An official social media toolkit is available to use.
Follow @WorldEBHCDay on Twitter and use the #WorldEBHCDay hashtag to join in the conversation.
Cochrane is also working with the Association for Healthcare Social Media, whose members include many of the virtual physicians and nurses of TikTok, Instagram, Twitter, and YouTube, to disseminate information on evidence-based healthcare to their audiences in celebration of World EBHC Day.