The Thomas C Chalmers MD Award Committee 2019 wishes to extend its congratulations to this year's winner for best Oral presentation, Dena Zeraatkar.
2019 Oral presentation winner - Dena Zeraatkar
Froeks Kamminga, Methods Liaison Officer in the Editorial and Methods Department, caught up with best Oral presentation winner Dena Zeraatkar to find out a little more about her and ask what winning the award meant to her.
Dena is a doctoral candidate in the Health Research Methodology program in the department of Health Research Methods, Evidence, and Impact at McMaster University (Canada). Her work centers on evidence synthesis and evaluation in nutrition. She is also a member of the NutriRECS group, an international consortium of nutrition researchers, methodologists, consumers, and clinicians dedicated to developing dietary guidelines that meet internationally accepted standards for trustworthy guideline development.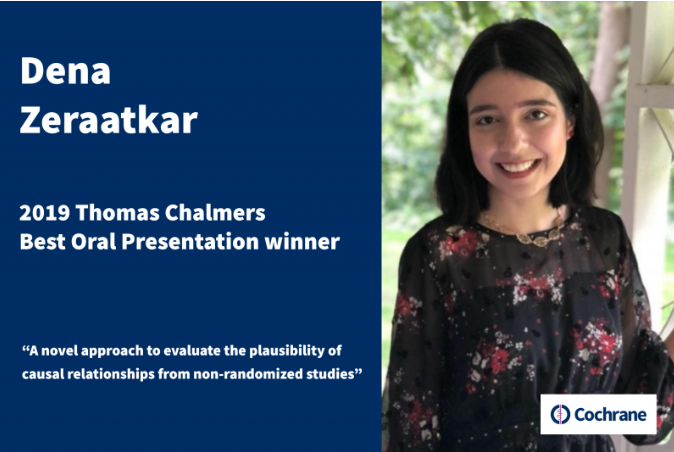 Why did you decide to enter the competition?
I attended the Cochrane Colloquium for the first time in 2018 and was extremely impressed by the work presented by the delegates. It was an excellent opportunity to learn about methods in evidence synthesis and to expand my network. My colleagues and I subsequently decided to submit two abstracts describing the methodological aspects of our work on a guideline addressing the consumption of red and processed meat.

What do you take away from winning this award, or what does it mean to you, personally?
It is an honor to win an award named after the late Dr. Thomas Chalmers, who played a pivotal role in the development of randomized controlled trials and meta-analysis. Also, it is an honor to be recognized by the largest organization dedicated to the promotion of evidence-informed health decision-making. My colleagues and I hope to continue prioritizing rigorous methodology in our work in nutrition and in other areas.

In terms of the impact of the award on her work, she stated that the award had motivated her and her colleagues to continue their work developing high-quality, trustworthy guidelines in nutrition. She added: "Nutrition is a challenging field to study. It is a positive experience for us to know that others recognize the importance and value of the work we have been doing."
Lastly, what would your message would be to other researchers considering entering for the Thomas C Chalmers award in 2020?
I hope that other researchers would be equally inspired by the legacies or Dr Chalmers and other individuals on whose work current emerging research builds. I am looking forward to seeing what next year's delegates will present at Cochrane 2020 in Toronto!
Dena's presentation: "A novel approach to evaluate the plausibility of causal relationships from non-randomized studies" .
For further information on other prizes which are awarded at the Colloquium, please visit https://colloquium2020.cochrane.org/prizes-and-awards
Thursday, January 30, 2020