Keen to get experience with systematic reviews, but not sure where to start? Or perhaps you're already experienced, and want to help out? Can you help with translation work? 

TaskExchange is an online platform that connects people needing help with their systematic review with people who have the time and skills to help. A variety of tasks are posted on the platform, from literature searching, article screening and translation and data extraction, to statistical analysis, and consumer reviews. Whether you're a complete beginner or very experienced, you're bound to find a task that suits you! Any tasks completed count towards a Cochrane Membership. COVID-19 specific tasks are continually being added. 
Thilo von Groote, author of 'Novel Coronavirus Infection (COVID-19) in Humans: A Scoping Review and Meta-Analysis'  says, "We were only able to recruit such a skilled team of systematic reviewers in such a short time due to Cochrane's TaskExchange. Also, most of of use were trained by Cochrane. We have members of Cochrane Iran, Cochrane Croatia, and Cochrane Kidney and Transplant on the author team."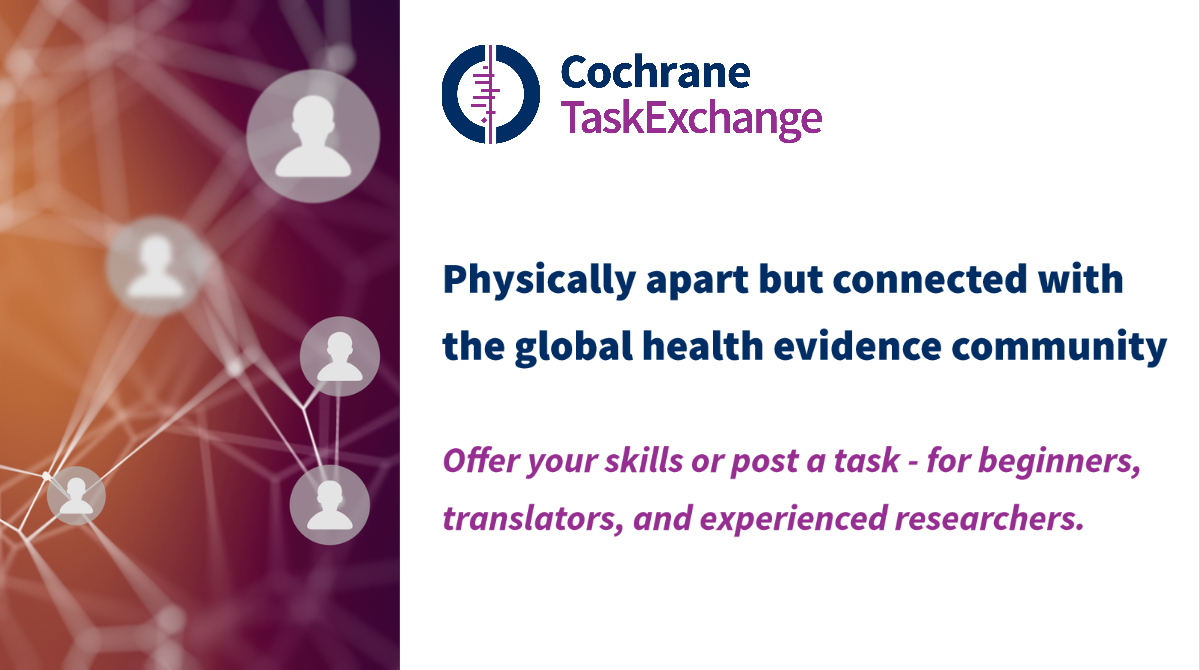 We invite you to get started today with TaskExchange - sign up, browse the tasks, and respond to the tasks that catch your eye! If you are working on a COVID-19 related product, you can also post a task and get help! You can learn more about using TaskExchange for COVID-19 by viewing their recent webinar. Learn:  
How to find opportunities to work on COVID-19 projects
How to increase your chances of being chosen to work on a task
How you can become a Cochrane Member through Cochrane TaskExchange
And all the ins and outs of helping out on health evidence projects through Cochrane TaskExchange