Now is the time to 'up our game' in using evidence to address health challenges
The COVID-19 pandemic created a once-in-a-generation focus on evidence. We now have the opportunity to systematize the aspects of evidence use that are going well and to address the many gaps.
Alongside the 75th World Health Assembly, Cochrane and the Global Commission on Evidence to Address Societal Challenges co-hosted a virtual side event which brought together a global panel to discuss some of these issues.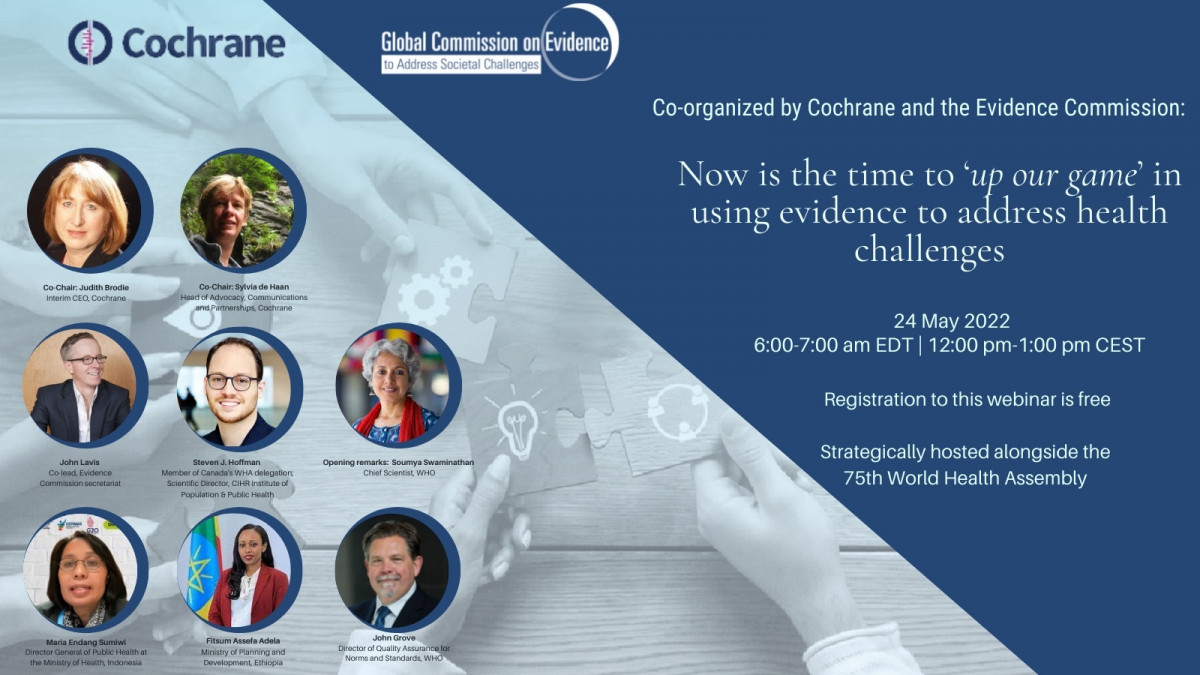 Speakers:
Dr Soumya Swaminathan, Chief Scientist, WHO

Fitsum Assefa Adela, Ministry of Planning and Development, Ethiopia

Steven J. Hoffman, member of Canada's WHA delegation; Scientific Director, CIHR Institute of Population & Public Health

Dr Maria Endang Sumiwi, Director General of Public Health at the Ministry of Health, Indonesia

John Lavis, Co-Lead, Evidence Commission

Dr John Grove, Director of Quality Assurance for Norms and Standards, WHO
Co-chairs:
Judith Brodie, Interim CEO, Cochrane
Sylvia de Haan, Head of Advocacy, Communications and Partnerships, Cochrane
About the session
During the roundtable, leaders from WHO Member States who use evidence to guide national decision-making were encouraged to reflect on their work – and share what they need from evidence producers, evidence intermediaries, and multilateral organizations. Cochrane, the WHO Evidence-informed Policy Network and the Evidence Commission then discussed their shared vision and recommendations.
The session was a dialogue between both the demand and supply side of evidence – highlighting the key priorities for the evidence-informed future we want and need, and the conditions needed to get us there.
Related links: