In this interview with Dr. Minna Johansson, Cochrane Sustainable Healthcare Field Director we learn more about the work of this field, the issues it wants to address and some of the ways they are engaging audiences to learn more.
Can you tell us about the Sustainable Healthcare Field?
Cochrane Sustainable Healthcare is a new Cochrane group focused on addressing medical excess. The background for our work is the notion that medical excess threatens the health of individuals and poses challenges for health system sustainability - and the need of an evidence base better suited to support sustainable decisions about healthcare. In essence, we are developing a global network for collaboration with partners within and beyond Cochrane on activities ranging from short‐term research projects to longer‐term reform initiatives.
What is the field's main goal?
Our fundamental aim is to contribute to a more sustainable healthcare for patients, for health systems, for our societies, and for the planet. Our more concrete goals are to enhance the relevance of primary research and evidence synthesis to tackle medical excess, and to increase the use of that evidence to enable a more sustainable healthcare.
Who is involved?
I am leading the work, together with Dina Muscat Meng who is coordinator of Cochrane Sustainable Healthcare. But more importantly, during these first two years since the launch we have had enormous support, help and engagement from a broad international network of highly skilled people who have generously contributed with time and resources to help bring this work further. Some of these people and organizations are mentioned at our website. We would like to especially thank Cochrane Sweden and Cochrane Denmark. We will develop this network further by partnering with primary researchers, funders of research, organizations working with evidence synthesis, guideline developers, policy makers, health systems organizations, professional medical associations, citizen and patient organizations, and the general public. We welcome anyone who is interested in this initiative to contact us.
Where can we go to learn more?
An Editorial about us is available here, and at our website you can read more about our work.
We are just about to launch a pop-up podcast series; "The Recovery – Voices of action towards sustainable healthcare" - co-published with The BMJ. In these podcasts, our co-hosts Ray Moynihan from Bond University and Fiona Godlee, editor in chief of The BMJ, meet thought-leaders around the world who are cutting the edge of sustainable healthcare. From Mumbai to Minnesota, you will hear about new initiatives that are changing the way we practice medicine, to ensure better access to high quality, evidence-based, and safe healthcare. The series includes an interview with Rachelle Buchbinder and Ian Harris, recent author of book, Hippocrasy: How doctors are betraying their oath.
Further, in collaboration with people from Cochrane Argentina, Cochrane Chile, Cochrane Methods, Cochrane Sweden and Cochrane Denmark, we have recently launched a Special Collection of Cochrane Reviews featuring examples of resource-intense interventions, including those requiring extra healthcare visits, for which there is high or moderate certainty evidence that they confer clinically small or no effects, and for which there is some evidence of harm to patients. The reviews are particularly relevant to the COVID-19 pandemic, and should inform guideline, and policy developers, and decision makers planning health care, both during and after the pandemic. This Special Collection is intended as the first in a series, with subsequent Collections focusing on other healthcare interventions shown to being ineffective, harmful, or unproven.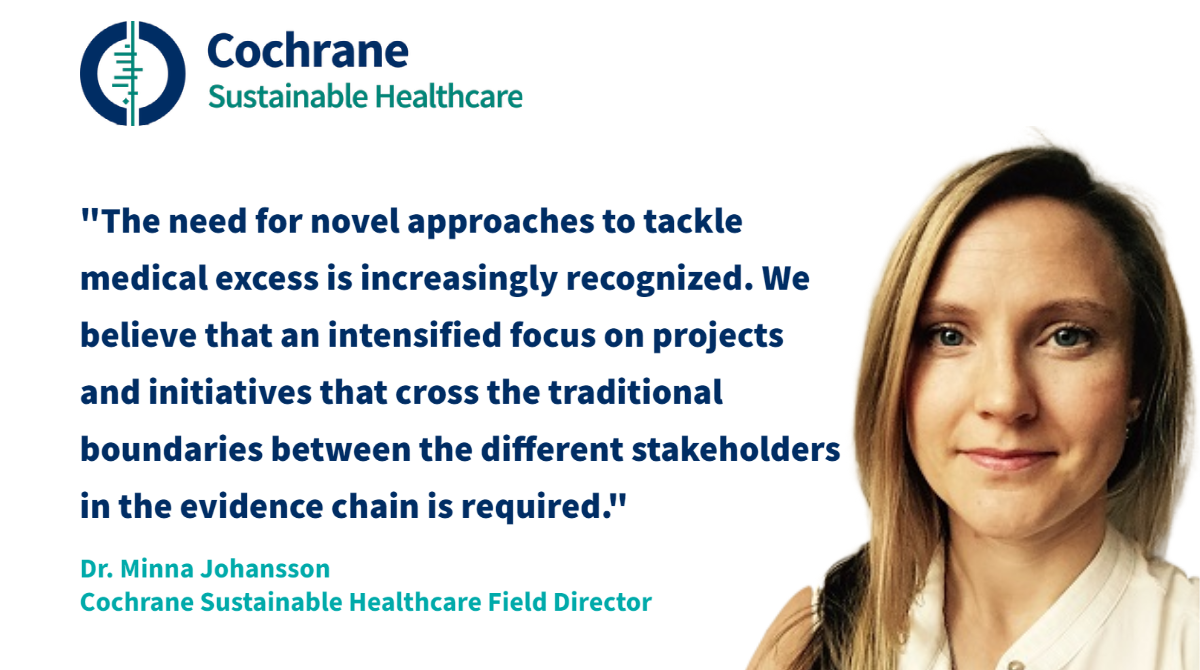 What is planned in the future?
We have a wide range of exciting projects in pipeline – one of the most exciting in my opinion is a collaboration with GRADE where we are just about to form a GRADE Working Group focused on medical excess. We are also working on a project evaluating the quality and balance of messaging in disease awareness campaigns observed by the WHO, Cochrane and the US government – and we plan to develop reporting guidance for such campaigns, which can be used by campaign organizers to ensure high quality and balanced messaging when developing a campaign, as well as by organizations and authorities when deciding on whether to endorse a campaign or not. We also aim to develop our collaboration with international and regional stakeholders – such as for example Choosing Wisely.
In conclusion, the need for novel approaches to tackle medical excess is increasingly recognized. We believe that an intensified focus on projects and initiatives that cross the traditional boundaries between the different stakeholders in the evidence chain is required. The reasons for these challenges are diverse and complex, and so are the solutions – a strong collaboration integrating differing and sometimes contradictory perspectives is indicated. This will undoubtedly be challenging, but a more sustainable healthcare will benefit individual patients, as well as our communities.