Special Collection: In vitro fertilisation - effectiveness of add-ons 
Infertility affects as many as 1 in 7 couples. Many of these people turn to fertility treatments for help. In vitro fertilisation (IVF) is generally considered the most advanced treatment option, and is recommended in many cases, regardless of the cause of subfertility.
Currently there are many adjunctive treatments offered in addition to standard IVF, in the hope that pregnancy outcomes will improve. These have been called IVF 'add-ons'. The term has gained popularity and is applied to collectively group any extra (non-essential) procedures, techniques or medicines, which can be added to standard IVF protocols, and which often claim to increase the chance of a successful outcome. IVF add-ons also tend to cost extra, on top of the cost of standard IVF. Examples include endometrial scratching, assisted hatching of embryos, steroid treatments, and pre-implantation genetic testing of embryos. 
The Special Collection In vitro fertilisation - effectiveness of add-ons includes Cochrane reviews assessing available evidence for specific IVF add-ons. This Special Collection aims to summarise these reviews to support health professionals and people undergoing IVF, to make decisions about offering or using IVF add-ons. The reviews in this collection should also guide future research by identifying gaps in evidence and under-researched areas. The special collection contains 11 reviews published by Cochrane Gynaecology and Fertility Group. We have only included reviews which have been published or updated in the last 5 years, to ensure the evidence is up-to-date. This means some reviews about common IVF add-ons may not have been included. When relevant reviews on add-ons become available, we will update the special collection.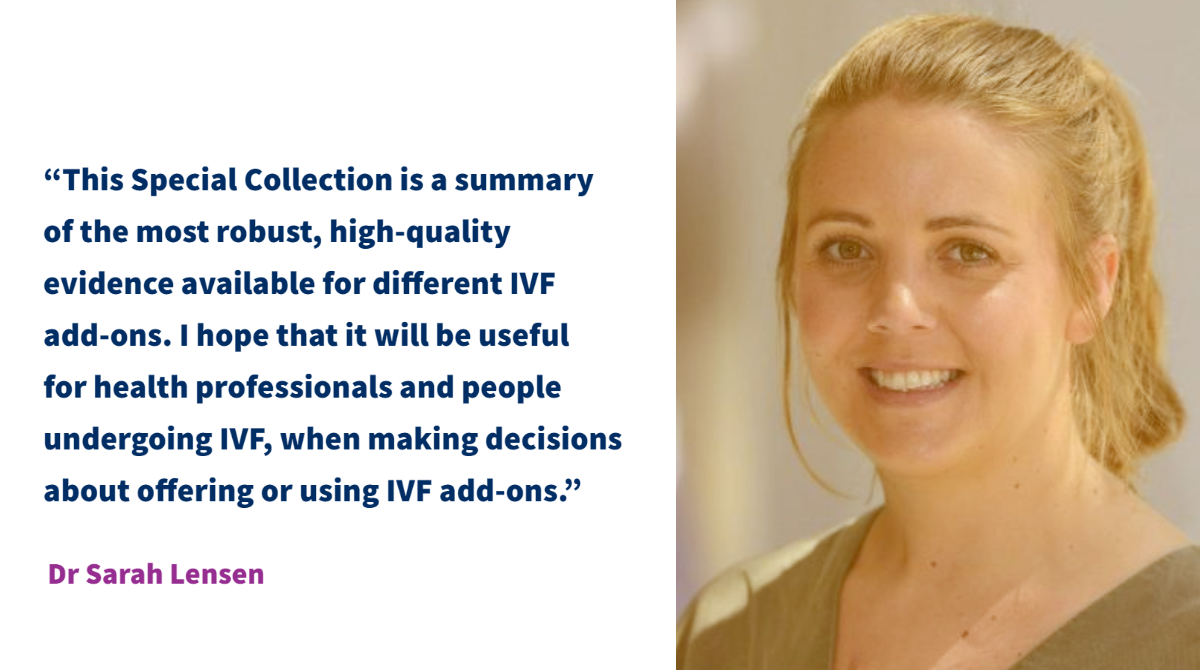 Dr Sarah Lensen who developed the collection together with Cochrane Gynaacology and Fertility group adds "This Special Collection is a summary of the most robust, high-quality evidence available for different IVF add-ons. I hope that it will be useful for health professionals and people undergoing IVF, when making decisions about offering or using IVF add-ons."