Tianjing Li and Julian Higgins recognized for their important contributions.
The Society for Research Synthesis Methodology supports and promotes the development and use of innovative and robust methods of research synthesis. At their 2016 Annual Meeting, held in Florence, Italy from 11-13 July, the Society recognized the important contributions of two Cochrane contributors.
The inaugural Early Career Award was given to Tianjing Li. This award recognizes young investigators of outstanding potential, promise, and accomplishment in the field of research synthesis methodology. Li is Associate Director of Cochrane United States, Co-Convenor of the Cochrane Comparing Multiple Interventions Methods Group and the Priority Setting Methods Group, and Senior Methodologist of the Cochrane Eyes and Vision. She is also Assistant Professor, Department of Epidemiology, at the Johns Hopkins Bloomberg School of Public Health. "I am greatly honoured to receive the inaugural early career award from a distinguished society formed by researchers who I have long admired and respected," say Li. "I look forward to new collaborations and innovations that will fulfill the promise of the award." Kay Dickersin, Cochrane US Director stated, "All of us at Cochrane United States and well beyond are enormously proud of Tianjing receiving this well-deserved honor.  Her unselfish contributions to systematic review methodology, teaching, and service to the research community are greatly valued by all, as is the contagious spirit of fun that she brings to all she does."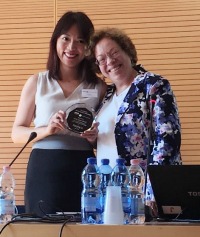 Jessica Gurevitch, outgoing SRSM President, presenting award to Tianjing Li.
The Ingram Olkin Award was presented to Julian Higgins. This award recognizes an individual who has made distinguished lifetime achievement in research synthesis methodology, and represents the highest honour bestowed by the Society. Higgins' primary affiliation is the University of Bristol; he is also involved in many Cochrane Groups, including acting as the Co-Editor of the Cochrane Handbook for Systematic Reviews of Interventions and Co-Convenor of the Cochrane Comparing Multiple Interventions Methods Group. "It is an immense honour to receive this award, although sad to be receiving it shortly after Prof Olkin passed away earlier this year," says Higgins. "My research contributions have all been highly collaborative, and the award really deserves to be shared among the many generous and brilliant people I have been fortunate to work with over the last 24 years."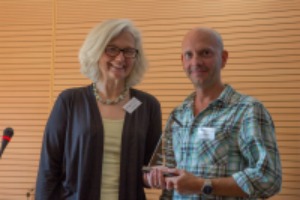 Kay Dickersin, incoming SRSM President, presenting award to Julian Higgins.
Congratulations to Tianjing Li and Julian Higgins and to the Cochrane Groups they represent for this great honour!