Leading US psychiatrist Dr Allen Frances today warns of the increasing dangers of over-medicalisation and overdiagnosis in Australia and around the world, saying 'people are way too frightened of disease, and way too little frightened of the treatments for disease.'
Described as one of world's most prominent psychiatrists, Dr Allen Frances recently made headlines for the controversial claim that 'Donald Trump isn't mad, we are'. In a new episode of Australian podcast The Recommended Dose with Ray Moynihan, he shares the thinking behind this now infamous statement and goes on to look at the increasingly critical area of overdiagnosis and labelling of everyday life experiences such as grief and loss as mental illness.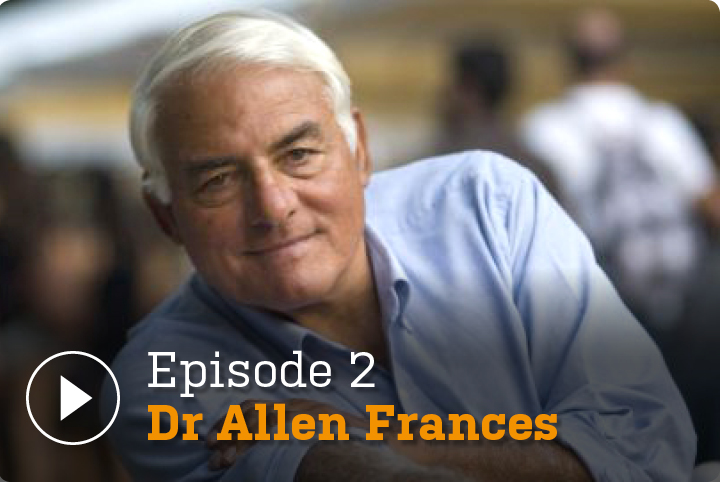 In recent years, Allen Frances headed the Taskforce which wrote the 4th edition of the influential psychiatric manual of mental disorders, the DSM. But now, he's become one of its loudest critics. 'We're taking every day experiences that are part of the human condition and we're overdiagnosing them as mental disorders, and way too often providing a pill when there's not really a pill solution for every problem in life,' Dr Frances says.
In the interview, Allen Frances also talks candidly about the time when he was the recipient of pharmaceutical company generosity - explaining his feeling now of regret and cautioning young doctors to avoid all financial ties with the industry.
And in an analogy that will resonate in Australia - where property is something of a national pre-occupation - he cautions that taking ongoing medication is as serious a decision as buying a house.
'You wouldn't go and buy your house after a 10 minute evaluation,' says Dr Frances. 'People should be as careful about accepting or giving diagnoses and as careful about considering medication as they would be for a major life decision.'
'It's the easiest thing in the world to give a diagnosis and to write a pill prescription. It's the hardest thing in the world often to get rid of a diagnosis once it's been established... A wrong diagnosis made in 10 minutes can haunt for life. A medication given casually can do great harm, very little good. So this is a serious moment in a person's life.'
Dr Frances also highlights the increasing rates of ADHD diagnoses and the medicalisation of children and young people as a critical area in need of urgent attention.
'I think we're doing a massive worldwide experiment on immature brains, bombarding them with very powerful chemicals without any knowledge whatever about what the long term outcome will be and without informed consent.'
Listen to the full interview on The Recommended Dose - now available on SoundCloud. Available on iTunes and Stitcher from Thursday 26 October.
You can also hear The BMJ's Editor-in-Chief Fiona Godlee in conversation with Ray on episode one, talking about the need for much greater independence between doctors and drug companies, and sharing some intimate details about what drives this extraordinary woman.
--ENDS--
Media contacts:
Shauna Hurley
Producer, The Recommended Dose
Cochrane Australia
553 St Kilda Road Melbourne
Mobile:  0400 018 570
Email: media@cochrane.org.au
* Contact Shauna for broadcast quality audio grabs of the Allen Frances interview.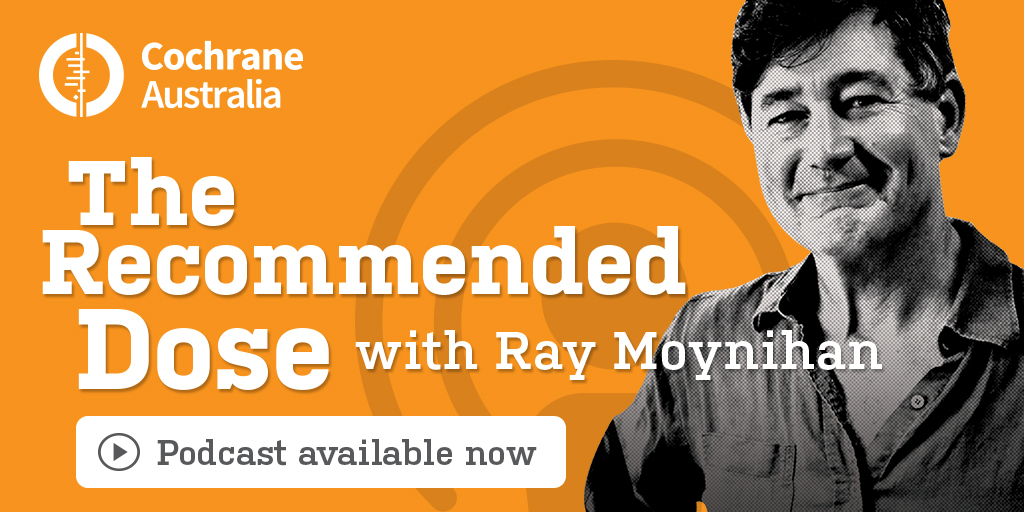 About Cochrane & Cochrane Australia
Cochrane is an independent, not-for- profit organisation made up of 37,000 contributors from 130 countries. We work together to make the vast amounts of evidence generated through research useful and accessible for individuals, organisations and governments around the world. 
Cochrane produces trusted health information in the form of systematic reviews that are free from commercial sponsorship and other conflicts of interest. Our evidence underpins and informs the daily decisions of clinicians, patients and carers, researchers, policymakers and funding bodies. Our work is recognised as representing an international gold standard for high quality, trusted information. 
Cochrane Australia is an active part of this collaborative network, with over 3,000 local researchers, clinicians and patient advocates who synthesise and analyse the latest health research. Our contributors can be found in all corners of the continent, from Darwin to Hobart, from Perth to Brisbane and most places in between.  The Cochrane Australia centre is located in Monash University's School of Public Health and Preventive Medicine in Melbourne.
Cochrane Australia is funded by the Australian Government through the NHMRC. The NHMRC also funds a national subscription to the Cochrane Library, ensuring all Australians have free access to the best in trusted health evidence. 
Find out more at cochrane.org (Global Cochrane site) and at australia.cochrane.org (Cochrane Australia) or follow us on twitter at @cochraneaus
About Ray Moynihan
Ray is a man with many hats... Currently a Senior Research Fellow at Bond University's Centre for Research in Evidence-Based Practice, and an NHMRC Early Career Fellow, he is an award-winning journalist, broadcaster and author. Ray spent plenty of time as a producer at the ABC's flagship investigative TV program Four Corners, as a reporter at the ABC TV's 7:30 Report and as a presenter on Radio National. He's written 4 books on the business of medicine, including Selling Sickness, which has been translated into 12 languages.
He is also a former Harkness fellow at Harvard University, has been a columnist with the BMJ and the Medical Journal of Australia, and has also had original research published in The New England Journal of Medicine, The Lancet, PLOS Medicine and the British Medical Journal - to name a few. Regularly interviewed by media globally, and invited to speak around the world, Ray has a long-time interest in the evidence-informed approach and the work of Cochrane.
Thursday, October 26, 2017