Cochrane Airways has published its biggest ever Cochrane Review. The meta-analysis review assesses which long-acting inhalers are the most effective and safest for people with advanced chronic obstructive pulmonary disease (COPD) and  supports a recently published NICE guideline.

The logistics of getting such a large review done with time tight timescales have been an enormous challenge for the review team. We asked Rebecca Normansell, Joint Co-ordinating Editor and Emma Dennett, Managing Editor, Cochrane Airways, how this review came about and its potential impact.

How did the review come about?
We received a review proposal towards the end of 2015 from a chest physician in the USA, Yuji Oba, who had identified from his own practice an important clinical question about inhalers for COPD. He had already reviewed the literature and published on the subject, but was aware of new data and was interested in producing a Cochrane Review. He had assembled a team including a UK-based expert in network meta-analysis (NMA), Sofia Dias, with whom we had worked before. We agreed it was an important question, but needed to refine the comparisons in the NMA to minimise overlap with an existing Airways NMA and other reviews. After a bit of back and forth between the editorial base and the authors, we registered the title and the protocol was published in March 2017.

This is the biggest the airways group has done - how many people were involved, did it 'draw' on the team in a unique way?
The review was the biggest review we have ever done. Not only did it have 99 studies, but there were six pairwise comparisons, each with multiple outcomes, and network meta-analyses of multiple outcomes in both high and low risk COPD populations – a vast amount of data!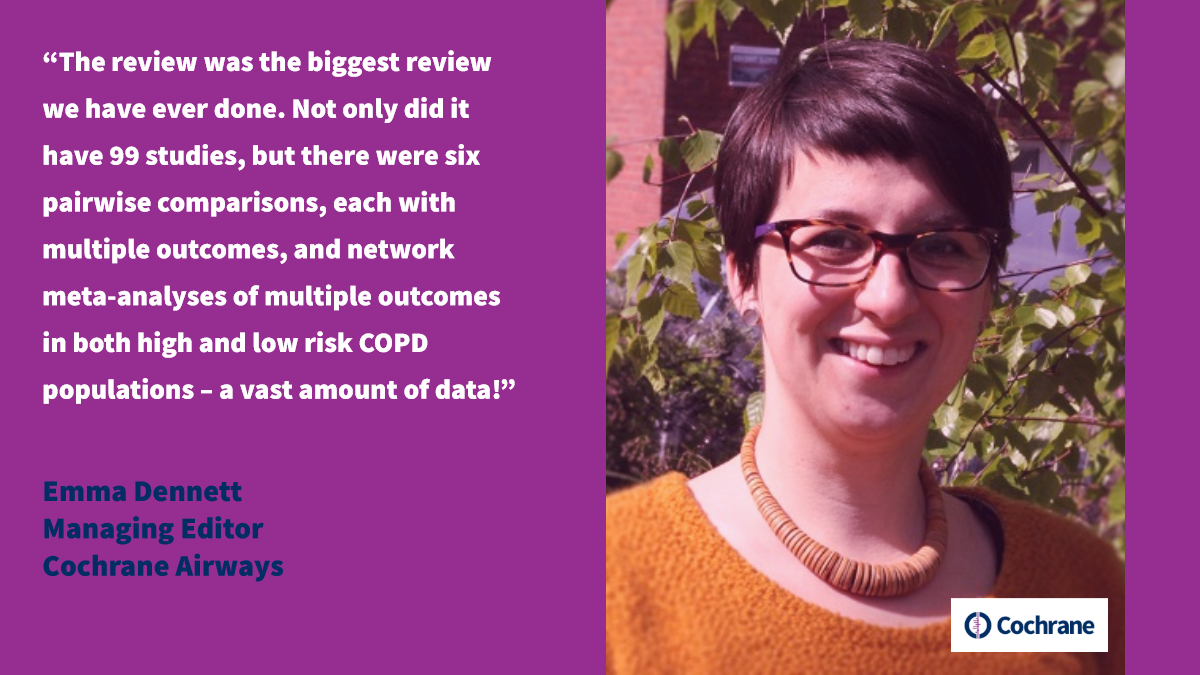 One of the challenges for the editorial team was the sheer volume of material to edit. We felt overwhelmed at times and making sure the review met the standards and all the data matched up throughout the review and the summary versions was time-consuming. Denise Mitchell, UK-based copy-editor, spent two weeks on it - copy editors are some of the unsung heroes in Cochrane!

While the payoff from working to get the review finished for the NICE guideline has been great, it was quite nerve-wracking. We are essentially trusting an author team to do what they said they will do, but without the control you would have of someone you are employing or paying to deliver a service. Yuji and Sofia were brilliant at keeping in touch with us and doing what they said they would in the timeframe.

What does the review mean? How will it inform policy or practice?
There is an overwhelming number of inhaled drugs licenced for use in COPD, and now multiple 'fixed dose' combined inhalers. Health care professionals and health services have to make difficult choices every day, balancing efficacy, safety, patient preference and cost. This huge review compared two single drug options – LABA or LAMA – to combined options – LAMA/LABA or LABA/ICS. The review found that one particular combination – LABA/LAMA – is probably the best treatment for reducing harmful flare-ups of COPD. LAMA containing inhalers (combined with LABA and on its own) are likely to have an advantage over those without a LAMA for preventing COPD flare-ups. Combined drugs appeared more effective than single drugs for improving symptom and quality-of-life scores. Importantly, ICS-containing inhalers were found to be associated with an increased risk of pneumonia – a potentially serious lung infection.

These are important findings that they give extra weight to the direction that most current guidelines are going – to favour LAMA-containing inhalers, especially for those having frequent flare-ups, and reserve ICS-containing inhalers for those who keep having flare-ups despite treatment, or have features suggestive of asthma. The next question is what are the risk and benefits of triple therapy, i.e. adding ICS to LAMA/LABA combinations? Cochrane Airways has just started a review update on this topic.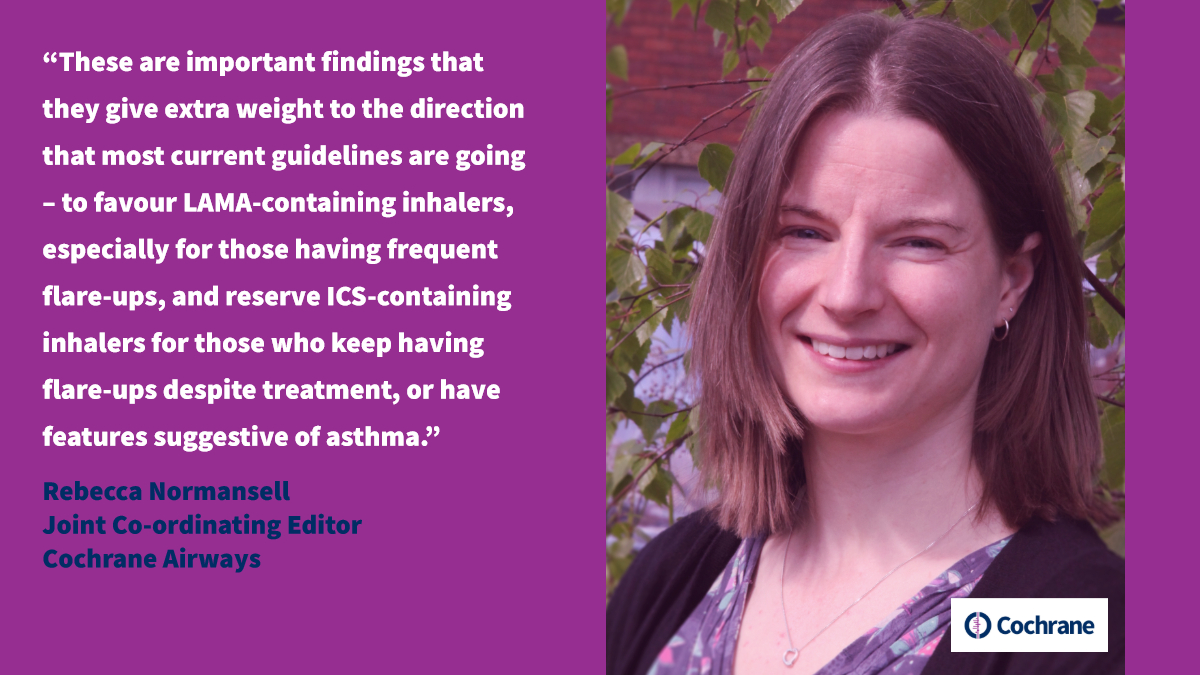 The other finding that may interest health care professionals and policy makers is that, in general, when the review authors looked at individual drugs within a class and at the class of drugs as a whole in the NMA, they found little difference. This suggests that drugs within a class are probably broadly equivalent, so perhaps other factors such as cost and patient preference can be considered when prescribing.

In terms of it appearing in guidelines, can you say a little about the history of this relationship? How does it build on what has happened before?
Back in 2016, we started the process of applying for a Cochrane Programme Grant, focussed on COPD. We were aware that NICE were working on a COPD guidelines update at the same time. We made contact with NICE to find out if there were sensible ways for us to work together and share resources. We had already had some contact with NICE in previous Programme Grants, and are registered stakeholders for their respiratory-related consultations.

We had a discussion and agreed that we would deliver one of our Programme Grant reviews, about long-term antibiotics for COPD, in time for the guideline and to share our data early – which we have done – the published review can be read here. But during the discussion, we also found out that NICE would be very interested in the findings of this NMA, which was about to be published as a protocol. We approached the author team to find out if they could deliver data and the finished review to the NICE deadline and we were delighted when they agreed to do their best. We kept in close contact with NICE and the author team over the following 18 months. We shared data from the NMA with NICE in January 2018 and were thrilled to be able to publish the finished review just a couple days before the guideline itself – phew!