An unprecedented situation of civil unrest across Santiago has led to the cancellation of Cochrane's annual flagship event, this year's 26th Colloquium. Chair of the Local Organizing Committee and Co-Director of Cochrane Chile, Gabriel Rada, expresses his thanks for everyone's support this week.
Dear friends,
At this very instant, as chair of the Local Organizing Committee, I should be inaugurating the 26th Cochrane Colloquium here in Santiago. 
However, as you already know, an unprecedented situation of civil unrest across Santiago and the rest of the country, gave us no option but to cancel Cochrane's annual flagship event.
Even though it was an extremely painful decision, we are convinced it was the right one and taken at the right time.
I want to thank the Governing Board and the Central Executive Team for their unquestioning vote of confidence when we recommended cancellation as the only possible course of action. The safety of all delegates, both physical and emotional, and the empathy with the sad situation all Chileans are currently living have been the drivers of all the decisions made, even when there were many other things at stake.
I want to thank all the people that worked so hard in organizing this event: the Local Organizing Committee, the Scientific Committee, and the Central Executive Team. I also want to thank all the participants. We recognize the enormous effort behind each presentation, workshop, oral session or poster.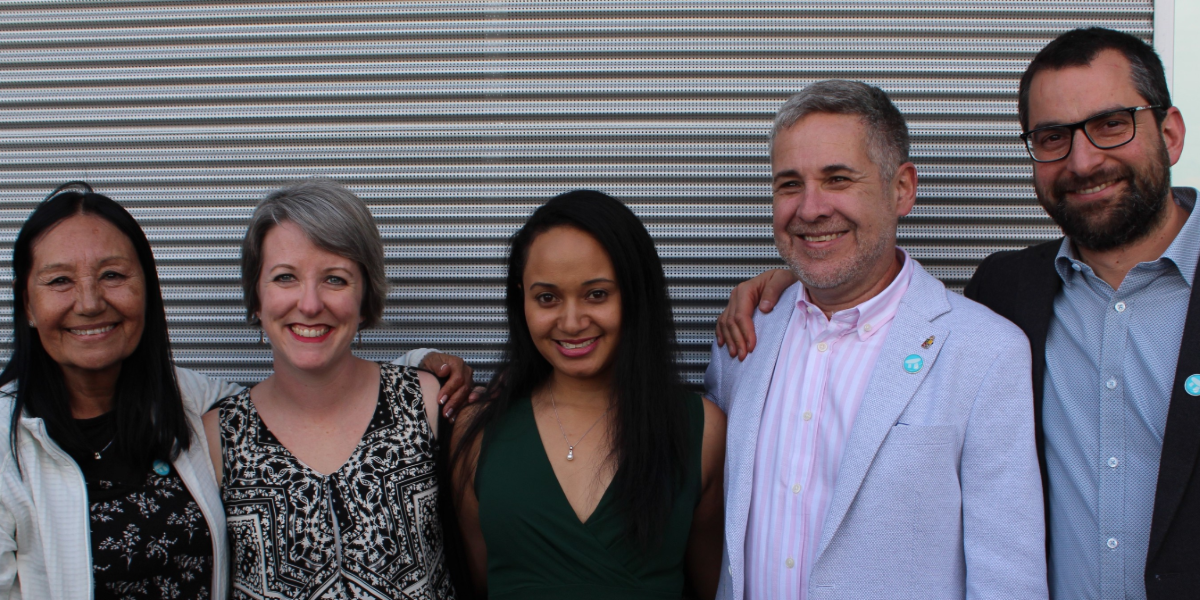 Marcela Cortés, Rachel Klabunde, Sabrina Khamissa, Julio Villanueva, Gabriel Rada
Not pictured: Eva Madrid, Pamela Serón, Jana Stojanova, Luis Ortiz
During the coming weeks, we will put in place a virtual space for you to share your presentations or posters, so you can share your work. Please do, and help us make this year's Colloquium into a truly unique experience.
The theme of this Colloquium was 'Embracing diversity'. In my inaugural speech, I was going to draw a parallel between the diverse geography and composition of the society of this country, and the challenges that diversity imposes to Cochrane, the scientific community in general, and society. 
I was going to expose how far we are from addressing the challenges that inequities and diversity bring, specifically in the context of information overload, conflict of interests and structural problems that lead to massive research waste. Our chance to keep providing reliable evidence for decision-making to everyone, especially to those most in need, are critically endangered.
It is paradoxical that the same problem we wanted to address is the one that underlies the crisis in Chile that impeded us to celebrate our Colloquium. 
However, we can also consider it a reminder of the urgency of the matter. We are working to provide reliable evidence, useful to everybody, everywhere in the world. If we do not act now, if we do not address diversity and inequality now, then it might be too late.
To all those in Santiago, I wish you safe travels home. And we look forward to showing all your extraordinary work here in the coming weeks.
Dr. Gabriel Rada
Our Local Organizing Committee are working on plans to digitalize some of the key Colloquium content that was planned for the week, and more information about how this will be implemented will be shared here soon.
If you have specific concerns and questions today, you can email us at colloquium@cochrane.org; or phone (or WhatsApp) these support lines: +44 7539 997-549 / +44 7984 421-980.

Our best wishes,
Local Organizing Committee
Tuesday, October 22, 2019