Join Cochrane UK for a free webinar for anyone making health decisions: Thursday 20th October 2022.
All of us have to make health decisions, whether that's to seek advice about a condition, buying an over-the-counter treatment or health product off the shelf, whether to take up an invitation to screening, or perhaps having to make many decisions relating to a serious illness or long-term condition. 
Brian, Heather, and Sarah have all had some big health decisions to make, though in different circumstances. They will come together with Becky, a doctor and former GP who is used to taking part in discussions about health decisions in her everyday work, to talk about some important elements of making health choices.
We hope that the webinar will equip you with some questions and considerations that you can reflect on and discuss with a healthcare professional – to help you make the best health decision for you. There will be time for questions and answers, too.
Time and date: Thursday 20th October 2022, 7-8pm (BST). Check the time in your time zone.
Please register in advance for the webinar, which will take place on Zoom. After you've registered, you will receive information about how to join the webinar.
Read more about our panel Heather, Brian, Sarah, Becky and our facilitators Rufaro and Emma.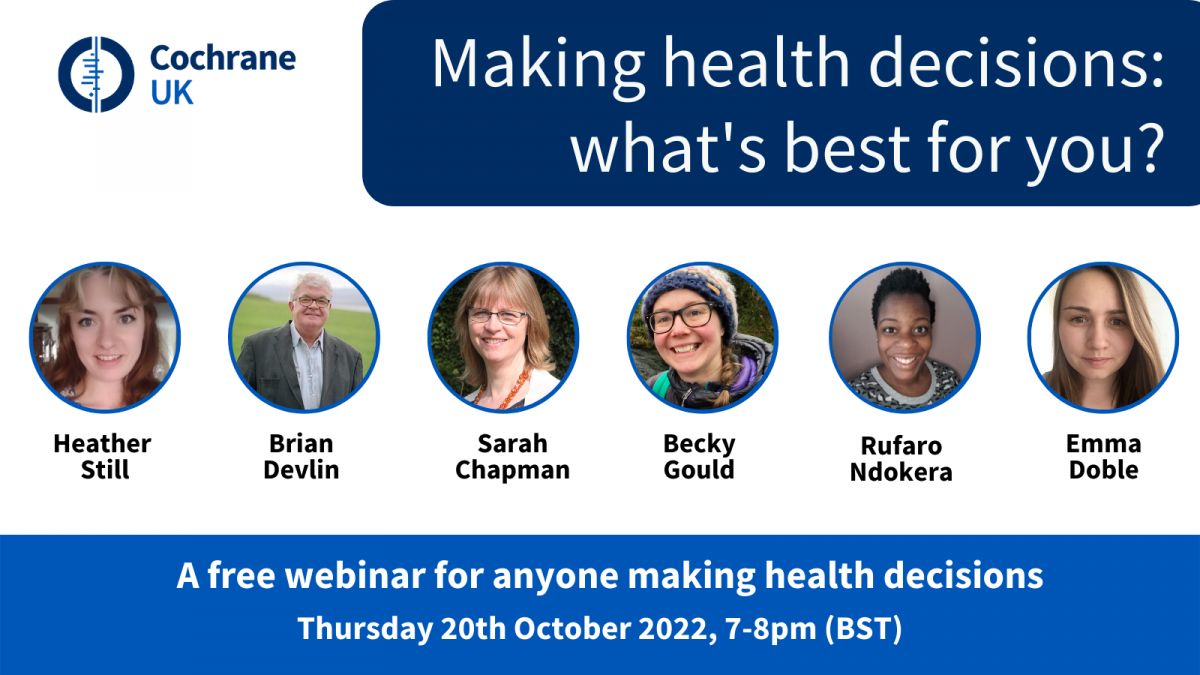 This webinar is being held on World Evidence-Based Healthcare (EBHC) Day, an annual global initiative that raises awareness of the need for better evidence to inform healthcare policy, practice, and decision making in order to improve health outcomes globally. Cochrane is proud to be an official EBHC Day partner.
Thursday, September 15, 2022