Cochrane Crowd
, Cochrane's new citizen science platform, is a global community of almost 4,000 volunteers who are helping to classify the research needed to support informed decision-making about healthcare treatments.
Cochrane Crowd would like your help to achieve one million classifications by the end of the year. Help Cochrane Crowd get over the line by joining the 48-hour Citation Screening Challenge on 19-21 December.
The job of the Cochrane Crowd community is to review descriptions of research studies to identify and classify randomized controlled trials (RCTs), a type of study that is considered the gold standard for clinical trials. Reports of RCTs are then fed into Cochrane's Central Register of Controlled Trials, helping Cochrane authors and other systematic reviewers around the world quickly find the evidence they need to help answer important questions about treatments.
Cochrane Crowd has now reached 933,500 research study classifications and would like your help in a final push to reach one million.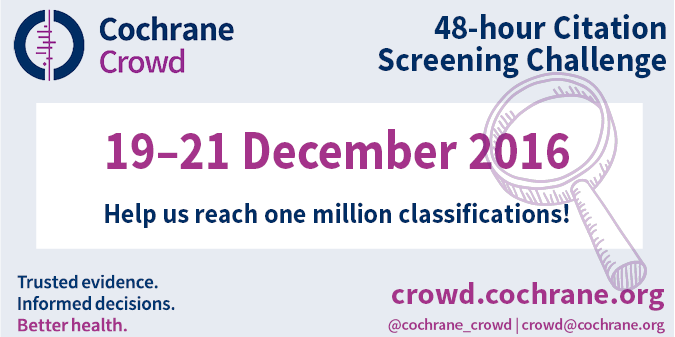 By joining the 48-hour Citation Screening Challenge you'll be working with a supportive international community from the comfort of your own home. If Cochrane Crowd is new to you, you'll be provided with some brief (and fun!) online training so you'll feel confident right from the start. Any contribution towards the challenge is welcome, whether it be a few five-minute grabs or a more focussed effort over the 48 hours.
We're also going to make this event a fundraiser, with all proceeds raised going to both UNICEF's campaign to help children in Syria this winter, and to the medical humanitarian organization, Médecins Sans Frontières.
Want to find out more? Head over to Cochrane Crowd to hear about the challenge and how you can get involved! And don't forget to tell your colleagues, friends and families – the more the merrier!
Tuesday, December 6, 2016