Cochrane is delighted to unveil the fully comprehensive edition of the Cochrane Handbook for Systematic Reviews of Diagnostic Test Accuracy. Designed for authors, editors, and researchers involved in Cochrane Reviews and systematic evaluations of test accuracy, this invaluable resource provides an extensive guide encompassing the most advanced methodologies and best practices. Whether you're a novice researcher or a seasoned expert, this groundbreaking Handbook equips you with the latest methodologies and expert tips, serving as an invaluable resource for conducting diagnostic test systematic reviews. This Handbook paves the way for better-informed healthcare choices, propelling us towards a future where the impact of medical tests is fully optimized.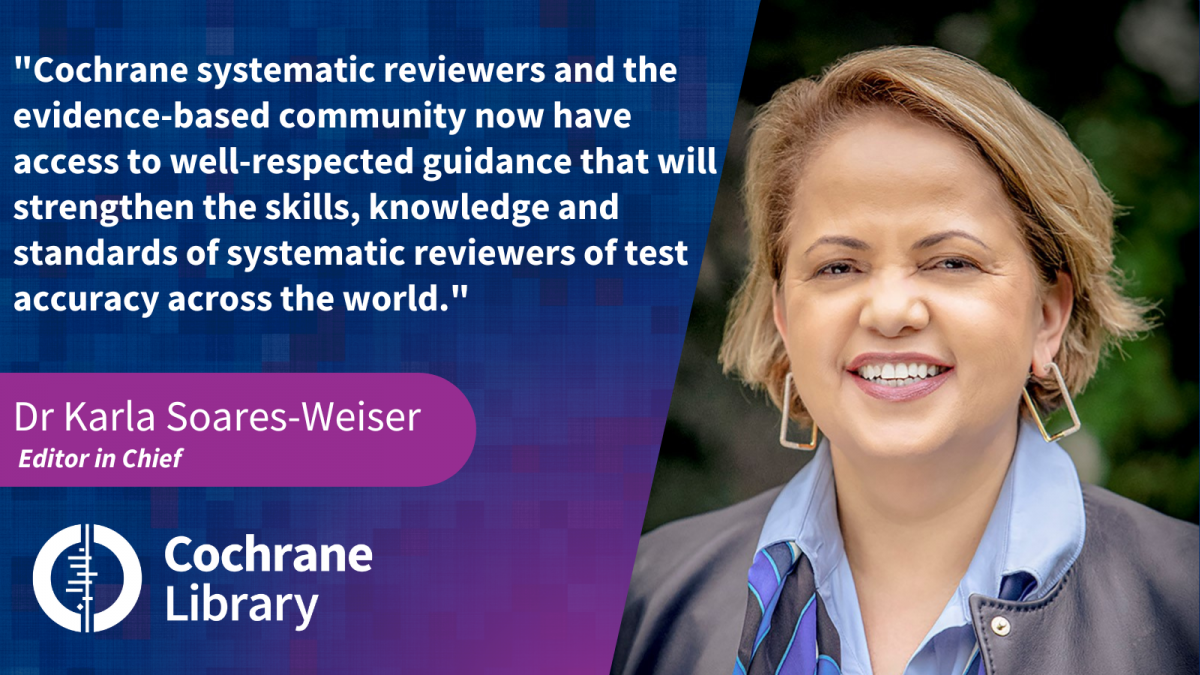 This is Cochrane's second Handbook, following the success of the acclaimed Cochrane Handbook for Systematic Reviews of Interventions. Cochrane's Editor in Chief, Karla Soares-Weiser warmly welcomed today's launch, "This Handbook is an excellent addition to the Cochrane Handbook collection and represents a hugely collaborative effort from numerous methodologists, authors, and editors across Cochrane. Cochrane systematic reviewers and the evidence-based community now have access to well-respected guidance that will strengthen the skills, knowledge and standards of systematic reviewers of test accuracy across the world."
Under the guidance of the experts in the Cochrane Screening and Diagnostic Tests Methods Group, this Handbook is thoughtfully divided into three comprehensive parts. The first section provides insights into the intricacies of Cochrane Reviews, specifically focusing on diagnostic test accuracy. In the second section, readers are introduced to test accuracy studies, exploring the circumstances in which it may be appropriate to conduct them. The third and final section delves into the methodologies employed in systematic reviews of test accuracy, offering expert guidance on data collection, risk of bias assessment for included studies, and conducting impactful meta-analyses. This holistic approach ensures that readers are equipped with the necessary tools to conduct the systematic review and then confidently present their findings.

The first edition Handbook includes:
An introduction to planning a Cochrane Review of diagnostic test accuracy,

along with a supplementary protocol template that can be

used by Cochrane or non-Cochrane authors.

Core guidance on understanding the primary research included in systematic reviews of test accuracy to enable authors to make informed decisions in their review's design, including the evaluation of medical tests, the design of test accuracy studies and understanding test accuracy measures.

New guidance on defining the review question

, covering how the review's objective relates to the population, index tests and target condition and review's eligibility criteria.

Substantial developments on

searching for and selecting studies, extracting data and

assessing the risk of bias and applicability in included studies

, which takes readers step-by-step through what they need to consider and at what point during the review.

Brand new guidance on undertaking meta-analysis complements the updated understanding meta-analysis chapter

, and includes supplementary code and datasets that you'll need to complete the analyses in different software.

Updated guidance on presenting findings and drawing conclusions

.

New guidance on writing a plain language summary

, including a template that can be used by Cochrane or non-Cochrane authors.
The Handbook has been written by a team of authors and editors, led by Senior Editors Professor Jon Deeks and Professor Patrick M Bossuyt, alongside Associate Editors Mariska Leeflang and Yemisi Takwoingi. Professor Patrick  Bossuyt, Senior Editor of the Handbook, also said, "The new Handbook reflects current best practice based on the latest methods research, and provides the only such comprehensive guide to conducting systematic reviews of test accuracy. We are immensely proud of the collective contributions from the authors, peer reviewers and methodologists who have informed its gestation over the years; we would like to thank them all as we would not have been able to create this Handbook without them."
Professor Jon Deeks, Senior Editor of the Handbook, said, "Cochrane Reviews of diagnostic test accuracy have a huge impact globally. Cochrane Reviews underpin many clinical guidelines, including World Health Organization ones. Cochrane evidence also informs the WHO Essential Diagnostics List, which covers many areas of infectious disease and addresses the need for countries to make essential diagnostics more accessible and affordable. This new guidance for both new and experienced authors will strengthen our ability to develop highly impactful reviews that make a real difference in people's lives."
Don't miss out on this game-changing resource! The online version of the Cochrane Handbook for Systematic Reviews of Diagnostic Test Accuracy is available for free, offering immediate access to its wealth of knowledge as a PDF. But for those seeking convenience and a cherished addition to their collection, the physical edition of the Handbook and the E-book is also available.