In this interview, we learn more about a series of reviews on hip fractures published on the Cochrane Library and talk to some of the authors behind this work Prof Xavier Griffin and orthopaedic surgeons Mr William Eardley and Mr Martyn Parker.

Tell us how did these reviews come about?
This work was funded by the National Institute of Health Research Systematic Reviews programme, as a joint application from Oxford University and Cochrane's Bone, Joint and Muscle Trauma Group. The underlying concept was that there is diverse, congested and complex literature of varying quality around hip fracture and it can be hard to interpret. We wanted to improve on that and provide useful, actionable statements of the evidence for patients, clinicians and researchers.

Studies are being accumulated very quickly in this field compared to other areas of orthopaedics and the reviews that were in the Cochrane Library were out of date and had various limitations. We were aware that NICE would be reviewing and updating its guidance on the management of hip fracture in adults in 2022 so this was a timely piece of work that would link closely with work at NICE. We were in touch with them along the process sharing the questions for which patients and clinicians wanted answers, as well as sharing findings with them.

Were patients involved?
We carried out scoping work with patients and experts in this field to work out what the priority review topics would be - there could have been a hundred, but we worked together to reduce it down to what was most important. We shared this with NICE to help shape their update. This involvement of patients and their views was not happening when we all started out in this field, it is now so much more patient influenced, which is a good thing for those giving and those receiving treatment and care.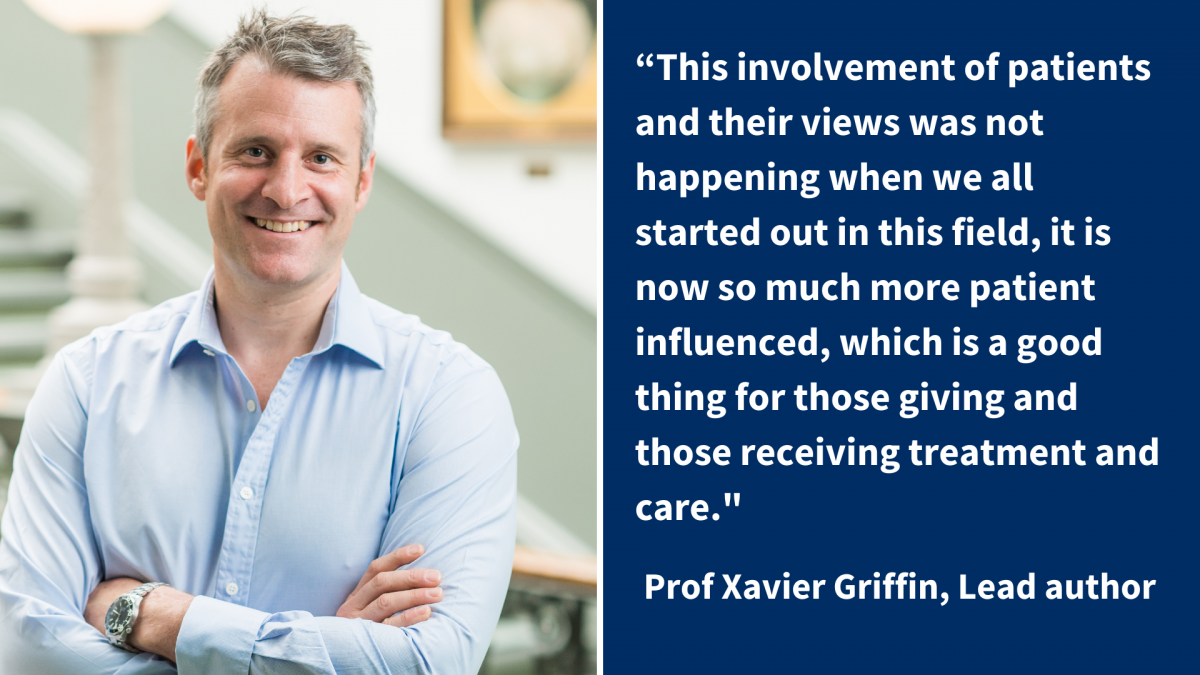 We approached these reviews as informative pieces of work giving direction to guidelines, clinical practice and research rather than being static sources of information - they feed into knowledge and then clinical practice.

Who will find these studies most useful?
Clinicians, surgeons, and trainee surgeons will find these reviews most useful as they provide the gold standard answers to questions they want answered.

The studies are also an important part of the puzzle in terms of informing what might be commissioned for research later.

We hope patients will see an improvement in their care as a result of these reviews as they give an evidence-based anchors for clinician's recommendations.  NICE will also have these studies available to them when they update their guidance on this topic.

In the UK we have something called the National Hip Fracture Database, it audits treatment in this area, how many hip replacements take place in the UK for example. With these reviews they can report practice against best evidence which is good for patients, good for commissioners and good for people planning service delivery in their hospitals.

Who was involved?
Our success in securing this grant and the reviews done to date builds on very strong networks,
we've got a pretty research active and research savvy community partly through the work of Orthopaedic Trauma Society and the Fragility Fracture Network – we drew on this network to pull this work together. This research collaboration is what we'd like to see fostered going forwards.

These reviews were synchronised with current large trials and NICE updating their guidelines and as such they are an important piece of work to inform the wider picture and influence practice; not only in terms of influencing what treatment is given but influencing how best to study a topic – this is a shift in culture. These reviews should stand the test of time for the next ten years because they have been performed with methodological rigour and include the latest trial data.

You included very recent large landmark trials, how?
We did not want to publish Cochrane reviews that were out of date quickly. We were able to include a very large landmark new trial (WHITE5) in two of these reviews because we were aware of what each other was doing – we were in touch with each other - and we were able to access trial data prior to publication. We don't work in a siloed way, and this has great benefit.

What value do these studies have for funders?
This body of work will help funders know where to place their funding to get maximum benefit on that spend – there are certain surgeries we can say should no longer happen and those areas no longer need to be studied.
Monday, February 14, 2022