A new Cochrane Review published in the Cochrane Library has found evidence from randomized trials that taking an oral vitamin D supplement in addition to standard asthma medication is likely to reduce severe asthma attacks.
Scroll to the bottom of this article for a round-up of media coverage
Asthma is a common chronic disease, affecting about 300 million people worldwide. The symptoms of asthma include wheezing, coughing, chest tightness, and shortness of breath.
Low blood levels of vitamin D have been linked to increased risk of asthma attacks in children and adults with asthma. There has been a growing interest in the potential role of vitamin D in asthma management, because it might help to reduce upper respiratory infections (such as the common cold) that can lead to exacerbations of asthma. Several clinical trials have tested whether taking vitamin D as a supplement has an effect on asthma attacks, symptoms, and lung function in children and adults with asthma.
The team of Cochrane researchers found seven trials involving 435 children and two studies, involving 658 adults. The study participants were ethnically diverse, reflecting the broad range of global geographic settings, involving Canada, India, Japan, Poland, the UK, and the US. The majority of people recruited to the studies had mild to moderate asthma, and a minority had severe asthma. Most people continued to take their usual asthma medication while participating in the studies. The studies lasted for between six and 12 months.
The researchers found that giving an oral vitamin D supplement reduced the risk of severe asthma attacks requiring hospital admission or emergency department attendance from 6% to around 3%. They also found that vitamin D supplementation reduced the rate of asthma attacks needing treatment with steroid tablets. These results are based largely on trials in adults. They also found that vitamin D did not improve lung function or day-to-day asthma symptoms, and that it did not increase the risk of side effects at the doses that were tested.
The Cochrane Review's lead author, Professor Adrian Martineau from the Asthma UK Centre for Applied Research, Queen Mary University of London, said, "We found that taking a vitamin D supplement in addition to standard asthma treatment significantly reduced the risk of severe asthma attacks, without causing side effects."
He added, "This is an exciting result, but some caution is warranted. First, the findings relating to severe asthma attacks come from just three trials: most of the patients enrolled in these studies were adults with mild or moderate asthma. Further vitamin D trials in children and in adults with severe asthma are needed to find out whether these patient groups will also benefit. Second, it is not yet clear whether vitamin D supplements can reduce risk of severe asthma attacks in all patients, or whether this effect is just seen in those who have low vitamin D levels to start with. Further analyses to investigate these questions are on-going, and results should be available in the next few months."
The findings of this Cochrane Review are to be presented at the European Respiratory Society (ERS) Congress in London on Tuesday 6 September.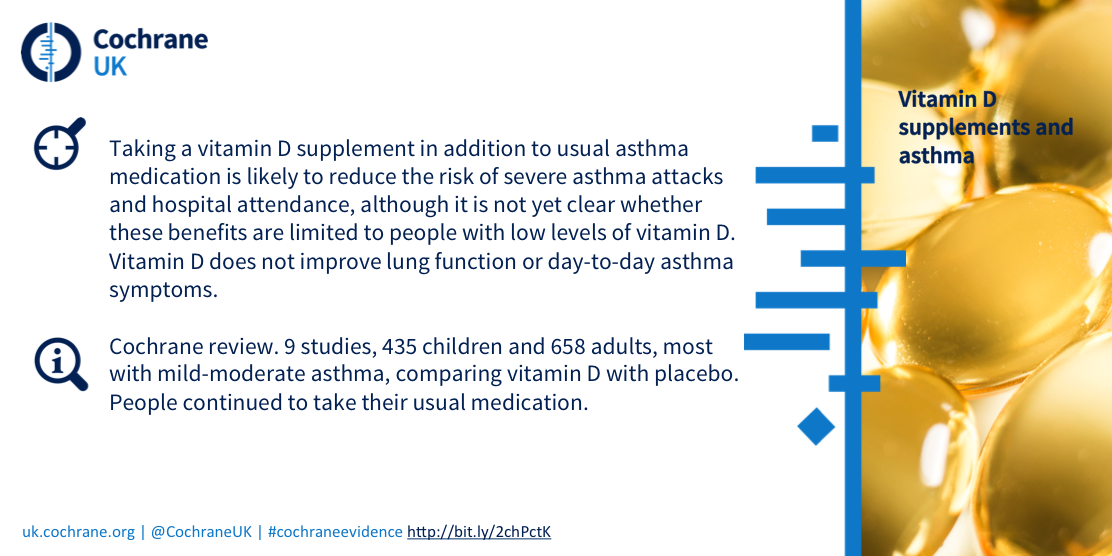 Read this press release in German or Spanish.

Editor's notes
The National Institute for Health Research (NIHR) is the largest single funder of Cochrane Airways and supported this review through Programme Grant 13/89/14. Disclaimer: The views and opinions expressed therein are those of the authors and do not necessarily reflect those of the NIHR, the NHS or the Department of Health.
The authors set out to include both types of Vitamin D in their research, however all the trials used Vitamin D3.
Full citation: Martineau AR, Cates CJ, Urashima M, Jensen M, Griffiths AP, Nurmatov U, Sheikh A, Griffiths CJ. Vitamin D for the management of asthma. Cochrane Database of Systematic Reviews 2016, Issue 8. Art. No.: CD011511. DOI:10.1002/14651858.CD011511.pub2.
For further information, please contact
Jo Anthony
Senior Media and Communications Manager, Cochrane
M +44(0) 7582 726 634 E janthony@cochrane.org or pressoffice@cochrane.org
Media spokesperson
Adrian R Martineau
Professor of Respiratory Infection and Immunity
UK Centre for Applied Research
Barts and The London School of Medicine and Dentistry
Queen Mary University of London
London, UK
E a.martineau@qmul.ac.uk
Professor Martineau will be presenting his finding of this Cochrane Review at the ERS Congress in London 3-7 September: http://erscongress.org/
About Cochrane
Cochrane is a global independent network of researchers, professionals, patients, carers and people interested in health.

Cochrane produces reviews which study all of the best available evidence generated through research and make it easier to inform decisions about health. These are called systematic reviews.

Cochrane is a not-for-profit organization with collaborators from more than 120 countries working together to produce credible, accessible health information that is free from commercial sponsorship and other conflicts of interest. Our work is recognized as representing an international gold standard for high quality, trusted information.
Find out more at cochrane.org  |  Follow us on twitter @cochranecollab
If you are a journalist or member of the press and wish to receive news alerts before their online publication or if you wish to arrange an interview with an author, please contact the Cochrane press office: pressoffice@cochrane.org
The Cochrane press office: pressoffice@cochrane.org
About Queen Mary University of London
Queen Mary University of London (QMUL) is one of the UK's leading universities, and one of the largest institutions in the University of London, with 20,260 students from more than 150 countries.
A member of the Russell Group, we work across the humanities and social sciences, medicine and dentistry, and science and engineering, with inspirational teaching directly informed by our research - in the most recent national assessment of the quality of research, we were placed ninth in the UK (REF 2014).
We also offer something no other university can: a stunning self-contained residential campus in London's East End. As well as our home at Mile End, we have campuses at Whitechapel, Charterhouse Square, and West Smithfield dedicated to the study of medicine, and a base for legal studies at Lincoln's Inn Fields.
We have a rich history in London with roots in Europe's first public hospital, St Barts; England's first medical school, The London; one of the first colleges to provide higher education to women, Westfield College; and the Victorian philanthropic project, the People's Palace based at Mile End.
Selected coverage
Promising developments but still more research needed into asthma, says RCGP on the Royal College of General Physicians website
Vitamin D – Can the sunshine vitamin help reduce asthma attacks?  on Evidently Cochrane.
Vitamin D 'significantly reduces severe asthma attacks' on the BBC.
Lynda Ware: Can vitamin D help reduce asthma attacks?  on BMJ Blog.
Vitamin D may protect against severe asthma attacks and hospitalisation on The Conversation.
Vitamin D may cut risk of severe asthma attacks on WEbMD.
Study: Vitamin D may reduce incidence of asthma attacks on United Press International.
High quality evidence suggests Vitamin D can reduce asthma attacks on Science Daily.
Vitamin D could prove to be cheap, over-the-counter alternative to inhalers on CBS New York.
Vitamin D can help treat severe asthma if taken daily, according to new study on The Telegraph.
Vitamin D supplements could halve risk of serious asthma attacks on The Guardian.
Vitamin D can prevent asthma attacks, study finds on the UK Independent.
Vitamin D pill cuts asthma attack threat: Supplements can reduce chance by half in patients on Daily Mail UK.
Vitamin D tablets may help reduce asthma attacks, review finds on Reuters.
Vitamin D supplements may reduce asthma attacks on Nursing Times.

Tuesday, September 6, 2016