Cochrane reviewers from Canada, the UK and Brazil came together to assess how to get more patients using cardiac rehabilitation programmes, which aid recovery from cardiac events such as heart attack, coronary stent placement, and bypass surgery, and reduce the likelihood of further illness. 

Cardiac rehabilitation programmes offer the following to patients: exercise, education, risk factor management, and psychological counselling/support. Despite the benefits of cardiac rehabilitation, not everyone enrolls, and, of those who do, many people do not adhere to and complete the programme. This review evaluated trials of strategies to promote cardiac rehabilitation utilisation, namely enrolment, adherence, and completion.

The review team found 26 trials (5,299 participants) that were suitable for inclusion, with these trials evaluating a variety of techniques to improve utilisation, such as: 
Peer support
Starting cardiac rehabilitation early after hospital
Educating patients
Offering cardiac rehabilitation outside a hospital setting
Offering shorter programmes
Women-only programmes
Cochrane author Professor Sherry L Grace from York University and the University Health Network in Canada said, "International clinical practice guidelines routinely recommend that cardiac patients participate in rehabilitation programmes for comprehensive secondary prevention. However, only a small proportion of patients use these programmes. 

"The review findings show strategies to increase enrolment are effective, particularly those that target healthcare providers, training nurses, or allied healthcare providers to intervene face-to-face. Interventions to increase adherence to programmes are also effective, particularly where they are delivered remotely, such as through a smartphone. Interventions to increase programme completion are also effective, but it remains unclear which specific strategies work."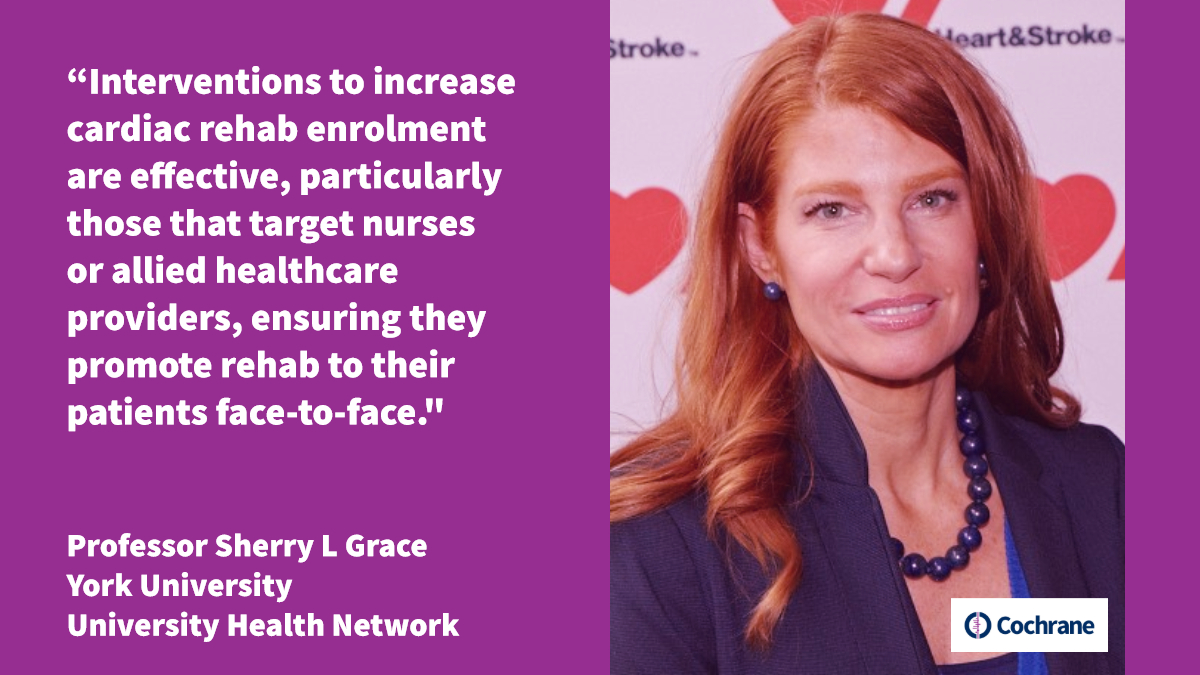 The review also focused on patient groups that are less well-represented in cardiac rehab. "There was insufficient evidence for quantitative assessment of whether women-tailored programmes were associated with increased use, but future trials should test the impact of motivational, women-only programs. For older participants, qualitative analysis suggested that peer support or post-discharge visits may improve enrolment, and group sessions promoting self-regulation skills may increase completion."