New Cochrane Review on the efficacy and safety of inhalers for those with mild asthma published on World Asthma Day.
World Asthma Day on 5 May is an annual event on organized by the Global Initiative for Asthma (GINA) to improve asthma awareness and care around the world.
Cochrane Airways works with authors (typically clinicians and researchers) to produce systematic reviews on chronic obstructive pulmonary disease (COPD), bronchiectasis and other lung diseases, and asthma. 
We asked Dr Timothy Hinks, one of the Cochrane Review authors, about the findings of this recent review.
For those with mild asthma, there are different types of inhaler. What's the difference?
There are two main types of inhaled medications for asthma. 'Relievers' treat just the symptoms by relaxing the constricted airways, these medicines are 'beta-agonists', some of which are fast-acting (FABA) and provide symptom relief within 5-10 minutes. 'Preventers' are inhaled corticosteroids, which treat the underlying inflammation causing asthma. Inhaled steroids are very effective in reducing severe attacks of asthma and asthma deaths, but they need to be taken for several days at a time before people begin to feel the effects. Both medications are important and helpful. These different types of medicines were originally given in two separate inhaler devices and someone with asthma needed to use two different inhalers. This caused a problem that many people depended too much on the reliever inhalers because they provide rapidly relief of symptoms, but this can lead some people not to take as much of the preventer inhalers as needed to effectively treat the underlying problem, increasing the risk of severe asthma attacks, and hospitalisation or death.
In recent years inhalers have become available which contain both the beta-agonist and the inhaled corticosteroids in a single device. Combination inhalers have proved very effective in moderate and severe asthma, but till now it was not known whether they might be the best way to treat people with mild asthma – who make up the majority of people who suffer from asthma.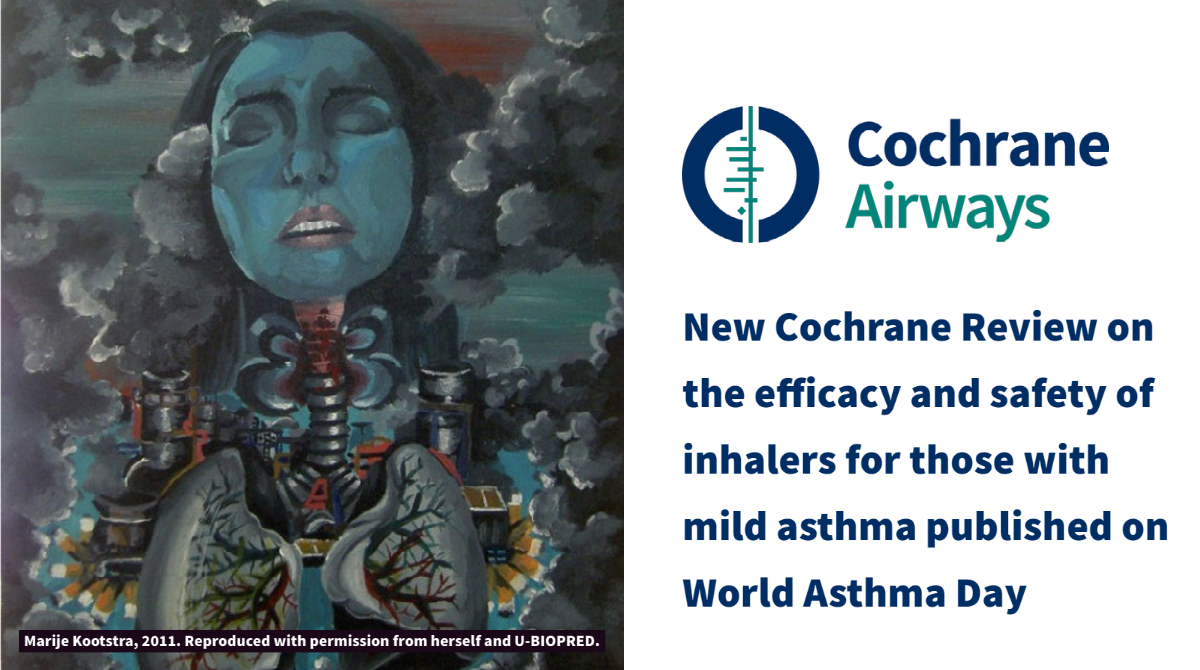 Tell us more about this review; why did you think it was important to do it?
We looked at the use of combination inhalers in mild asthma using a strategy where the inhaler is only used when people experience symptoms. We compared this with two current approaches to treatment: just using a reliever when needed, or using a reliever when needed on top of regular daily use of a preventer. We chose to do this study now because several recent large clinical trials have reported in the last 3 years which directly addressed this question. Consequently several national and international guidelines are being revised to reflect the findings of the study. We aimed to provide an objective, global review of the available evidence to inform decision makers, clinicians and people with asthma.
What did the review find?
We found that combination inhalers used as-needed reduced severe exacerbations requiring tablet steroids and rates of emergency admission to hospital with asthma symptoms when compared with reliever-only treatment.
Combination inhalers used as-needed were as effective as daily preventative steroid inhalers. People using combination inhalers as-required had lower rates of hospital admission and overall used a lower total inhaled steroid dose.
What's the core message for clinicians and patients?
These findings suggest that as-required use of combination inhalers is an effective and safe approach to the treatment of mild asthma, and could reduce the number of severe asthma attacks. This is important as asthma is a major cause of time off work, economic costs, and chronic ill health and it remains a largely preventable cause of death for 400,000 people per year globally. This approach also simplifies treatment regimes and could reduce contradictory or ambiguous messages to people with asthma. It would support adoption of this strategy in current guidelines. However cost frequently limits the availability of these inhalers in many low and middle income countries, who rely heavily on reliever therapies or tablet steroids instead. We need further pragmatic studies and healthcare cost assessments in such countries to support equitable access to affordable quality-assured asthma medicines.