Does keeping ears dry after getting ventilation tubes help prevent problems such as infections?
Ventilation tubes are used to treat hearing loss due to glue ear, or to treat recurrent ear infections. Most surgeons agree that children's ears should be kept dry for a few weeks after the operation, but not all agree on whether ears need to be kept dry thereafter. Some surgeons will allow children to swim and bathe without ear protection, whereas others will recommend ears be kept dry while tubes are in place.
A team of Cochrane authors based in the United Kingdom worked with Cochrane Ear, Nose and Throat (ENT) to investigate whether there is any evidence to show that keeping ears dry after ventilation tube (grommet) insertion helps to prevent problems such as infections. The review includes two studies, with a total of 413 patients between three months and 12 years. The quality of evidence was rated low to very low.
The difference that wearing ear plugs makes appears to be very small and a child would have to wear them on average for almost three years to prevent one infection resulting in ear discharge.
It may be that telling children to avoid swimming and putting their head under water makes no difference to whether or not they get ear infections, but this is very uncertain. Current expert guidelines for clinicians therefore recommend against routinely using water precautions because the limited clinical benefit is outweighed by the associated cost, inconvenience, and anxiety.
"The difference that wearing ear plugs makes appears to be very small and a child would have to wear them on average for almost three years to prevent one infection resulting in ear discharge," said Daniel Moualed, the lead author of the Cochrane Review. "Specifically with this review, it can provide peace of mind to parents to let their kids get their ears wet when swimming or bathing. It is uncertain whether further trials in this area would change the findings of this review or have an impact on practice. Therefore we urge that any future high-quality research should focus on determining whether particular groups of children benefit more from water precautions than others, as well as on developing clinical guidelines and their implementation."
Visit the Cochrane ENT website
 Read the blog post on Evidently Cochrane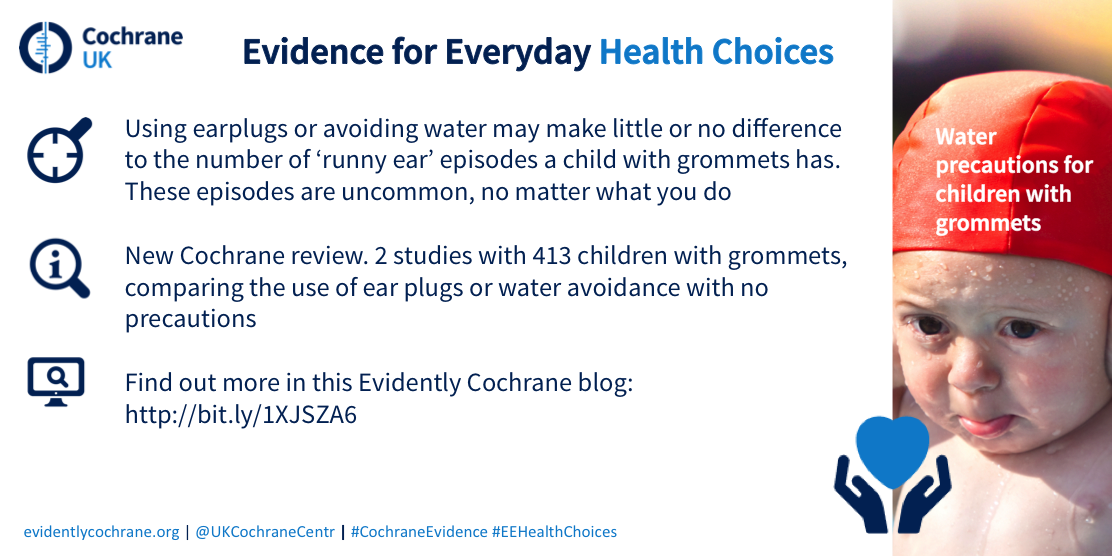 Friday, February 19, 2016