Cochrane UK is hosting Cochrane's Colloquium an eagerly anticipated event taking place in the vibrant city of London, UK from 4-6 September 2023. Under the theme "Forward together for trusted evidence," the 2023 Cochrane Colloquium promises to be a groundbreaking experience, featuring a dynamic blend of learning opportunities, networking sessions, inspiring plenary speakers, and engaging events.
Among the exciting highlights of the Colloquium, we are thrilled to unveil the captivating route for 2023 Anne Anderson Walk, an accessible self-guided journey that guides participants through the rich health history surrounding the conference centre and notable landmarks of London. With three eventful days of Colloquium content, we encourage you to indulge in this self-guided tour, granting yourself the opportunity to relax and proceed at your own tempo. Whether you choose to meet colleagues before, during, or after the Colloquium or simply take an evening stroll, this experience is designed to accommodate your personal preferences.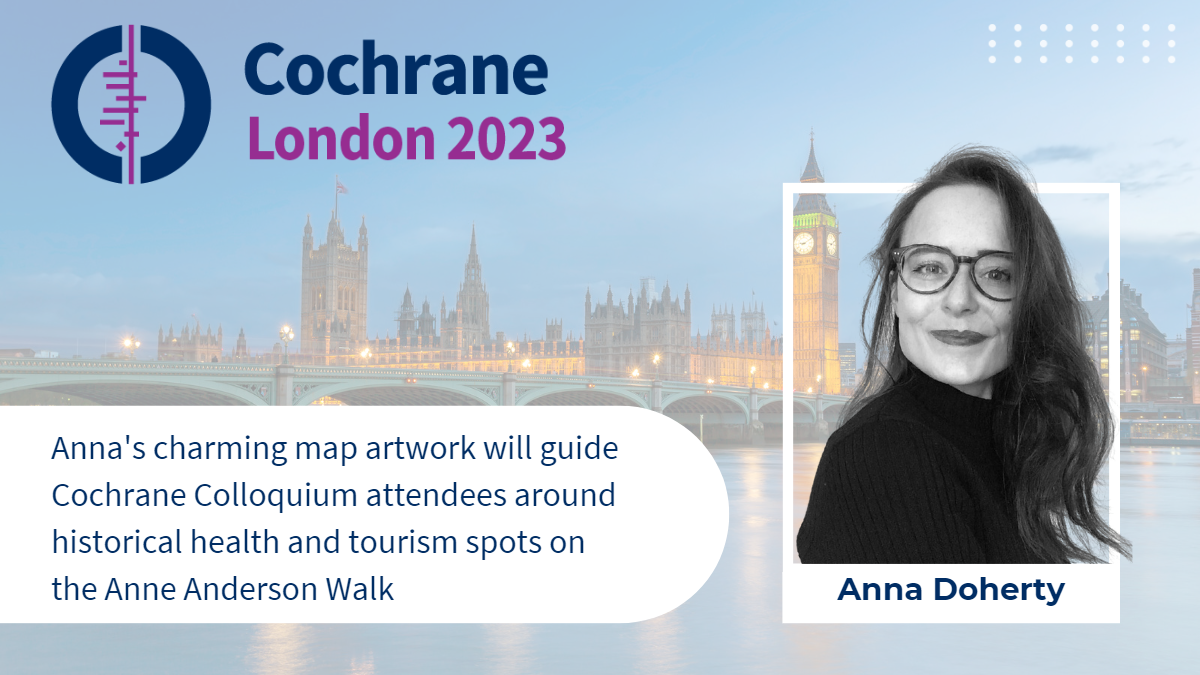 In an exclusive interview, we had the pleasure of speaking with Anna Doherty, the person behind the map artwork of the Anne Anderson Walk. Anna shared her inspiration for the art and provided insights into what participants can expect along the route.
Hi Anna! Our Cochrane Community always finds it interesting to learn the backstory of things and learn more about people. Could you tell us a bit more about yourself?
"Hi! I'm an illustrator and author from Edinburgh, Scotland and now based in Cambridge, UK. Ever since I was very small, I've always enjoyed drawing, so when I finished school I went to study illustration at Duncan of Jordanstone College of Art and Design. After graduating, I wasn't quite done with education! My favourite part of my undergrad had been narrative-based illustration, so I decided to study a masters in Children's Book Illustration at Cambridge School of Art. Since graduating there, I've been working on a mixture of illustrating picture books, science illustration, and other little projects. I now have fourteen illustrated picture books published, some of which I wrote too! I am especially excited about working in non-fiction, which is why I think I enjoy science illustration so much because I love learning new facts and finding fun new things to share with people. The idea that something I have illustrated might teach someone something new excites me! I have a mini-series called Fantastically Feminist which focuses on celebrating stories of amazing women. I wanted to make space for kids to read in, that not only showed that everyone should be equal and that anyone can do anything regardless of their gender but also celebrated women who struggled to try and make things more equal for the rest of us in brilliant ways."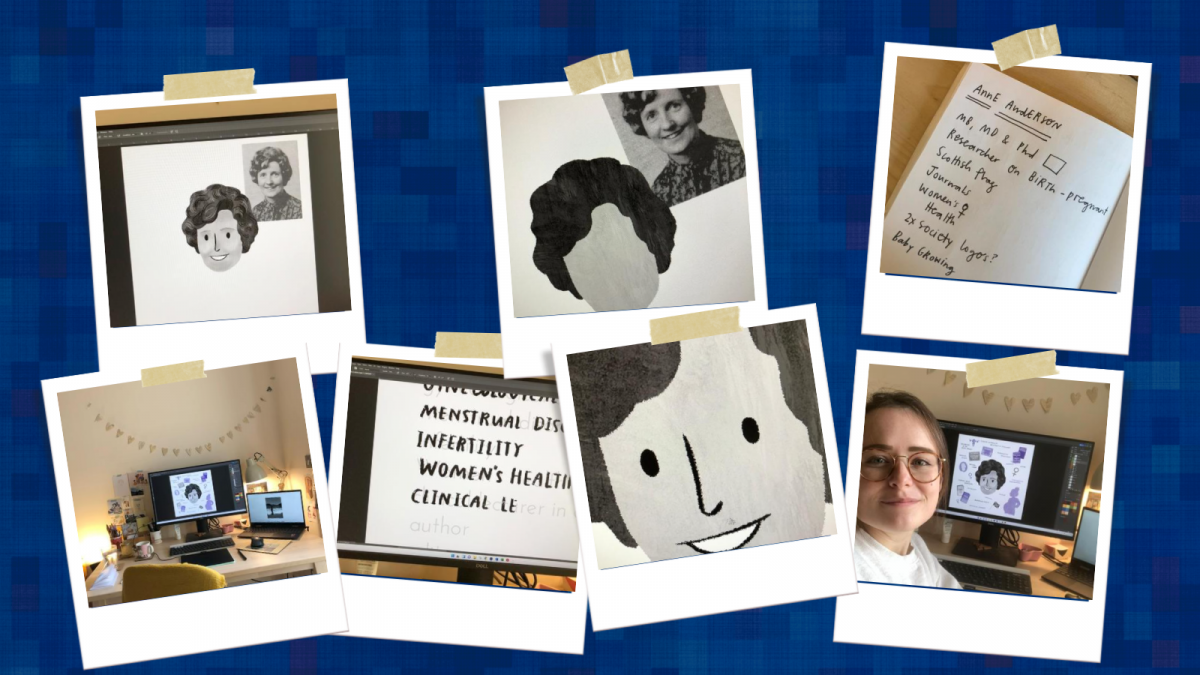 You've illustrated the 2023 map of the Anne Anderson walk. But you're not new to Anne Anderson! - You've worked on Anne Anderson artwork that is included in Lifeology's Historic STEAM Heros card deck. Anne Anderson is a beloved person in the Cochrane Community. Can you tell us a bit about working on that artwork? 
 "Absolutely! It was a joy to learn more about this remarkable Scottish scientist and weave her story into the STEAM hero illustration. I thoroughly enjoyed delving into Anne Anderson's life, work and contributions, and understanding her role in the stream of thinking that gave birth to evidence-based healthcare - and ultimately led to the development of Cochrane. I was honoured to be a part of introducing Anne to a wider audience and celebrating her as a STEAM Hero."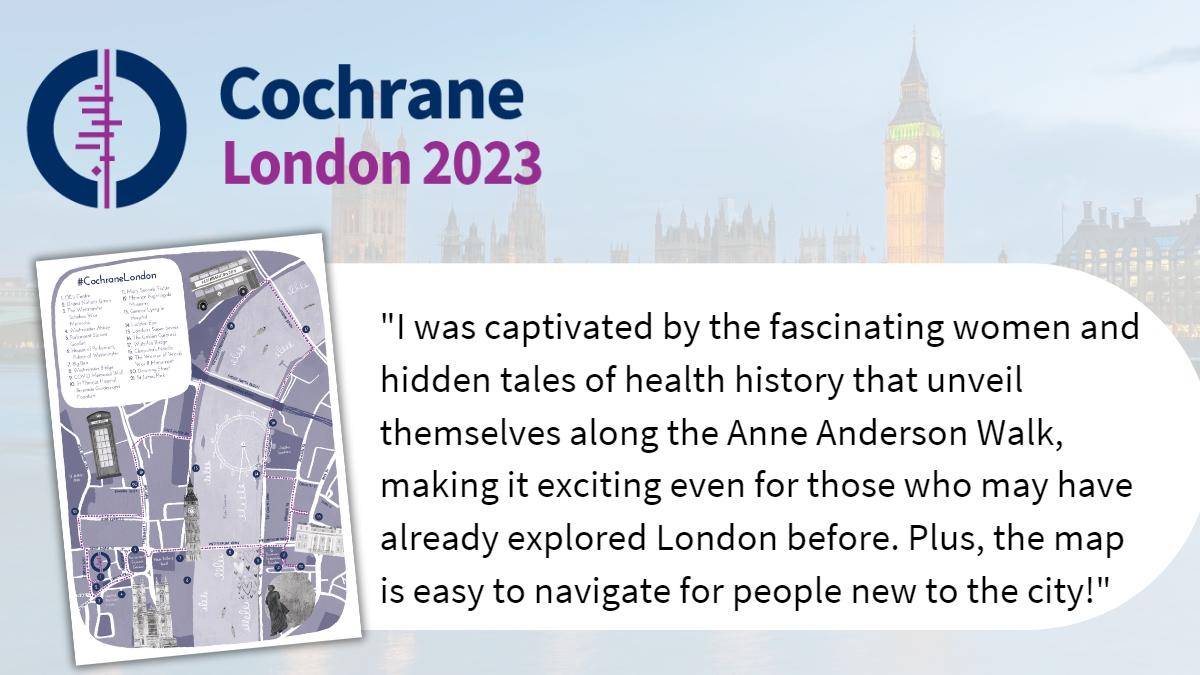 The Anne Anderson Walk is a cherished annual social event for Cochrane, where attendees explore the Colloquium host city and make a donation to next year's Anne Anderson Award. Normally this walk is done as a group with a tour guide but this year to increase accessibility we are using a map to let people go at their own pace. What do you think of the route?
"After the organisers had mapped out the route, tested it several times, and then passed it on to me to illustrate, I was truly amazed at how many fascinating health history locations were close to the conference centre! Living in Cambridge, I'm so close to London myself, and yet I had no idea there were so many health history spots to visit all in a relatively small area! Attendees of the conference are in for a real treat as they self-guide and explore so much history right on their doorstep. There are iconic landmarks like Big Ben and the Florence Nightingale Museum along the route, however what excited me the most were the hidden gems that might be easily overlooked without the guidance of the route directions and details. Some I had never heard of before – so I was extra excited to be able to share them with more people through this map! I was captivated by the fascinating women and hidden tales of health history that unveil themselves along the Anne Anderson Walk, making it exciting even for those who may have already explored London before. Plus, the map is easy to navigate for people new to the city!"
What was your favourite aspect of the map to draw?
"That's a tough question! There were so many captivating elements to bring to life on the map. While I enjoyed drawing iconic London landmarks like Westminster Abbey and Big Ben, if I had to choose, my favourite feature would be the Mary Seacole Statue. The statue itself is an amazing piece of art, but what makes it even more significant is that many people might unknowingly pass by it without venturing into the garden to explore further. I will always have a special space in my heart for any Woman in STEAM, but Mary Seacole in particular has been a fascinating historical figure to me for a while – and yet I had no idea she had a statue! I hope this map can be a step in bringing a wider audience to her. A Scottish-Jamaican nurse, Mary overcame racism and injustice to provide care for soldiers during the Crimean War. Her story is a one of resilience and the power of nursing in the face of adversity. We didn't have space to include an icon from every location you can visit on the map, so including the Mary Seacole Statue was a deliberate choice to shed light on her remarkable contributions. And I think that Anne Anderson would approve of this addition, as it reflects her passion for highlighting unsung heroes in the field of healthcare!"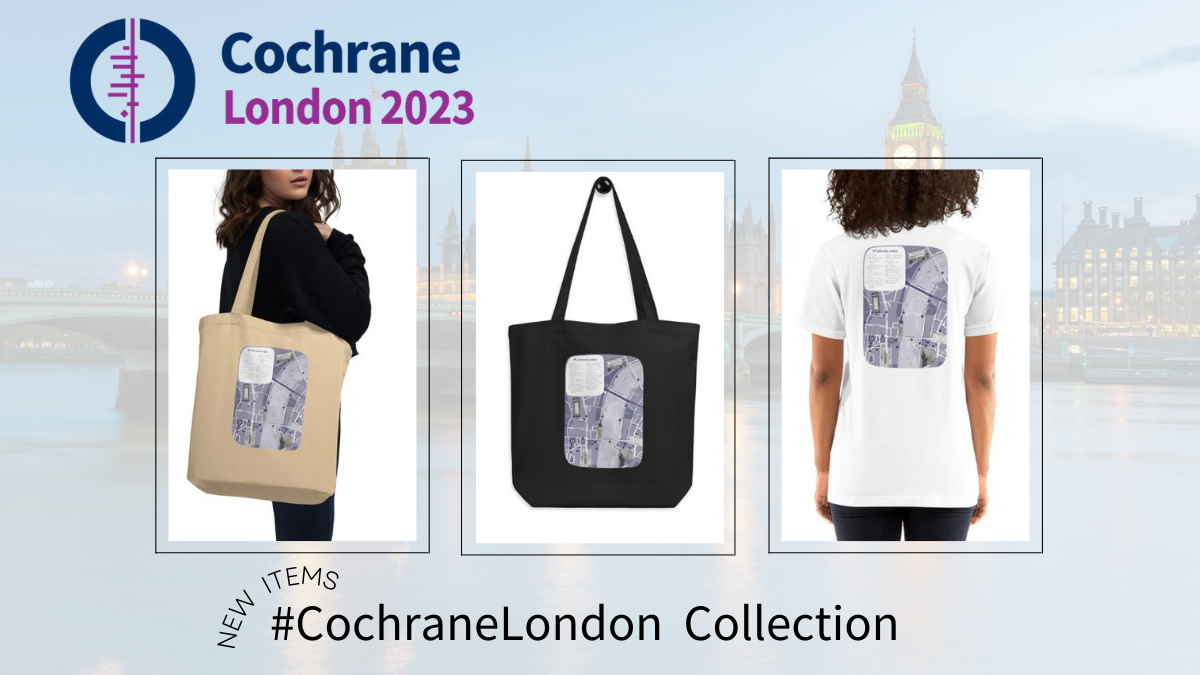 Your style is super cute - such a charming aesthetic! How do you do your artwork?
"Thank you so much! I would describe my art style as digital mixed media. My creative process typically involves drawing on a Wacom tablet, which is connected to my computer. As I draw on the tablet, the marks I make appear on my screen in Photoshop. I use a variety of brushes and layered textures to achieve different effects. To add more depth and visual interest, I incorporate scanned textures that I've created using things like ink and paint. This blending of digital and traditional elements allows me to bring a unique aesthetic to my artwork."

Well, Anna, your map artwork has truly captured our hearts. Thank you so much for taking the time to speak with us and share your insights. We are confident that everyone will love the map and route you've created!

Don't miss the opportunity to explore the captivating Anne Anderson Walk during the Cochrane Colloquium. Get ready to embark on a remarkable journey through London's health history and significant landmarks - all steps away from #CochraneLondon!