Recently Dr. Christian Osadnik from the Department of Physiotherapy, School of Primary and Allied Health Care won the Monash University Jenny Keating Early Career Researcher Publication Prize for Nursing and Allied Health. It was presented by Professor Ross Coppell, Deputy Dean and Director of Research in the Faculty of Medicine, Nursing and Health Sciences at Monash University in recognition of Dr. Osadnik's work on the Cochrane Review, 'Non-invasive ventilation for the management of acute hypercapnic respiratory failure due to exacerbation of chronic obstructive pulmonary disease'. Dr. Osadnik is an Editor within Cochrane Airways and the Co-ordinator for Cochrane Airways Australia.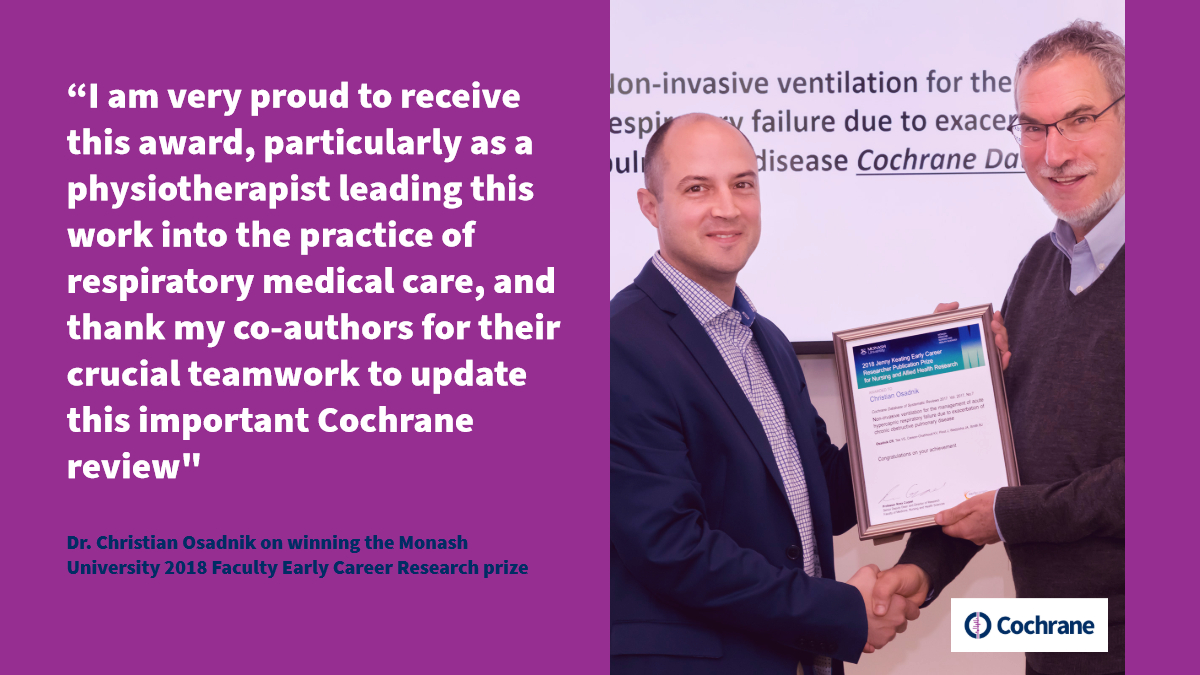 "I am very proud to receive this award, particularly as a physiotherapist leading this work into the practice of respiratory medical care, and thank my co-authors for their crucial teamwork to update this important Cochrane review, " said Dr. Osadnik of the honour. "People with chronic obstructive pulmonary disease commonly experience acute exacerbations of their airways disease necessitating hospital care for respiratory distress. Our work offers confirmatory evidence to support the use of non-invasive ventilation as a life-saving intervention for these patients and casts ethical doubts on the design of future studies comprising 'no-treatment' control groups in this field. Funds from this award will contribute to an extension of my group's research seeking to further improve healthcare delivery to optimise patients' recovery from this debilitating condition."
The Cochrane community extends a warm congratulations to Dr. Osadnik on recognition of this impressive achievement.
Thursday, November 1, 2018