Jimmy Volmink recognized for his contributions to evidence-based health care

The South African Medical Research Council (MRC) has called Professor Jimmy Volmink, Director of Cochrane South Africa, the African region's 'father of evidence-based health care'. Professor Volmink, also the Dean of the Faculty of Medicine and Health Sciences at Stellenbosch University, was presented with the MRC Recognition Award for "Outstanding Achievements in Contributions to Evidence-based Health care in Africa."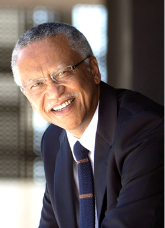 Professor Volmink is the founding Director of the first Cochrane Centre on the African content, Cochrane South Africa, and an internationally acclaimed researcher in health sciences. "His work was underscored by the mission of Cochrane South Africa, which stated that healthcare decision-making on the African continent should be informed by best available evidence. He has supported many researchers to conduct high-quality research and assisted policymakers in South Africa and the region to build the necessary skills to use research evidence effectively," said MRC in their commendation statement.
Please join us in offering Professor Volmink and Cochrane South Africa congratulations on this honour, and best wishes for the future.
Friday, November 11, 2016