76% of new guidelines issued by WHO referenced Cochrane reviews in 2021.
Cochrane's status as a non-governmental organization (NGO) in official relations with the World Health Organization (WHO) was recently renewed at WHO's Executive Board meeting.
The official relation status enables us to join and make statements at key WHO meetings as a non-voting participant. This includes the World Health Assembly (WHA), WHO's decision-making body, which is attended by representatives of all Member States, and is a key forum to advocate for evidence-informed health policies.
The renewal is also underpinned by a new joint plan of work for the next three years. Activities in the plan include:
Providing relevant evidence synthesis and methodological support for consideration in the development of new WHO guidelines, the Essential Medicines List and other guidance

Supporting WHO with training in the interpretation of evidence synthesis

Contributing to activities which facilitate the use of evidence in policymaking at national, regional and global levels

Collaboration on areas of mutual interest, including on essential medicines and diagnostics; research integrity; healthy ageing; reproductive health and nutrition
WHO is a key partner for Cochrane. This relationship enables us to provide input on the way research evidence is identified, synthesized, assessed and used by WHO – and ultimately contribute to improved health for all.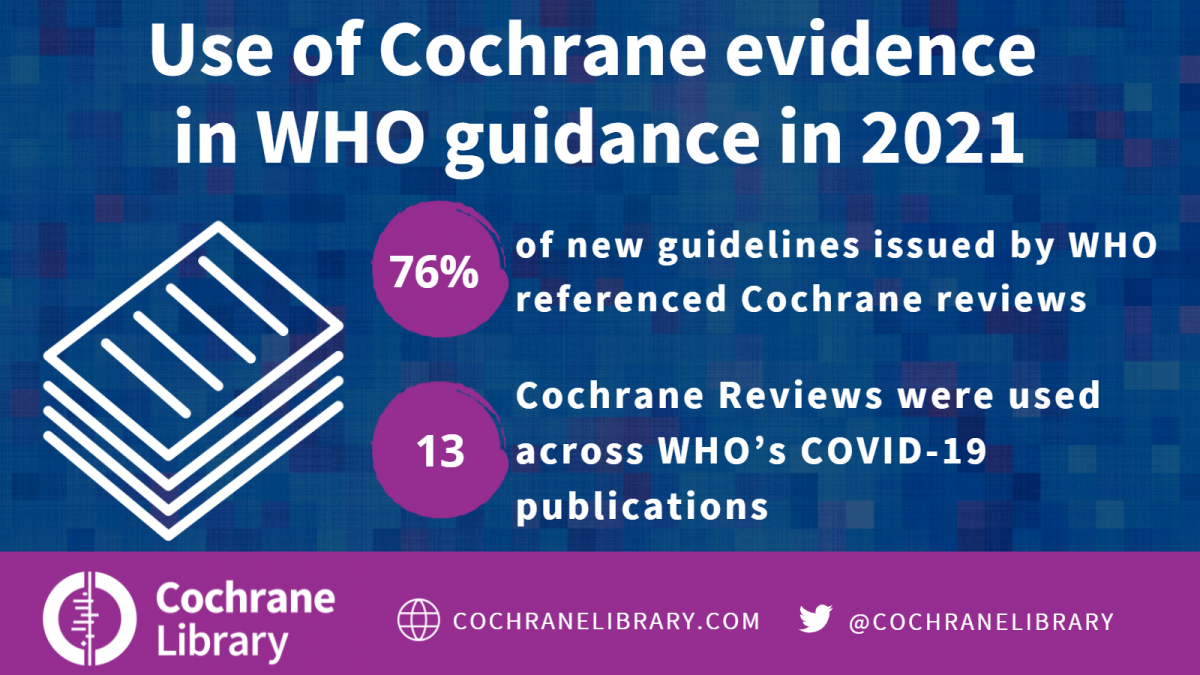 Use of Cochrane evidence in WHO guidance: in figures
Cochrane has been in official relations with WHO since 2011. As of 1 February 2022, 732 reviews from 47 Cochrane Review Groups (CRGs) have been used to inform 251 WHO accredited guidelines and other evidence-based recommendations.
In 2021, 76% of new WHO guidelines were informed by evidence from Cochrane reviews. A total of 78 reviews from 16 different CRGs are referenced.
Cochrane reviews have also been used in WHO's COVID-19 technical guidance. Last year, a total of 13 reviews were used across 20 of WHO's COVID-19 publications.
Cochrane is proud to be a core partner of the Evidence Collaboration on COVID-19 (ECC-19), coordinated by the WHO Science Division. We were also delighted that WHO was a co-sponsor of Cochrane Convenes and we hope to collaborate further in taking forward some of the recommendations in the resulting Call to Action.
A community effort
The relationship with WHO is supported by the efforts of many members of the Cochrane community. Thank you to everyone who has contributed to this ongoing, impactful work. Particular thanks also go to Emma Carter and Anne Eisinga at Cochrane UK for their work in charting how Cochrane reviews are used in WHO guidelines and other technical guidance.
For more information on the work that Cochrane does with WHO, please get in touch with Emma Thompson, Cochrane's Advocacy and Partnerships Manager.
Read our statements made at recent major WHO events