Cochrane is made up of 13,000 members and over 50,000 supporters come from more than 130 countries, worldwide. Our volunteers and contributors are researchers, health professionals, patients, carers, people passionate about improving health outcomes for everyone, everywhere.
Cochrane is an incredible community of people who all play their part in improving health and healthcare globally. We believe that by putting trusted evidence at the heart of health decisions we can achieve a world of improved health for all. 
Many of our contributors are young people working with Cochrane as researchers, citizen scientists, medical students, and volunteer language translators and we want to recognize the work of this generation of contributors as part of a new series called, Cochrane's "30 under 30." 
In this series, we will interview 30 young people, 30 years old or younger who are contributing to Cochrane activities in a range of ways, all promoting evidence-informed health decision making across the world. 
We will be hearing from them in a series of interviewees published over the coming months.
We're keen to hear from you. Would you like to take part in this series? Do you know someone you'd like to see interviewed? Contact kabbotts@cochrane.org.  Or if you want to know more about Cochrane's work contact membership@cochrane.org where our community support team will be happy to answer your questions.

Name: Heidi Gardner (on Twitter at @heidirgardner)
Age: 27
Occupation: Research Fellow in Clinical Trials Methodology
Program: Cochrane Methods Group
How did you first hear about Cochrane?
I first heard about Cochrane towards the end of my undergraduate degree in Pharmacology at the University of Aberdeen. I was looking at PhD programmes and was doing some research on potential projects and supervisors. Both of the PhD supervisors that I wanted to work with were involved in Cochrane systematic reviews (Prof Shaun Treweek and Dr Katie Gillies), so I read those as interview prep. I'd never heard of a systematic review until that point so the idea of using rigorous methods to find all of the available evidence to answer a question was new and exciting and I knew I wanted to get involved further throughout my career. 

How did you become involved with Cochrane? What is your background?
My background is laboratory science – my undergraduate degree was in Pharmacology and I did lab-based research involving protein profiling of human brain tissue to detect Alzheimer's disease. During that degree I was given the opportunity to convert my BSc to an MSci (an undergraduate masters) by taking a year away from formal teaching and going out to work. That year-long placement saw me work in staffing and recruitment – I was working with global clinical research organisations to help them to source staff such as Research Nurses, PIs, Clinical Research Associates etc to support trials from phase I to III. My patch covered the UK, Germany and South Africa, and I consistently found that the staff that I was hiring on a contract basis were being turned away from work because there were no patients for them to do trial data collection with. I was frustrated because I was finding really talented members of staff, but they weren't able to do their job because of a shortage of patients. After doing a few google searches and eventually coming across Shaun's Cochrane recruitment review, I realised I wasn't the only one feeling frustrated so I figured a PhD would be a good way to get started on solving the problem of poor participant recruitment in trials!

What do you do in Cochrane?
I first got involved with Cochrane through Students 4 Best Evidence – within the first few months of starting my PhD I wrote a blog introducing Trial Forge, which is an initiative that aims to improve the efficiency of randomised controlled trials through generation of evidence to support trial processes (that blog post is here). After that I did a regular blog post slot debunking health claims reported in the media, and then my PhD took over and I got too busy! I then got involved with a Cochrane review update that my PhD supervisor (Prof Shaun Treweek) was leading (now published here), which was a brilliant way to learn about the hands on process of doing a systematic review (abstract screening, full text screening, data extraction etc) whilst I was planning a systematic review as part of my PhD. That also led me to being involved in a qualitative evidence synthesis that looks at factors that impact on recruitment to trials (the protocol is published here), and I've now been asked to contribute to another recruitment-related qualitative evidence synthesis, which I'm really excited about.

What specifically do you enjoy about working for Cochrane and what have you learnt?
It has been a hugely rewarding process so far; from beginning with short blog posts that I used to help me improve my communication skills (S4BE), right through to being an author on a Cochrane review, I have learned so much. I've learned that each review requires a significant amount of work – no matter whether it contains 1 study or 100 – and that the work involved is full of what feels like hundreds of steps at the time, but each of those steps is crucial in producing a systematic review that provides readers with all the information that they could possibly want or need on a specific area of research. I've met a lot of experienced researchers whilst working on various Cochrane reviews, and the kindness and generosity of those researchers will stay with me throughout my career. Despite the fact that I was at a very early stage of my career, these collaborators gave me their time and insight to ensure that I was learning and able to contribute effectively to each of the reviews I've been involved in. Hopefully in the future I'll be able to lead my own Cochrane review and offer that opportunity to early career researchers like I was.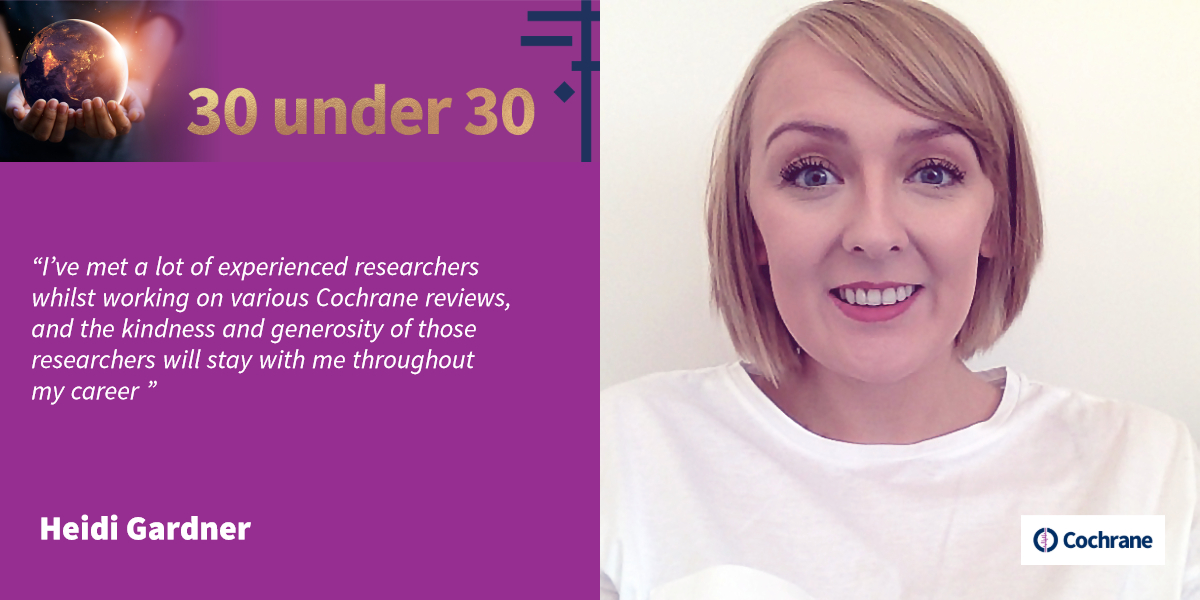 What are your future plans?
Over the next few months I will be working across various trials methodology projects going on at the Health Services Research Unit at the University of Aberdeen, and then after Christmas I'll leave the Unit for a few months as I've been awarded a Winston Churchill Memorial Trust Fellowship that involves a lot of travel. I'll be travelling to the USA, Canada, Singapore and Hong Kong over a period of 2 months, to learn from expert science communicators, digital teams and artists – I'll be using my learnings to help to support UK-based science communicators in their online communication practices when I get back. Then in March I will return to HSRU to begin a new role as Research Fellow, which will see me lead my first independent research project. The project focusses on outcome collection in trials, specifically how much time and energy is being used to collect primary and secondary outcomes, and how we can work to improve efficiencies within these processes. I plan to continue building a career in trials methodology from there.
In your personal experience, what one thing could Cochrane do better to improve its global profile?
I would like to see more people knowing and using Cochrane systematic reviews; researchers in the way they design and create research projects, patients in the way they make decisions about the healthcare they want to receive, and the media in the way that they report health-related stories for the public. I did a qualitative study as part of my PhD where I talked to trial staff about the way they planned participant recruitment strategies, and the way that they used evidence to inform their decision making; the majority of participants did not reference the Cochrane recruitment review and when prompted explained that they 'hadn't had time to read it'. Often, Cochrane reviews end up in big chunky documents that immediately make people hesitate when looking at them.

What do you hope for Cochrane for the future?
I'd like to see Cochrane work on adding a step to the process of doing a systematic review; effectively disseminating their findings in easy and quick to view ways. It's important that the main review is available for those that need it, but we could be doing a lot more to make the 'golden nuggets' of information within reviews easy to access. 

How important is it that young people get involved in Cochrane?
I think it's incredibly important not only for young people, but people at the early stage of their research career, to get involved in Cochrane. It offers a fantastic network of hugely talented researchers that can teach us so much! It's important to learn good research habits at the beginning of our careers so that we can produce high quality, rigorous research right from the off; Cochrane's guidance and my learning of the methods used and endorsed by Cochrane have definitely stood me in good stead for a research career where I hope to focus on producing high quality work that is relevant to patients and can improve practice in the future.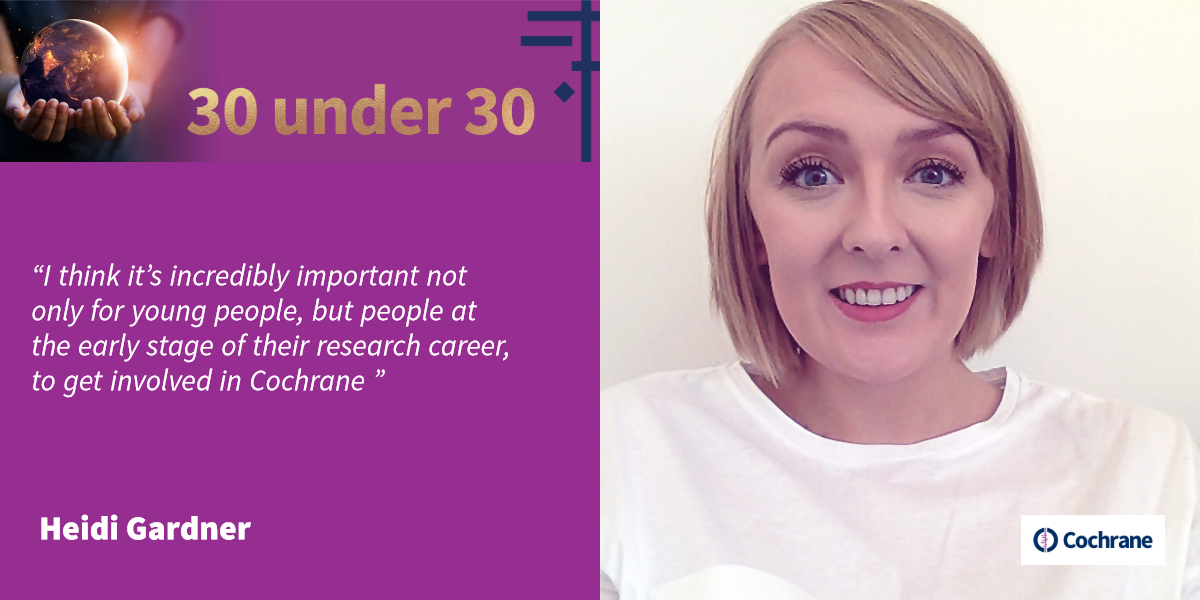 I also think early career researchers can do a lot to get the work of Cochrane out into the public through things like public engagement activities, social media and research communication focused at new audiences that are not necessarily leaning on Cochrane reviews to support the work that they are doing currently.

What would your message be to other young people who want to get involved with Cochrane's work but not sure where to start….?
Get in touch with the Students 4 Best Evidence team! They're a very friendly and welcoming group of people, and you'll learn a lot by blogging (e.g. about recently published or updated Cochrane reviews) before you jump into doing systematic reviews of your own.
Friday, February 15, 2019