Cochrane has a commitment to producing and sharing high quality health evidence to as broad an audience as possible. Cochrane partnered in 2014 with Wikipedia, with the joint goal of improving the quality and reliability of human health-related articles that people are accessing online.
Jennifer Dawson, PhD, is a Wikipedia Consultant for Cochrane. Her role includes maintaining and building further relations with Wikipedia, connecting new editors to the Wikipedia community, and supporting requests for engagement in Wikipedia work from the Cochrane community. We interviewed Jennifer to learn more about the Cochrane-Wikipedia partnership:

Why should we care about Wikipedia?
Millions of people around the world access health-related information on Wikipedia each day. Medical-related articles are available in over 286 languages on Wikipedia and often come up early on an internet search. The readership base varies broadly and includes members of the public, medical students, medical professionals, journalists, and policy makers (More info here). Given that so many people are consulting Wikipedia on a daily basis, we feel that Cochrane's commitment to producing and sharing high quality health evidence includes sharing that evidence where people are accessing it.
What's Cochrane's Community contribution to Wikipedia?
As of 2023, 3400 Cochrane Systematic Reviews published in the past 10 years help inform evidence in medical articles shared on English Wikipedia. There are additional ongoing initiatives in other languages including Spanish, Dutch, and Farsi Wikipedias. Many Cochrane community members and volunteers participate in this initiative, collaborating with the Wikipedia editing community and using high-quality and trusted evidence to correct errors of omission, expand medical articles, and remove unreliable or outdated content shared on Wikipedia.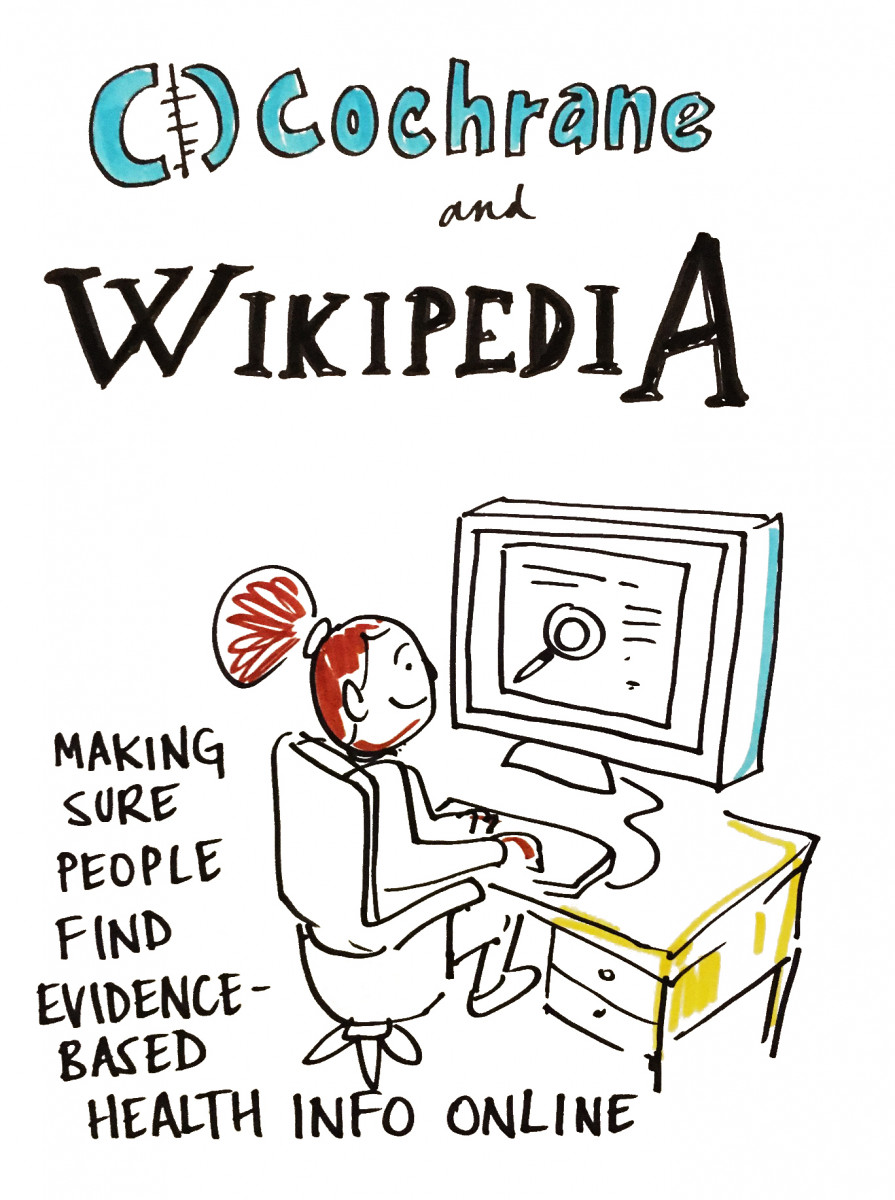 How can I get involved?
Nearly half of all Cochrane Reviews are already shared on Wikipedia! Cochrane is presently the most frequently cited peer-reviewed medical journal on Wikipedia (More info here).  But English Wikipedia includes over 36,000 health-related articles, so there are more Cochrane reviews that still can be shared on Wikipedia. There are two main ways you can get involved:

1.    Add new Cochrane Evidence to Wikipedia - Every three months, a new list of Cochrane Reviews to consider for Wikipedia is generated. Reviews to consider for Wikipedia are organized by Cochrane Review Group and can be access here:  Cochrane Review List (English).

2.    Ensure that the evidence already shared on Wikipedia is accurate, unbiased, and up to date. - Volunteers are needed to review what is presently shared in Wikipedia. Wikipedia articles that include out dated versions of Cochrane Reviews need to be updated. Cochrane maintains a list of Reviews that need updating. This list is refreshed monthly to include recently updated Cochrane Reviews: Cochrane-Wikipedia Update Project.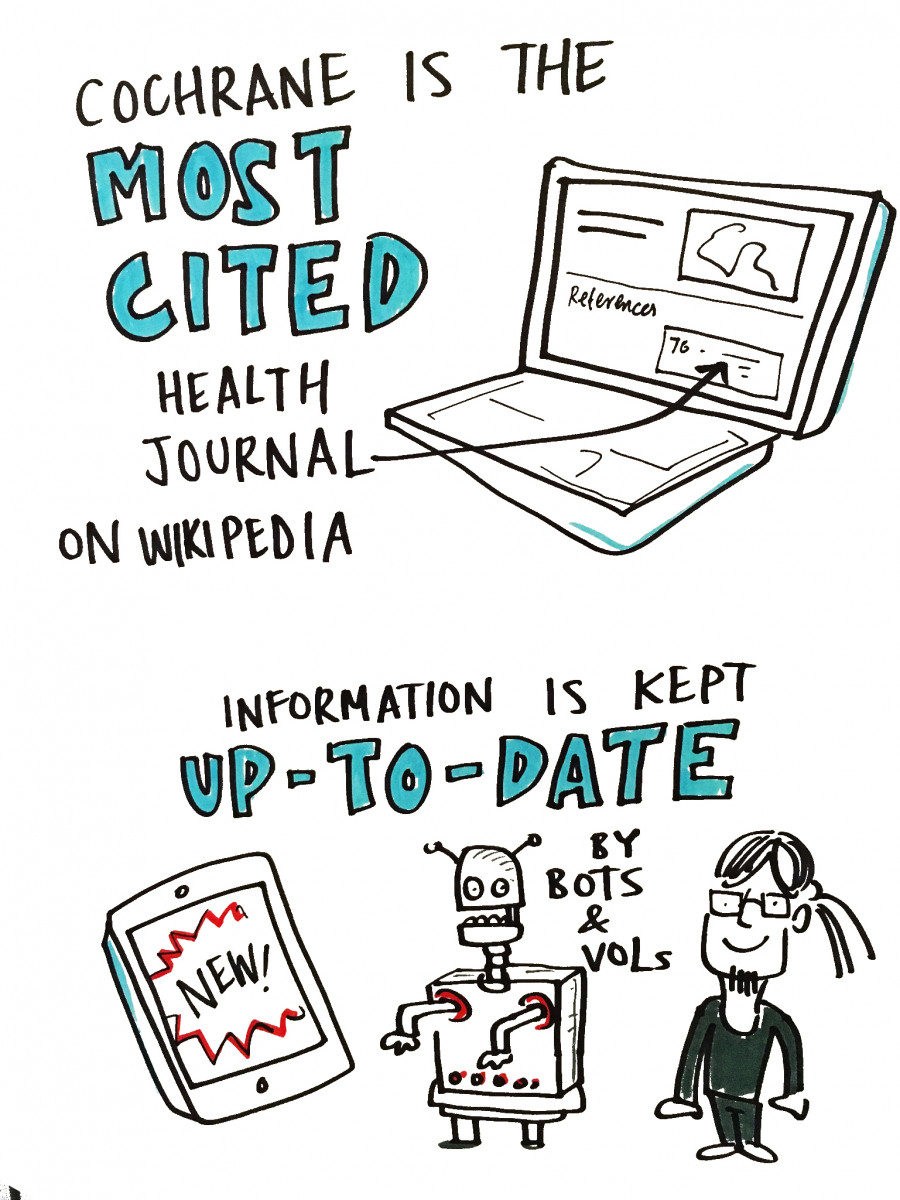 How can I edit Wikipedia in languages other than English?
Cochrane has active projects in many different languages including Spanish, French, and Dutch. Please visit the "Projects" tab project page to learn more about specific projects: Cochrane-Wikipedia Projects.

How can I learn how to edit Wikipedia?
Cochrane has developed and collated numerous training resources. Our newest resource, the Wikipedian in Training Resource, is the best place to begin. This resource shares suggested first steps, ideas for how to practice editing, and an example of the general workflow of editing Wikipedia and sharing Cochrane evidence.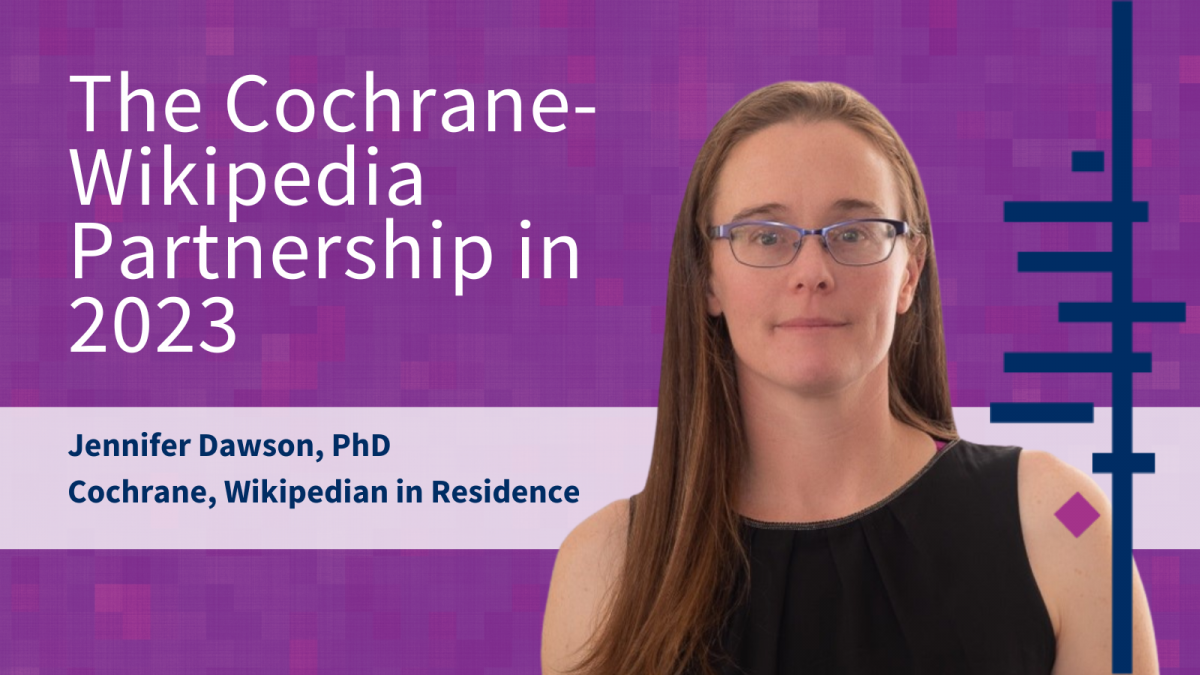 Jennifer can be found on Wikipedia at: JenOttawa and by email at jdawson@cochrane.org. Please visit the Cochrane-Wikipedia Project Page for more information.