Cochrane Rehabilitation will represent Cochrane in an upcoming side event at the 76th World Health Assembly (WHA). The event, titled "Strengthening Rehabilitation in Health Systems - Responding to the new WHA Resolution" aims to raise awareness of evidence-based health policies and advocate for the integration of rehabilitation services into health systems. As WHO's decision-making body, the WHA is attended by representatives from all Member States, making it a crucial platform for promoting evidence-informed healthcare practices. This year's assembly marks the 75th anniversary of WHO's founding and the first time that a resolution focused on rehabilitation has been included in the agenda.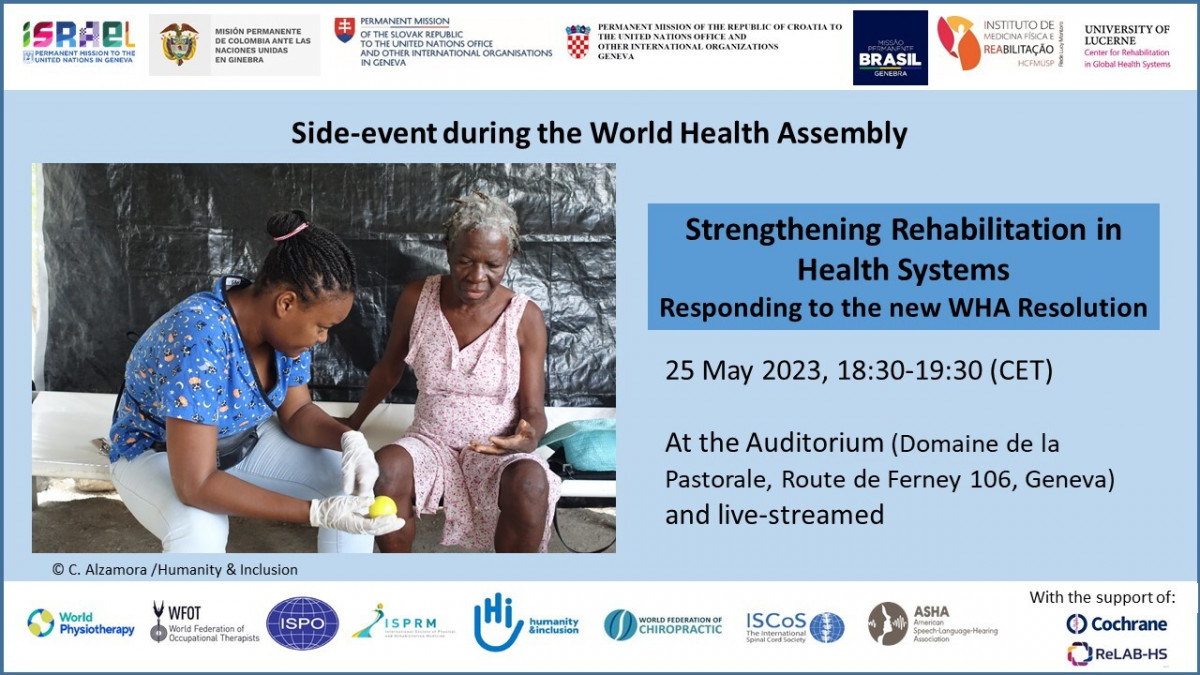 25 May 2023, 18:30 - 19:30 CEST, followed by a  reception

The Auditorium, Domaine de la Pastorale, Route de Ferney 106, Geneva  or via live-stream
Emma Thompson, Cochrane 's Advocacy and Partnership Lead, stated: "The World Health Assembly is the most important global health policy forum, bringing together health leaders from around the world. This side event is a major opportunity for Cochrane to stand alongside others working in rehabilitation in calling on decision-makers to ensure that the provision of robust, evidence-informed services for everyone remains firmly on the global health agenda."


Dr. Carlotte Kiekens, Cochrane Rehabilitation Co-Director, emphasized the significance of the forthcoming vote on the "Strengthening Rehabilitation in Health Systems" resolution, stating: "This year, the World Health Assembly (WHA) will vote for the first time on a resolution for 'Strengthening Rehabilitation in Health Systems'. This comes from an understanding that we are experiencing increased disability and multimorbidity due to the ageing population, the growth of non-communicable diseases, and the successes of medicine."
Prof. Stefano Negrini, Director of Cochrane Rehabilitation, will participate in the panel session and discuss issues related to research and evidence needs for rehabilitation. Cochrane Rehabilitation has collaborated with WHO on evidence support for rehabilitation issues for several years, including as part of Rehabilitation 2030 and in leading Cochrane's involvement in the new World Rehabilitation Alliance.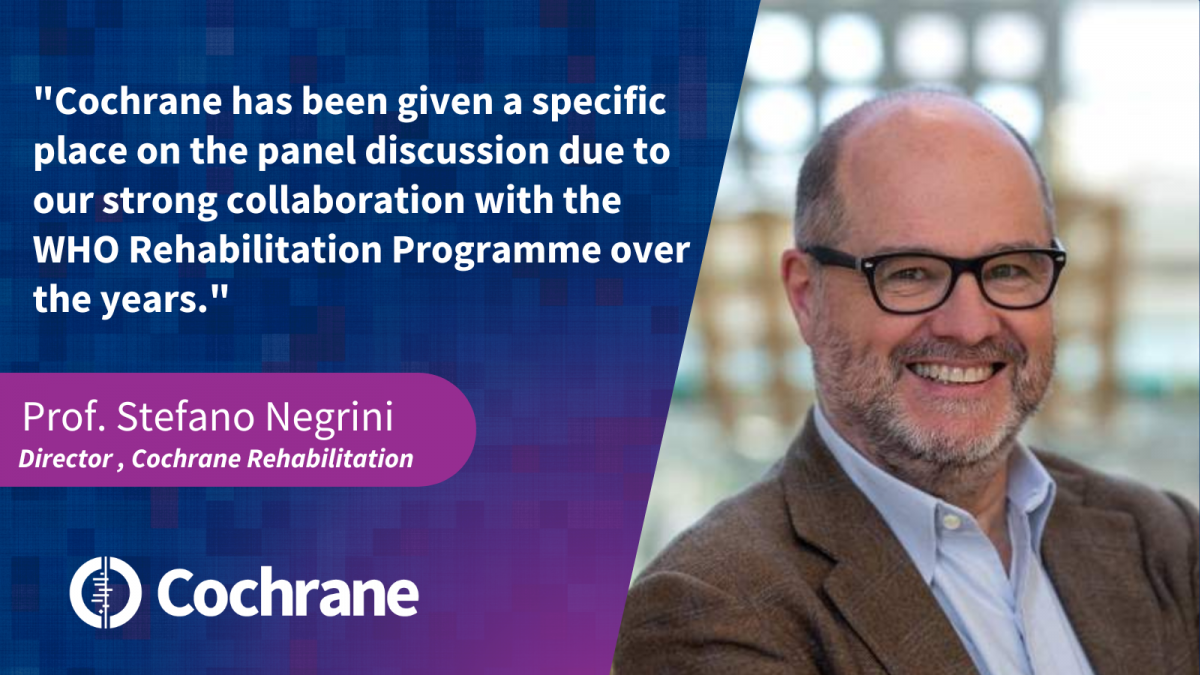 Negrini explained, "The WHA resolution follows WHO's launch of "Rehabilitation 2030: a call for action", the production of a Package of Interventions for Rehabilitation, and the launch of the World Rehabilitation Alliance to advocate for the field. During the WHA side event, promoted by the delegations of several countries and co-organised with partners in the field, Cochrane, through Cochrane Rehabilitation, has been given a specific place on the panel discussion due to our strong collaboration with the WHO Rehabilitation Programme over the years."
Overall, the side event offers a valuable opportunity for Cochrane to stand in solidarity with others in the rehabilitation field to urge decision-makers to prioritize the provision of evidence-informed services for all. Recent estimates suggest that over 2.4 billion people worldwide live with health conditions that could benefit from rehabilitation, yet more than half of the global population lack access to these services, particularly in lower-income or fragile settings.