Cochrane is delighted to announce the awarding of a grant from Innovate UK, the UK's innovation agency, to fund the continued development and enhancement of the Cochrane COVID-19 Study Register throughout 2021.
Cochrane's COVID-19 Study Register, launched in April 2020, is a curated collection for researchers to access all relevant primary studies being published related to COVID-19. The Register helps systematic reviewers prioritise topics, identify available evidence and produce urgently needed reviews for front-line health professionals, public health policymakers and research teams developing new therapeutic, diagnostic, and preventive interventions for COVID-19. 
The grant was awarded to Cochrane in partnership with Metaxis, which has been involved in the development of the Study Register since its launch.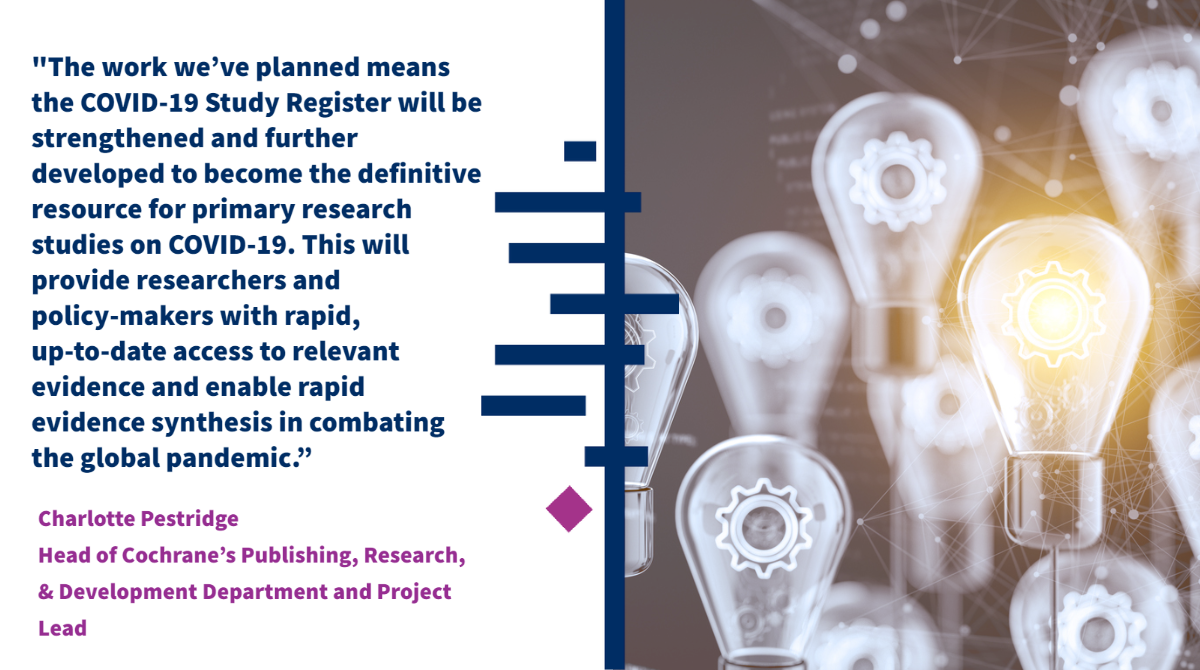 Funding from this Innovate UK grant will be dedicated to making enhancements to the data curation processes that assist in populating the Register, which currently includes nearly 42,000 studies. The Register team plans to develop its crowdsourcing and machine learning (AI) capabilities that will help to identify, link, describe, and appraise studies in near real-time to significantly aid discoverability, as well increasing accessibility via an Open API. This new crowdsourcing and machine learning development is divided into six work packages as follows. 
Crowdsourcing study linking: 
We will deliver a semi-automated approach to linking related reports through the use of a crowdsourced task. 
Crowdsourcing quality assessment: 
We will deliver a new task on Cochrane Crowd that will allow contributors to perform a risk of bias assessment on randomised trials related to COVID-19.
Automation of study characteristics:
This work package will deliver a range of machine learning classifiers that will then work in partnership with human annotators enabling us to better keep pace with the large quantity of research being produced.
Further develop and populate the register:
We will populate, enrich, and add more features to the Cochrane COVID-19 Study Register so it can keep up with the exponential growth in COVID-19 research and to enable researchers to navigate this research in a timely fashion.
Enhanced curation:
All Cochrane study data are managed in the Cochrane Register of Studies, a large repository of linked clinical trials which enables the use of new technologies such as crowdsourcing and machine learning to play an increasing role in the identification and tagging of studies. We will add new capabilities to the Cochrane Register of Studies to better support the new workflows and curation activities described in work packages 1 to 4.
Open API/ improve the information security:
Having developed the above technology, we want to make sure the information is easily accessible. The public API will expose RESTful micro-service endpoints for 1.) vocabulary access; 2.) COVID study register content search; and 3.) PICO micrograph data access.
Cochrane Crowd, Cochrane's citizen science platform, will facilitate the crowdsourcing, linking studies and assessing quality. Thus far, the Crowd has contributed to identifying thousands of relevant COVID-19 studies via the COVID Quest task.
Charlotte Pestridge, Head of Cochrane's Publishing, Research, and Development Department and Project Lead said: "This is fabulous news; this grant secures resource to innovatively enhance the COVID-19 Study Register throughout 2021. The work we've planned means the Register will be strengthened and further developed to become the definitive resource for primary research studies on COVID-19. This will provide researchers and policy-makers with rapid, up-to-date access to relevant evidence and enable rapid evidence synthesis in combating the global pandemic."
Dr Gordon Dooley, Managing Director of Metaxis, who has worked on the Study Register since its launch, said: "This is really exciting news and we are delighted to be a key partner in this project. Our aim is to use the funding to make our processes for identifying and classifying COVID-19 study references more accurate and efficient, including the linking of different references for the same studies."
He added: "With the planned enhancements to our Cochrane Crowd tasks and the integration of machine learning classifiers into the Cochrane Register of Studies, researchers and systematic reviewers will see references with full classifications being added to the Cochrane COVID-19 Study Register much more quickly. Our efforts to make COVID-19 evidence rapidly visible will assist them in prioritising COVID-19 topics and identifying available evidence to produce urgently needed reviews that will, in turn, inform decision-making for front-line health professionals."
Find out more about Cochrane's COVID-19 Study Register at covid-19.cochrane.org.
Thursday, February 11, 2021