A round-up of selected recent media coverage citing, discussing, and presenting health evidence - updated throughout the month.
'Surprisingly Little Evidence for the Usual Wisdom About Teeth' in The New York Times rounds up oral health evidence - with Cochrane Reviews in the spotlight.

'Testing government policies first means we spend public money better – so why are we so bad at doing it?' Campbell Collaboration CEO Howard White in the The Independent on the importance of using evidence to inform policy making.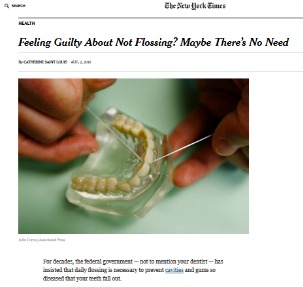 'Feeling Guilty About Not Flossing? Maybe There's No Need' in The New York Times focuses on Cochrane Oral Health Review.