The Cochrane Library App presents the latest up-to-date evidence from the Cochrane Library in a convenient, easy to navigate format which provides you with relevant, accessible research, when you need it, from the world's leading experts in evidence-informed health care.
All content in the app is free and new issues will download regularly.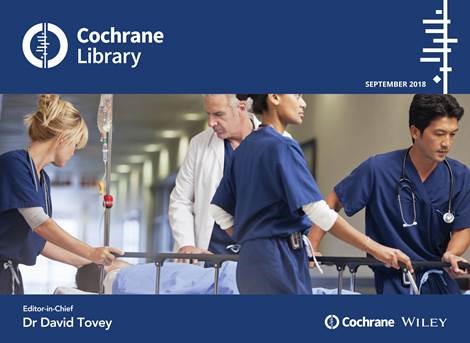 Our monthly issues feature a hand-picked selection of Cochrane Systematic Reviews, specifically chosen by the Editor-in-chief.  Abridged Cochrane Reviews provide the best possible tablet and phone reading experience and they are downloadable for reading offline. The Bookmark feature allows you to create your own special collection of Cochrane Reviews across issues. Additionally, the title page for every review includes a link to the full version of the review available on the Cochrane Library.
The Cochrane Reviews included in this month's issue focus on a wide range of interesting topics from recent publications, covering primary and secondary prevention of cardiovascular disease, dementia, preventing falls in older people, and the role of nurses in primary care.  Our main review this month is 'Colloids versus crystalloids for fluid resuscitation in critically ill people.' Critically ill people who lose large amounts of blood, caused by trauma or burns, or with serious infections like sepsis require additional fluids urgently to prevent dehydration or kidney failure. These replacement fluids can be colloids or crystalloids and are often supplied intravenously. Crystalloids are low‐cost salt solutions, like saline, with small molecules, which can move around easily when injected into the body. Colloids can be synthetic or naturally occurring, with bigger molecules, staying in the blood for longer periods, but are more expensive than crystalloids. Authors from the Cochrane Injuries Group investigated whether colloids are better than crystalloids in reducing death or transfusion needs. The abridged version of this review is available in this issue. Visit www.cochranelibrary.com to read the full version.
Friday, September 14, 2018