The Cochrane Library App presents the latest up-to-date evidence from the Cochrane Library in a convenient, easy to navigate format which provides you with relevant, accessible research, when you need it, from the world's leading experts in evidence-informed health care.
All content in the app is free and new issues will download regularly.
Our monthly issues feature a hand-picked selection of Cochrane Systematic Reviews, specifically chosen by the Editor-in-chief.  Abridged Cochrane Reviews provide the best possible tablet and phone reading experience and they are downloadable for reading offline. The Bookmark feature allows you to create your own special collection of Cochrane Reviews across issues. Additionally, the title page for every review includes a link to the full version of the review available on the Cochrane Library.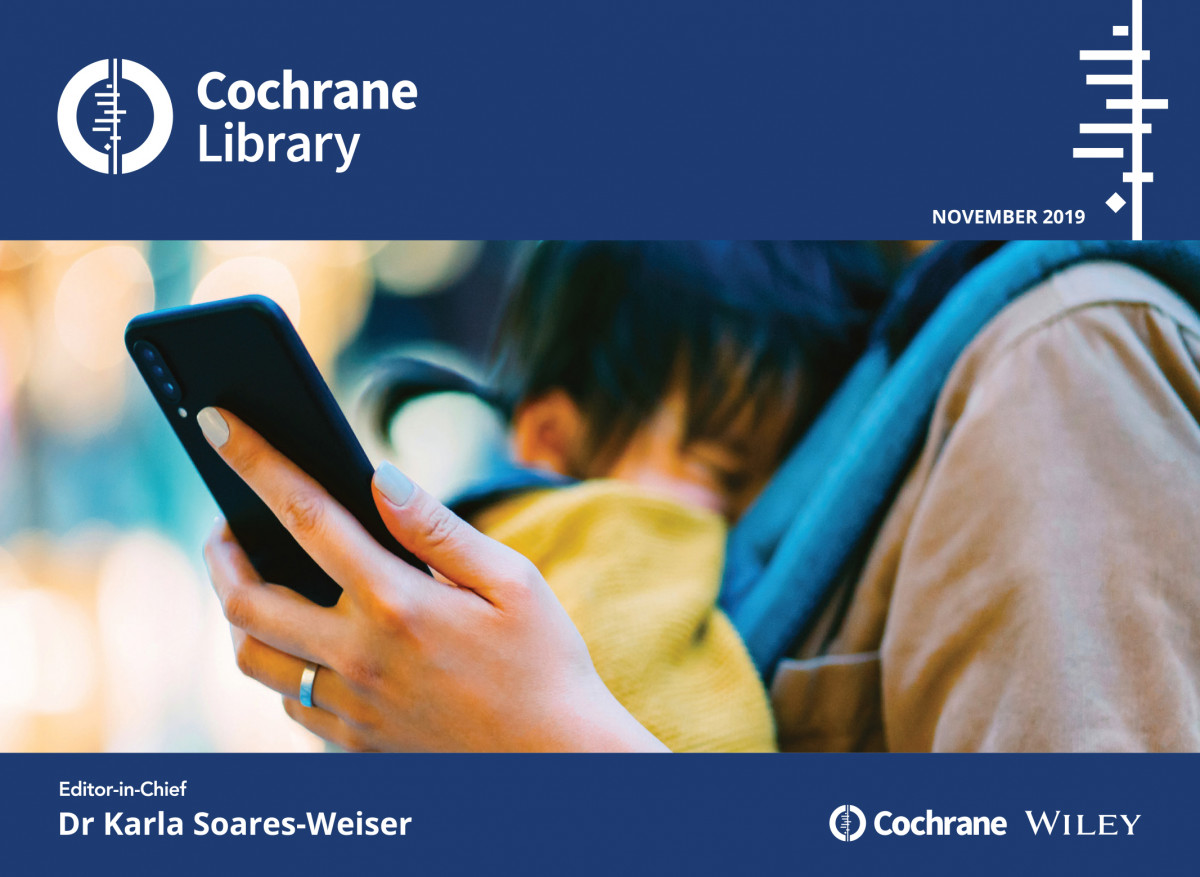 Hello, and welcome to the November 2019 issue of the Cochrane Library app.
The Cochrane Reviews included in this month's issue showcase a wide-ranging set of topics from recent publications, including involving older patients with multi-morbidity in primary care decision-making, reducing drug use in offenders with co-occurring mental health problems, an assay for detecting tuberculosis in people living with HIV, fortifying rice for malnutrition, vitamin D supplement regimens for pregnant women, mechanical induction of labour, preventing falls after a stroke, improving the well-being of female BRCA-mutation carriers following risk-reducing surgery, and fluoxetine for overweight or obese adults.
Our main review this month is 'Clients' perceptions and experiences of targeted digital communication accessible via mobile devices for reproductive, maternal, newborn, child, and adolescent health: a qualitative evidence synthesis'. Governments and health systems are increasingly using mobile devices to communicate with patients and the public. Targeted digital client communication describes the health system transmitting information to individuals or groups of people, based on their health or demographic status, for example, text messages reminding people to attend appointments or take medication. Other types include phone calls, interactive voice response, or multimedia messages offering healthcare information, advice, monitoring, and support. Authors from the Cochrane Consumers and Communication Group explored clients' perceptions and experiences of targeted digital communication via mobile devices on topics related to reproductive, maternal, newborn, child, or adolescent health.
The abridged version of this review is available in this issue. Visit www.cochranelibrary.com to read the full version.
Our monthly issues produced exclusively for the app feature a hand‐picked selection of Cochrane Systematic Reviews, specifically abridged to provide the best possible mobile reading experience. You can create your own special themed collection of Cochrane Reviews across issues in the app on topics such as occupational health by using the app's Bookmark feature.

The title page for every review included in this and previous issues includes a link to the full version of the review available on the Cochrane Library at www.cochranelibrary.com