The Cochrane Library App presents the latest up-to-date evidence from the Cochrane Library in a convenient, easy to navigate format which provides you with relevant, accessible research, when you need it, from the world's leading experts in evidence-informed health care.
All content in the app is free and new issues will download regularly.
Our monthly issues feature a hand-picked selection of Cochrane Systematic Reviews, specifically chosen by the Editor-in-chief.  Abridged Cochrane Reviews provide the best possible tablet and phone reading experience and they are downloadable for reading offline. The Bookmark feature allows you to create your own special collection of Cochrane Reviews across issues. Additionally, the title page for every review includes a link to the full version of the review available on the Cochrane Library.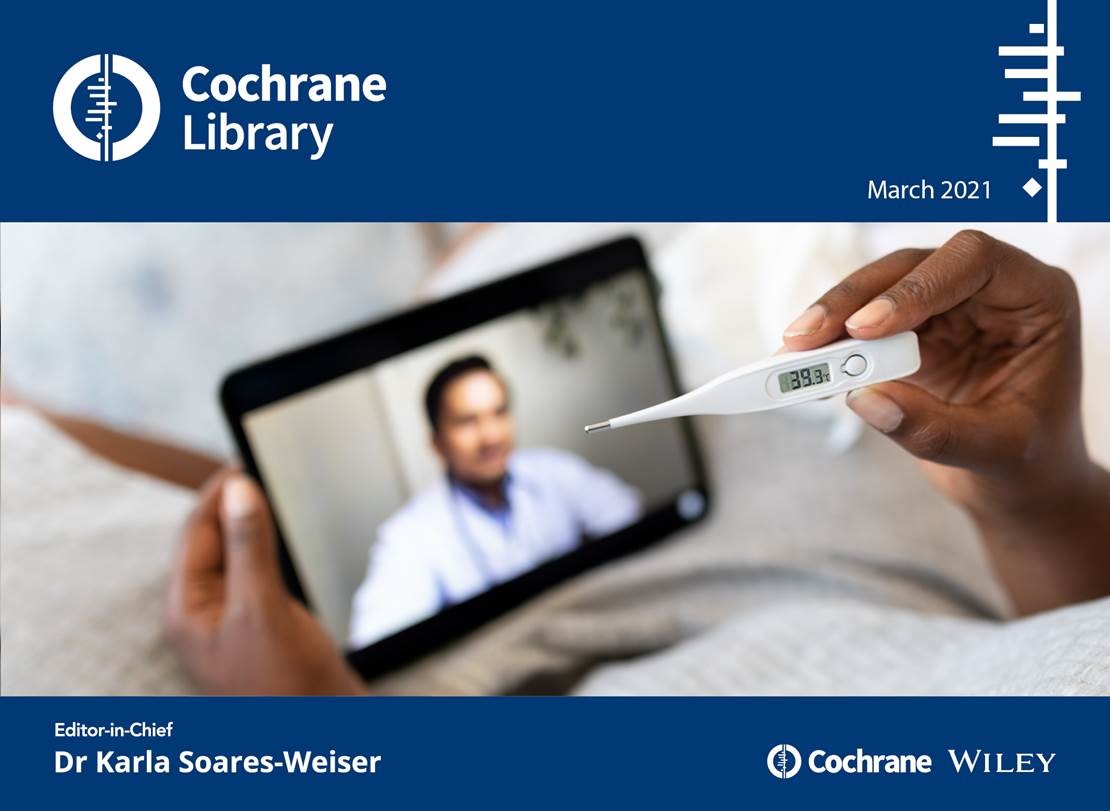 Hello, and welcome to the March 2021 issue of the Cochrane Library app.

This month's edition includes a variety of topics such as chloroquine or hydroxychloroquine for COVID-19, healthcare stakeholders' experiences affecting implementation of critical care telemedicine, case management of childhood illness in low- and middle-income countries, walking for hypertension, pulmonary rehabilitation for interstitial lung disease, antidepressant treatment for postnatal depression, preventing eczema and food allergy in infants, paravertebral anaesthesia for women undergoing breast cancer surgery, and improving medical students' interpersonal communication in medical consultations.

Our main review this month is the updated 'Signs and symptoms to determine if a patient presenting in primary care or hospital outpatient settings has COVID-19'. The clinical implications of SARS‐CoV‐2 infection are highly variable, with some people with the infection remaining asymptomatic, and others having mild to moderate COVID‐19, or pneumonia. Symptoms such as fever, cough, or loss of smell or taste, and signs such as oxygen saturation are the first and most readily available diagnostic information. Such information could be used to either rule out COVID‐19, or select patients for further testing. Authors from the Cochrane Infectious Diseases Group assessed the diagnostic accuracy of signs and symptoms to determine if a person presenting in primary care or to hospital outpatient settings, such as the emergency department or dedicated COVID‐19 clinics, has COVID‐19.
The abridged versions of these reviews are available in this issue. Visit www.cochranelibrary.com to read the full versions.

Our monthly issues produced exclusively for the app feature a hand‐picked selection of Cochrane Systematic Reviews, specifically abridged to provide the best possible mobile reading experience. You can create your own special themed collection of Cochrane Reviews across issues in the app on topics such as occupational health by using the app's Bookmark feature.

The title page for every review included in this and previous issues includes a link to the full version of the review available on the Cochrane Library at www.cochranelibrary.com