Cochrane wants to welcome people, no matter who they are or where they live. The more varied perspectives we have, the better we can provide evidence to help inform health and healthcare decisions.
 
We have contributors, supporters and members from all over the world, but we know very little about our community and what is important to you. This is an opportunity to learn from our community and hear your ideas about how Cochrane can become a more diverse and inclusive organisation.
 
We've launched a survey and are also running small online meetings. You can take part by:
completing the short survey here now.  It only takes a few minutes. You don't need to give your name
AND letting us know if you are interested in attending a small group meeting to talk about your experiences of diversity and inclusion in Cochrane.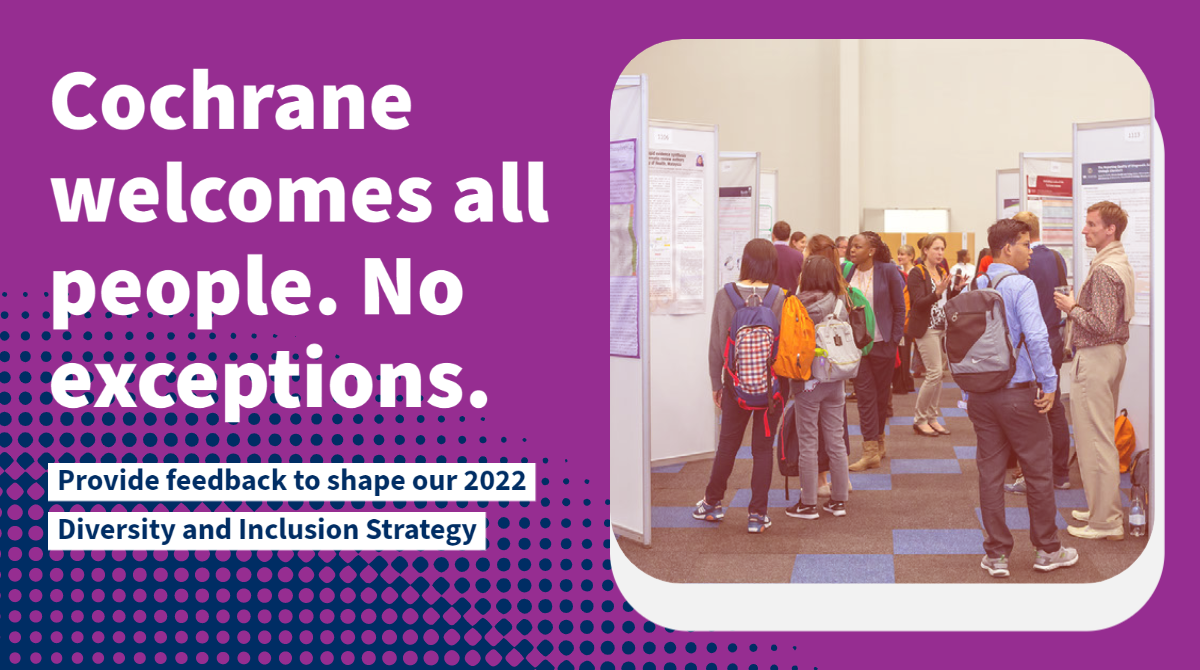 We want to hear from you whether you are involved a lot in Cochrane or not much at all.  Your feedback will help to create a Diversity and Inclusion Strategy in 2022.
 
Chris Champion, Head of People Services, says
"Cochrane is a worldwide organisation that aspires to be diverse and inclusive. We want everyone to be able to participate in Cochrane, regardless of who they are and where they come from. This matters to Cochrane, because if we are more inclusive, we will be able to provide better and more relevant evidence to our users who are at the heart of our vision."
If you want to know more about this work then please contact Chris Champion, cchampion@cochrane.org.