Cochrane is made up of 11,000 members and over 67,000 supporters come from more than 130 countries, worldwide. Our volunteers and contributors are researchers, health professionals, patients, carers, people passionate about improving health outcomes for everyone, everywhere.
Getting involved in Cochrane's work means becoming part of a global community. The Cochrane International Mobility programme connects successful applicants with a placement in a host Cochrane Group, learning more about the production, use, and knowledge translation of Cochrane reviews. The programme offers opportunities for learning and training not only for participants but also for host staff.
In this series, we profile those that have participated in the Cochrane International Mobility Program and learn more about their experiences.

Name: Filip Wikström
Location: Lund, Cochrane Sweden
CIM location: Barcelona, Cochrane Iberoamerica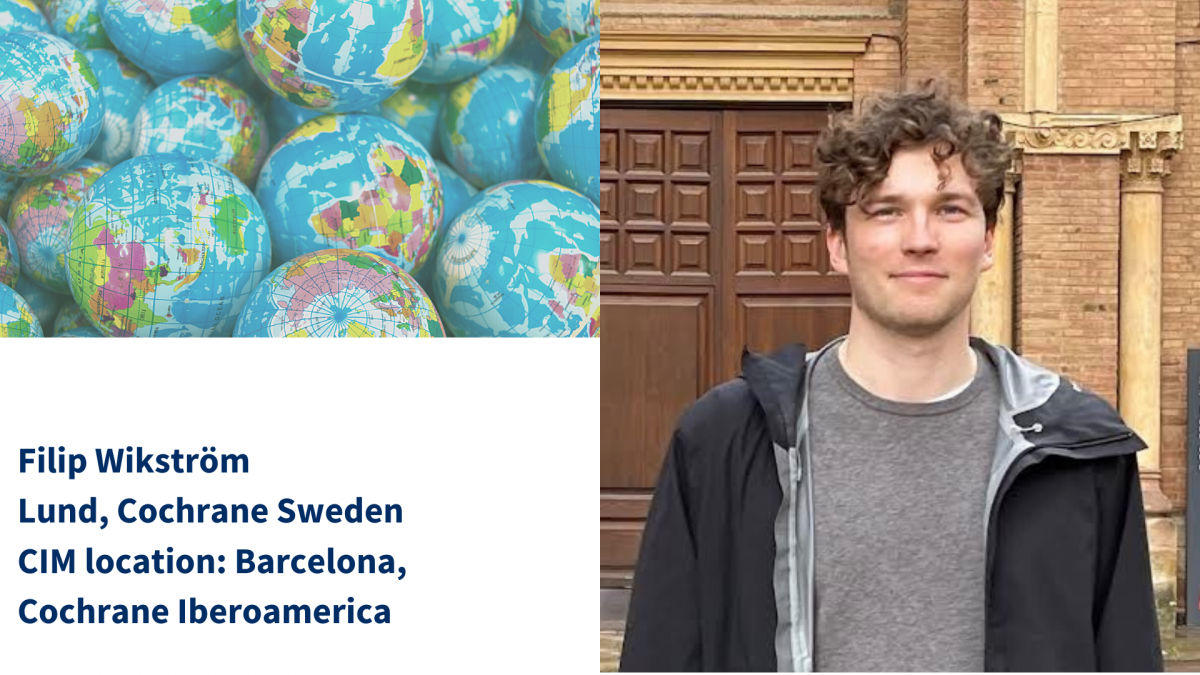 How did you first learn about Cochrane?
The Cochrane Learning Modules are integrated into the Medicine Programme in Lund University, so I was gradually exposed to the Cochrane Methodology over several semesters. I think reading and assessing past research is an invaluable skill to have, so I was very glad to get the opportunity to do my Master's Thesis with Cochrane.

What was your experience with Cochrane International Mobility?
My experience with the international mobility program was fantastic. The researchers at Cochrane Iberoamerica were very welcoming and I look back very fondly to the weeks I spent there. I learned a lot about systematic reviews but I also got to know amazing researchers and the projects they were working on.

What are you doing now in relation to your Cochrane International Mobility experience?
Currently I am contributing to a Cochrane Review on Tumor Necrosis Factor alpha inhibitors, under the supervision of Michele Compagno and Matteo Bruschettini (both based at Lund University). In the future I aspire to collaborate on more Cochrane projects.

Do you have any words of advice to anyone considering a Cochrane International Mobility experience?
Based on my own experience, I would advise anyone who likes systematic reviews to consider the program. It is a great opportunity to meet passionate researchers and work in an international environment. I got new perspectives on Cochrane methodology but also experiences that I think are important on a personal level.