Cochrane does not make clinical recommendations, instead it provides unbiased and high-quality health evidence so that health decisions, policies, and clinical guidelines can be informed by the best available evidence. 'Cochrane Evidence in Everyday Life' series collects stories about individuals, families, and carers making health decisions based on Cochrane evidence. Each piece in the series collects stories around the personal impact that one Cochrane Review has made.
Review: Compression stockings for preventing deep vein thrombosis in airline passengers
Year published: 2016
Review Group: Cochrane Vascular
Conclusions: High‐quality evidence shows that airline passengers similar to those in the trials in this review can expect a substantial reduction in their risk of a symptomless deep vein thrombosis (DVT) if they wear compression stockings. Wearing stockings might reduce the incidence of this outcome from a few tens per thousand passengers, to two or three per thousand. There is moderate‐quality evidence that superficial vein thrombosis may be reduced if passengers wear compression stockings. Low‐quality evidence shows that passengers who wear stockings will also experience less oedema in their legs. However, this review is unable to identify whether these effects of wearing stockings translate into effects on outcomes such as death, pulmonary embolism and symptomatic DVT.
Plain language summary: available in  English, Deutsch, Hrvatski, Polski, Português, and Русский
Note worthy mentions: Wikipedia entry on compression socks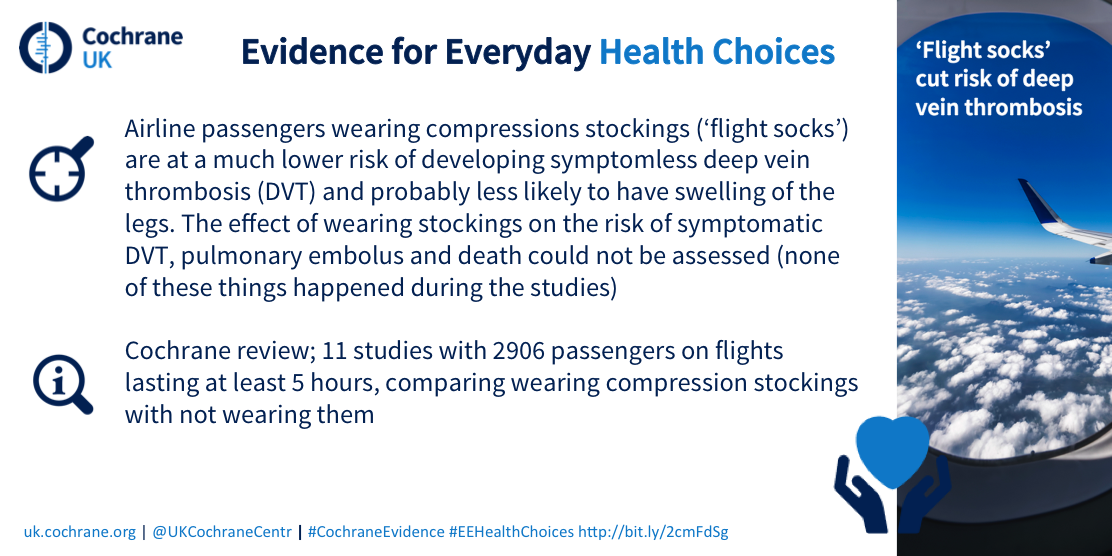 User story: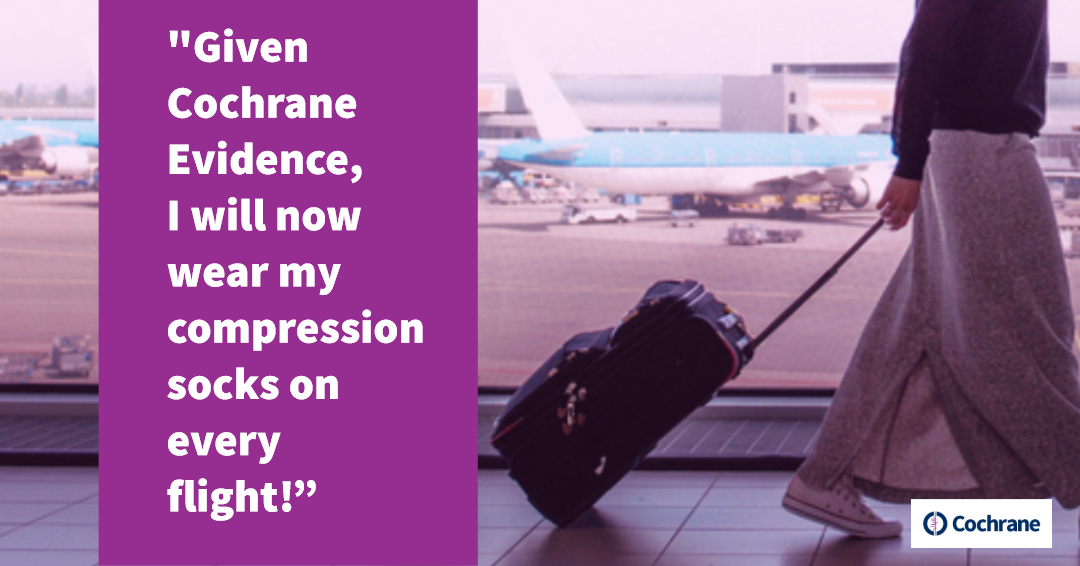 "My name is Ciara from Ireland. I'm the founder and Editor of Meta-Evidence, which helps promote the work of the Campbell Collaboration across the UK and Ireland. After reading the Cochrane Review on compression socks, I made sure to wear my flight socks on a recent trip to Campbell's summit, GEIS,  in Melbourne Australia. Normally my ankles swell up after a long flight and I was worried about the possibility of blood clots; I was so happy to see strong Cochrane-evidence on a practical solution to help safe guard against this! Given Cochrane Evidence, I will now wear my compression socks on every flight!" @MetaEvidence
Would you  like to add your story of using this review? Please contact mumoquit@cochrane.org to share your story.