The Early Career Professionals Network aims to provide its members with opportunities to enhance their knowledge, skills, and expertise by providing a platform for international networking with early career professionals or other members in the Cochrane community.
Though there is no one single definition of an 'Early Career Professional/Researcher,' bodies such as the European Research Commission, Economic and Social Research Council, and De Montfort University generally agree that an ECP is someone who is roughly within the first five years of their research activity. Informally, we also define an ECP as PhD students and post-docs.
This group has four main objectives, including international networking, representing trainees, active patient involvement, and knowledge translation.
Upcoming Events: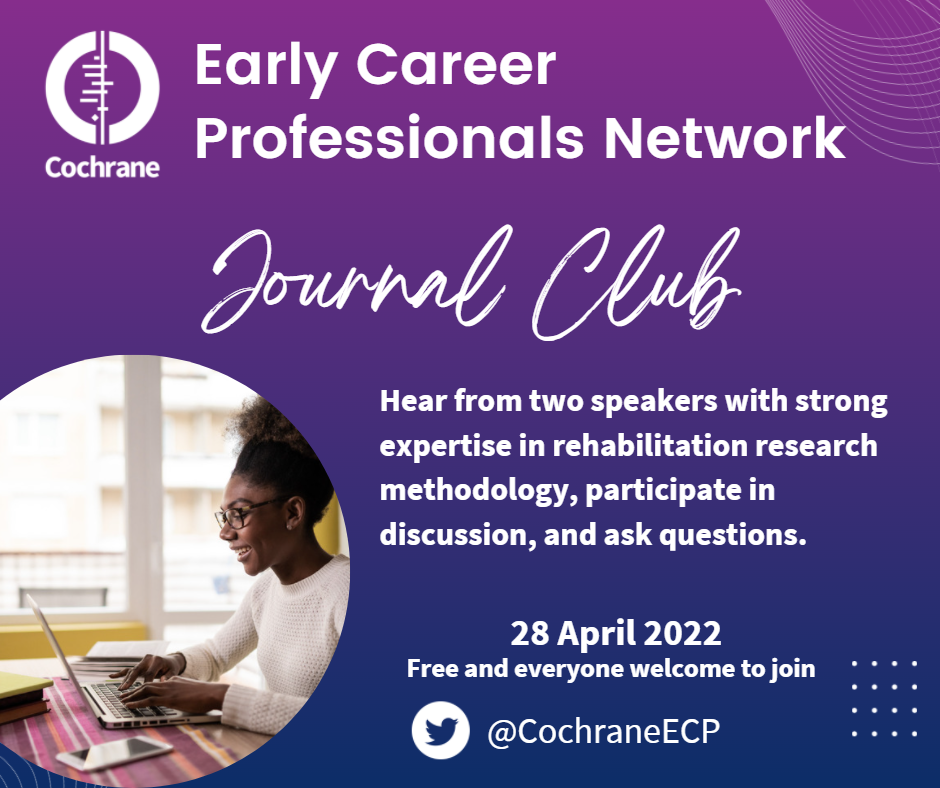 Journal Club - Rehabilitation and Physiotherapy
Date: 28 April 2022
Time: 14- 15:30 EDT (view in your time zone)
Language: English
Register: Register for free!
Join  Cochrane Early Career Professionals Network (ECP) for two presentations, join in the discussion, and ask questions. A great opportunity to learn and network!  Everyone is welcome! 
Hosted by Joel Pollet

Presentation 1: 'Methodology issues of rehabilitation research: 'Specific issues' of rehabilitation.' by Chiara Arienti, Coordinator of Cochrane Rehabilitation.

Presentation 2: 

'The methodology used for the production of the guideline on Low Back Pain treatment. ' by Prof. Pierre Côté, from Ontario Tech University
Related information:
Follow ECP on Twitter or check out the #CochraneEarlyCareer hashtag

Subscribe to the ECO Newsletter for a 'one-stop-shop' of resources, training, events, opportunities, features, blogs relevant to Early Career Researchers. Register for a Cochrane Account > My account > Communications tab > Sign up for all of the newsletters you're interested in, including the Early Career Professionals Network newsletter.