Hundreds of health leaders and experts met on October 14 to recommend the international community urgently mount stronger evidence-based responses to global health emergencies, and recordings from this event are now available below. 
Led by Cochrane, co-sponsored by the World Health Organization (WHO), and co-organized with partners of COVID-END (COVID-19 Evidence Network to support Decision-making), Cochrane Convenes brought together leaders in health care and evidence synthesis to discuss the global healthcare challenges created by COVID-19.
COVID-19 created a once-in-a-generation focus on health evidence for governments, businesses and non-governmental organizations as well as many types of professionals and the public. The pandemic fast-tracked collaboration among decision-makers and researchers but also laid bare shortfalls in the systems of producing and sharing evidence.
Introducing Cochrane Convenes, WHO Director-General Dr Tedros Adhanom Ghebreyesus said,
"During the COVID-19 pandemic, WHO's Science Division has worked closely with the Health Emergencies Programme to produce and quality-assure more than one thousand six hundred guidance documents. This would not have been possible without our partnership with Cochrane, the partners of the COVID-END network, and our WHO Evidence Collaborative for COVID-19."
Recordings from the event are available below. 
Keynote from Dr Karla Soares-Weiser
Interactive panel discussion with roundtable representatives
The recommendations and learning from Cochrane Convenes will form an action plan to advocate for change across the global health evidence community including those who produce evidence, share health messages and those who use evidence to make decisions in policy and practice. Participants include scientists, researchers, funders, public health decision makers and practitioners, patient and consumer advocates as well as health and science editors.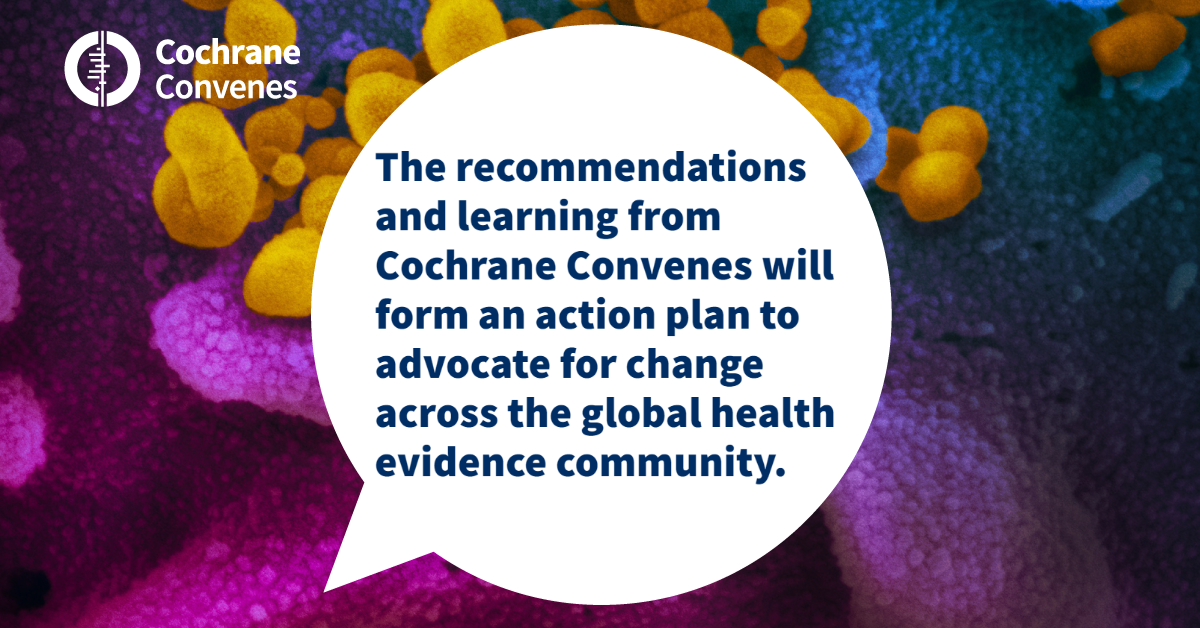 The recommendations include:
 

The pandemic evidence response has been weighted towards high-income countries. Funders should invest more in research carried out by low and middle-income countries, support training and communication needs, and address the inequity in what is funded

 

Building expertise in conveying uncertainty about what is known and not known during a health emergency

Stronger connections are needed across sectors; this involves building and incentivising institutions, partnerships and networks to be better prepared for future emergencies
Leading WHO's involvement in Cochrane Convenes, Dr. John Grove, WHO Director of Quality Assurance, Norms and Standards explained,
"As a community of evidence producers and users we had a huge amount to take stock of. We needed to harvest what we've learned and Cochrane Convenes has given us the opportunity to start this. It has come out loud and clear that we need to remain connected as a community around our aim to shore up good practice in evidence production and use - for the good of all our health across the world.

Promisingly, the participants have shown the collective will exists to get us fit for purpose and now we need to move towards putting these recommendations into action."
Cochrane's Editor in Chief, Dr Karla Soares-Weiser said:
"Cochrane's unique perspective placed us well to host these strategic discussions and we've been pleased to see a global community of evidence producers and users come together. We know we need to support the World Health Organization and its member states with the best possible evidence and guidance to ensure that local decision-makers and frontline healthcare professionals have the most trusted, high-quality evidence and information they need – but the question has been how to improve and do this better."

She added, "What we have learned today is that the focus lies not only in maintaining the rigour of the science but also investing in our global networks and partnerships. We need to build a system we can all trust, that caters for all users of evidence wherever they are in the world."
A summary of recommendations will inform an action plan due out later this year and will be used to advocate for change ensuring better preparedness for future global health emergencies.
Tuesday, October 19, 2021