Looking for an innovative tool to teach evidence production? Cochrane Classmate might well be the answer!

Classmate is a trainers' toolkit that allows you to create exciting, interactive tasks that help your students learn about evidence production. It is easy to use, and its first release is now available free of charge to anyone interested.

Register for our webinar to learn about Classmate and the benefits of using this new online learning environment. The webinar is on Thursday 17th May, 12.30-1.30pm BST.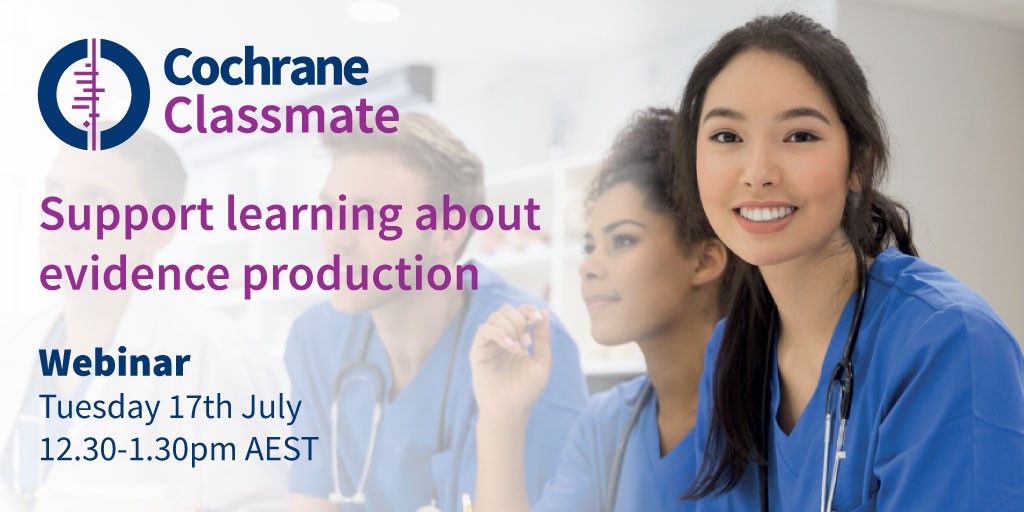 Who is Classmate for? Anyone who teaches on topics related to evidence production, such as evidence-based medicine, systematic review production, understanding PICO, study designs, citation screening or research reporting standards. Classmate can be used in a variety of contexts such as university courses, workshops or other events.

What will be covered in the webinar? You'll be taken on a tour of Classmate, including how to create a learning activity, invite students to the activity and monitor their progress. You'll see the modules currently available on Classmate and hear about others launching soon.
Tuesday 17 July, 12:30-1:30pm AEST

Can't make the webinar? We will tweet the recording once it's available, so follow us at @cochrane_crowd.
Support for Project Transform was provided by Cochrane and the National Health and Medical Research Council of Australia (APP1114605). The contents of the published material are solely the responsibility of the Administering Institution, a Participating Institution or individual authors and do not reflect the views of the NHMRC.