Cochrane Russia Symposium 2018, with the theme 'Cochrane Systematic Reviews as a key resource for health challenges in Knowledge Translation', was organized by the Research & Education Centre for Evidence-Based Medicine Cochrane Russia of the Kazan Federal University (KFU), Wiley ,and Nikolay Lobachevsky Scientific Library of KFU. It was held at the Kazan Federal University on December, 7, 2018.
The Symposium summed up Cochrane Russia activities for the three years of its existence, from the official start on December 7, 2015 at the International Conference "Evidence-Based Medicine: achievements and barriers" (QiQUM 2015), the major achievements and successes, plans for the future and the new promising projects.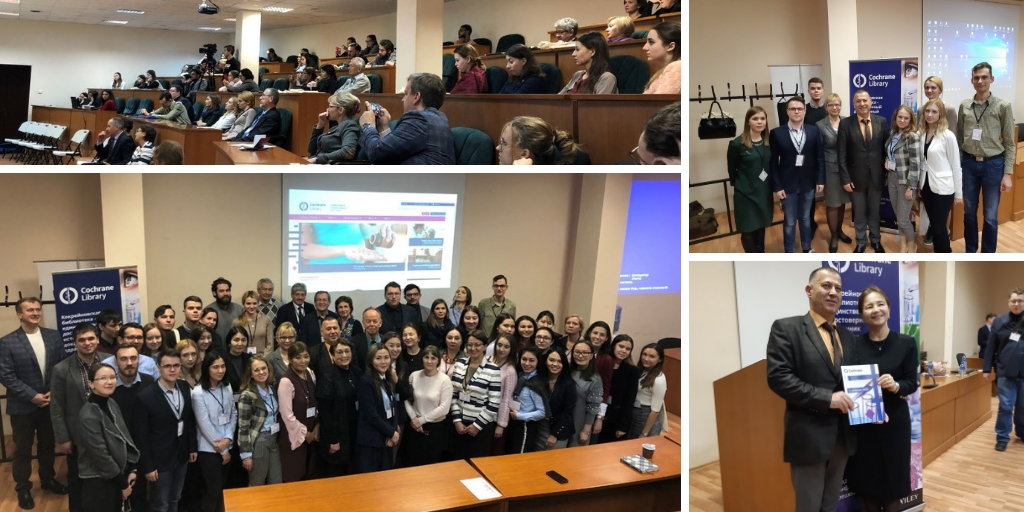 Over 100 participants from all over Russia (Volgograd, Donetsk, Irkutsk, Kazan, Kaliningrad, Korolev, Moscow, Nizhnekamsk, Novosibirsk, Rostov-on-Don, St. Petersburg, Sochi, Tyumen, Ulyanovsk, Ufa) and other countries (Germany, Kazakhstan, Kyrgyzstan, Nigeria, the Netherlands, Uzbekistan, Ukraine) registered for the Symposium.
At the closure of the symposium, the organizers and participants provided feed-back on the event, identified areas for cooperation, plans and prospects for joint coordinated work.
A warm congratulations to Cochrane Russia for another successful Symposium!
Tuesday, December 11, 2018