Got a burning passion for health? Ready to make a difference? We've got you covered.
Join Cochrane Crowd, our partner platforms Mark2Cure and Stall Catchers and our collective global volunteer network for the CitSciMed Blitz. Together we can speed up medical research and make a difference.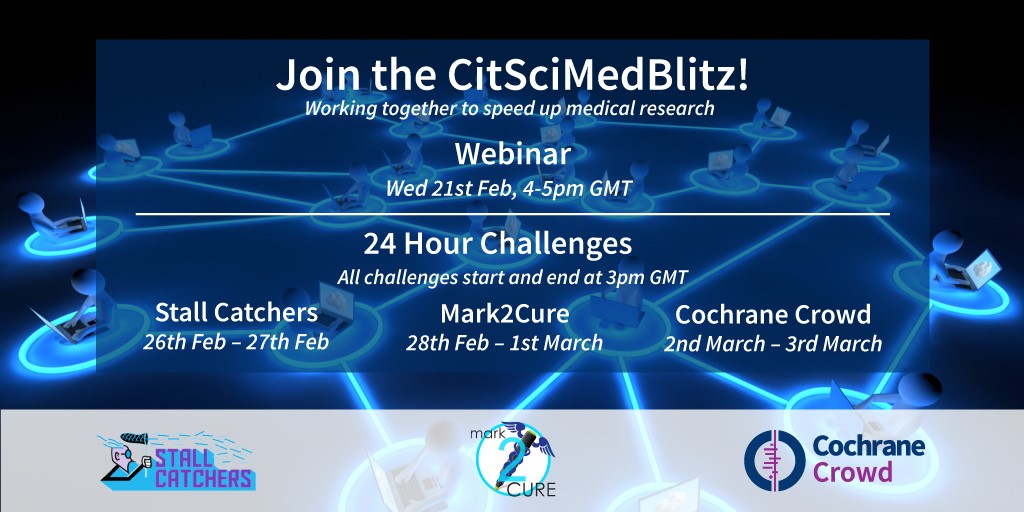 Cochrane Crowd is Cochrane's new citizen science platform. Our main focus is identifying studies that provide the best possible evidence of the effectiveness of a health treatment. Once identified by the Crowd the studies go into a central register where health researchers and practitioners can access them. The more studies identified by the Crowd, the more high-quality evidence is available to help health practitioners treat their clients. Watch this 2-minute video to learn more, and sign up to get started!

Mark2Cure is a citizen science platform that enables volunteers to help in the process of biomedical discovery. Volunteers extract information from biomedical abstracts in order to help researchers find clues on a rare disease known as NGLY1-deficiency. Take a look at the platform and sign up here.
Stall Catchers is a citizen science game speeding up Alzheimer's research. In the game, you're analyzing movies from a live mouse brain, and looking for signs of stalls - clogged blood vessels. By putting many eyes on the task, we can hope to find promising Alzheimer's treatment targets in just a couple of years, instead of decades. Take a look at the platform and sign up here.
Importantly, no special knowledge is necessary to contribute to any of these platforms! Just a desire to help progress medical research and treatment.
Support for Project Transform was provided by Cochrane and the National Health and Medical Research Council of Australia (APP1114605). The contents of the published material are solely the responsibility of the Administering Institution, a Participating Institution or individual authors and do not reflect the views of the NHMRC.