Are you interested in volunteering for Cochrane? TaskExchange is Cochrane's new hub to help you find ways in which you can contribute. Would you be interested in finding out more? We are holding two webinars for consumers and patients, carers and other non-scientists who may be interested in being involved in producing Cochrane evidence.
The webinars have been co-organised on behalf of the Cochrane Consumer Network by members of Cochrane's Membership, Learning and Support team, and the team behind Cochrane's TaskExchange platform.
Dr Emily Steele, the TaskExchange Community Engagement and Partnerships Manager, will introduce TaskExchange and show potential consumer volunteers how to use the platform to find projects that suit their interests and skills. The session will include a live demonstration and Q & A, and will be hosted by Cochrane's Consumer Engagement Officer, Richard Morley.
This webinar will be held on two separate dates to cover global time zones.

Monday 3rd December 21:00 UTC [check the time in your time zone]
Wednesday 5th December 09:00 UTC [check the time in your time zone]

Find out more and sign up here.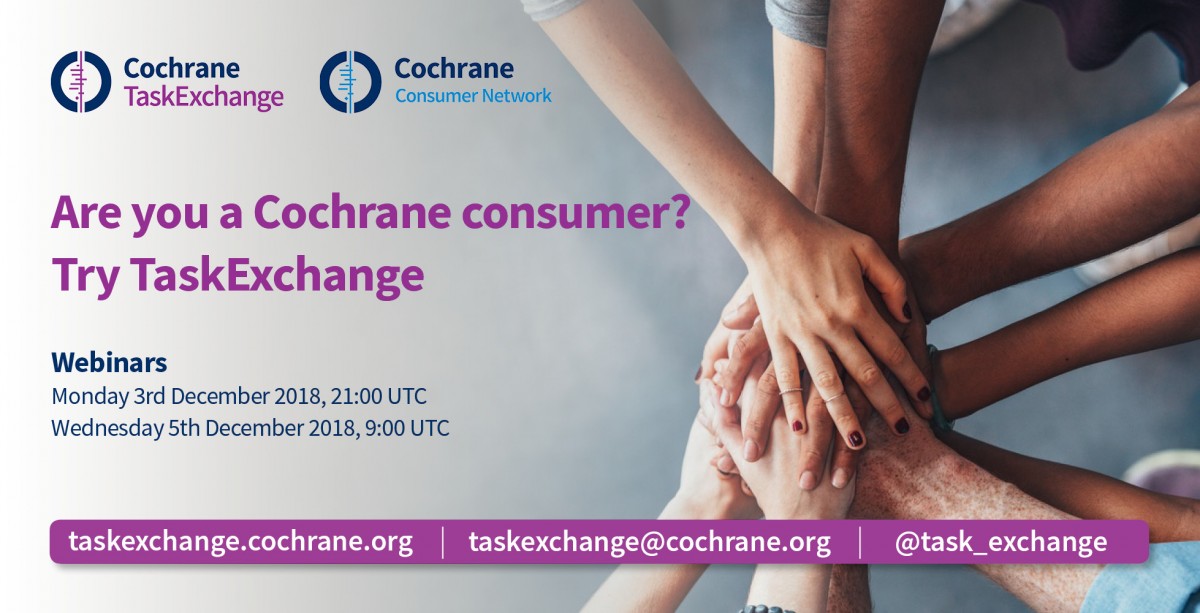 You can also sign up and start using TaskExchange right now!
Wednesday, November 14, 2018